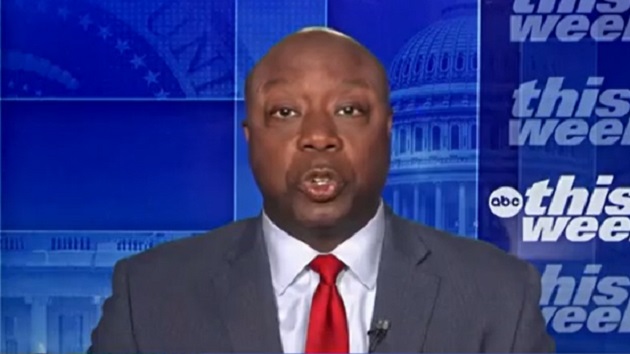 (WASHINGTON) — South Carolina Sen. Tim Scott on Sunday defended his recent accusation that President Joe Biden has "blood on his hands" after Hamas' terror attack on Israel earlier this month, which has spurred a wider war.
Appearing on ABC's "This Week," Scott, who is seeking the 2024 Republican presidential nomination, was pressed by co-anchor Jonathan Karl on his sharply worded criticism of the president during an event on Oct. 10, which Karl said didn't match the typical tone of Scott's campaign.
"Do you regret saying that?" Karl asked.
"I don't, actually," Scott said. "I'm a happy warrior, without any question. But we are now in the midst of a conflict, and so the warrior in me requires responsibility to start at the top."
Scott has been a vocal critic of the U.S. previously agreeing to release some $6 billion in Iranian oil revenue in order to free five American detainees.
That deal was arranged before Hamas, which is sponsored by Iran, attacked Israel on Oct. 7. Israel has since launched a sweeping military invasion on neighboring Gaza, the Palestinian territory Hamas controls.
"Do not be surprised when the result of that $6 billion leads to more conflict in the Middle East," Scott told Karl.
Biden traveled to Israel last week amid the conflict and has repeatedly voiced his support for the country. The White House has also defended the money that was to be unblocked for Iran, saying it was solely designated for humanitarian purposes and would be supervised.
However, amid outcry from conservatives and some Democrats, the U.S. agreed to essentially re-freeze the money before any of it was spent.
Scott, along with 22 other Republicans and one independent lawmaker, last week introduced a bill to permanently refreeze the Iranian funds.
"I'm saying with great clarity that weakness from the American president, plus the negotiations, leading to terrorist attacks by negotiating with the No. 1 state sponsor of terrorism in the world — yes, it creates complicity," he said on "This Week."
Karl followed up: "But I think we can agree that the blood is on the hands of Hamas. That's who is to blame for what happened."
Israeli officials say the Hamas attacks killed more than 1,400.
Scott conceded that the militants bore immediate responsibility but doubled down on his criticism of the White House.
"The person who pulls the trigger is primarily responsible, but that does not release the president of our country as being complicit and responsible in what we're seeing," he said.
He also said that he had issues with a new foreign aid proposal drafted by the Biden administration.
The president on Thursday sent Congress a $105 billion package, with about $14 billion going to Israel and $60 billion going to Ukraine. Scott told Karl that he would not support that legislation as it is "currently constructed."
Instead, the White House's request should be split up, he said.
"Israel is at the beginning of a long, protracted war," he said. "I think we are much better off, better served as a nation, focusing our resources and our attention immediately on Israel and continuing to provide the kind of level of accountability and responsibility the American people want to see as it relates to the resources for Ukraine. "
Some Republicans argue that the money spent to aid Ukraine in defending against Russia's invasion could be better used on domestic security and other priorities.
In a move seen as an attempt to appease conservatives, the Biden administration included an ask for $14 billion to go to border management as part of the new foreign aid proposal.
Scott said Sunday that there should be a bigger focus on the potential national security risks from the increased number of migrants arriving at the southern border.
In the Middle East, as the U.S. seeks to support Israel while pushing to limit rising tensions with other countries, Scott said there should be one major priority.
"What we need to do is make sure that we put the blame where it belongs, and that's on Iran. We need to send the clearest message that if we see the death of more Americans, that that is on the shoulders, frankly, and in the hands of Iran," he said.
"There's no doubt that the escalation in the Middle East seems to be happening before our very eyes," he said, echoing the view of other American officials.
In addition to assisting Israel in its campaign against Hamas in Gaza, the U.S. should take steps to limit the involvement of Lebanese militants to Israel's north, Scott said.
"But fighting a war on two different borders is going to be something we should keep our eyes on," he said. "And we should send the message to Hezbollah, stand down or there will be consequences."
Copyright © 2023, ABC Audio. All rights reserved.