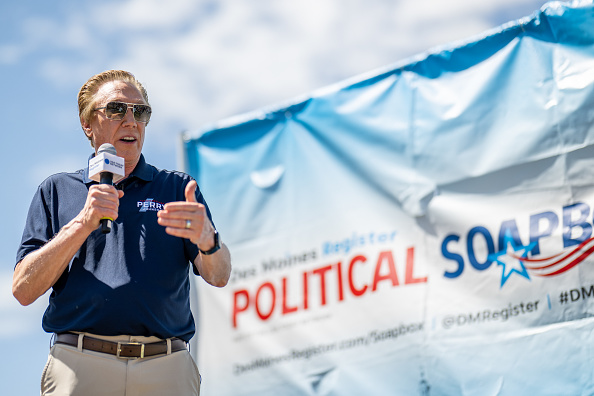 WASHINGTON — Months after missing the first primary debate stage — which prompted a complaint with the Republican National Committee — businessman Perry Johnson has decided to suspend his short-lived presidential campaign, he announced Friday.
"With no opportunity to share my vision on the debate stage, I have decided at this time, suspending my campaign is the right thing to do," Johnson said in a statement.
He has not withdrawn completely and will remain on the ballot in early states like New Hampshire where he attended the NH GOP's First in the Nation Leadership Summit just days ago.
Johnson is the third candidate to drop out of the presidential race, after Rep. Will Hurd and Miami Mayor Francis Suarez halted their campaigns earlier this year.
Johnson took multiple swipes at the RNC amid a potential legal battle he claimed he would wage against the committee after failing to meet the polling criteria to make the first debate stage.
He subsequently filed an FEC complaint against the RNC and Fox News, which hosted the first debate, accusing them of "a collusive effort to cherry-pick participants."
Johnson's campaign told ABC News "he's not ruled anything out" when asked whether he would move forward with the complaints now that he has suspended his campaign.
"I've said it before and I'll say it again: the people should decide the next president of the United States, not the head of the RNC and her cronies," Johnson said in his statement.
An author and a wealthy businessman, Johnson funded almost the entirely of his presidential campaign with his own money, loaning $12 million to his campaign and contributing more than $1.5 million worth of flights for his campaign through his private plane, his campaign disclosure reports show.
Copyright © 2023, ABC Audio. All rights reserved.