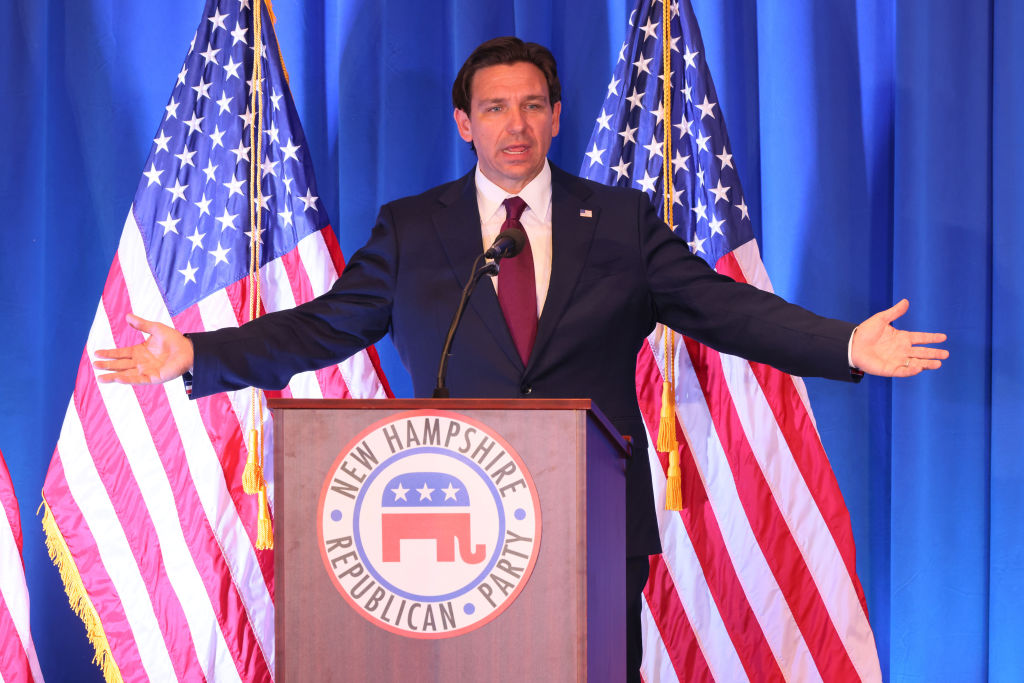 (WASHINGTON) — Donald Trump's comeback campaign has both cemented his status as primary front-runner and fundamentally altered the way candidates have historically approached the GOP presidential primary by skipping party-sanctioned debates and opting out of retail politics writ large. To knock him down a peg, though, most of his rivals are playing by the old rules.
Trump has steamrolled the other GOP contenders in early and nationwide polling by leaning on his status as a quasi-incumbent and the high goodwill he has garnered from a GOP grassroots he remade in his image. While he's ramped up campaign travel to states like Iowa and New Hampshire recently, his yawning lead has proved durable during stretches when "Trump Force One" idled on the tarmac for weeks — save for trips to appear in court.
Most of his rivals, meanwhile, have plowed ahead by pulling traditional campaign levers, blitzing Iowa with visits to all of its 99 counties, increasing — or slashing — spending on ads or leaning on strong debate performances. Some, like Florida Gov. Ron DeSantis, have ventured outside of the box with tactics like sending charter flights to Israel to help American citizens leave the war zone.
Republicans, though, question whether that's enough in a time when the old rules seem increasingly untethered from the current nominating race.
"Look, Trump has won every time by running an asymmetrical campaign, fighting asymmetrical warfare, and his opponents consistently fight in conventional warfare, be it Hillary Clinton or Ron DeSantis or any of us in 2016," said GOP strategist Terry Sullivan, who managed Sen. Marco Rubio's, R-Fla., 2016 presidential campaign.
"He's not going to do all 99 counties in Iowa. He doesn't need to. And so, you've got to figure out how to beat him with earned media impressions, not by glad handing in Iowa."
Seemingly staring down a winnowing calendar until the January caucuses in Iowa, candidates and their allies appear to recognize they have a limited runway to take off before Trump's campaign reaches cruising altitude.
"There's like six candidates trying six different strategies, and I'm not sure any of those strategies have really panned out yet. Now, I still believe in the last 45 days of Iowa, somebody's going to break," said one source familiar with former Vice President Mike Pence's thinking. "It's got to be all the pieces of the puzzle coming together at the right time, and I think if you're not moving in December, you got a problem."
DeSantis, amid a cash crunch, has slashed staff and moved a chunk of those remaining from Tallahassee to Iowa. A super PAC backing South Carolina Sen. Tim Scott said it is cutting ad spending.
Former South Carolina Gov. Nikki Haley, along with Scott and Mike Pence, is signing up only for Nevada's state-run primary, not the party-run caucuses that'll actually award delegates, amid criticism that the Nevada Republican Party's new nominating system unfairly favors Trump. And Pence is doubling down on Iowa, heading to all of its 99 counties, while facing his own cash crunch and dour polling numbers.
When speaking to voters in New Hampshire, Pence brushed off the notion that his Nevada primary filing was solely based on lack of funds, but he told reporters he'd "probably have to be a little bit more selective in where we invest resources and that was the basis of that." Scott has said he believes the primary — rather than the caucus and its $55,000 filing fees, a condition that could favor the Trump campaign and its $36 million cash on hand — allows him to reach a wider swath of voters, too.
"To play in the caucus, you have to pay $55,000 that goes to a state party in the bag for Trump. It's about momentum, and true to the Haley campaign's responsible spending — they're smart to play in the primary," said one GOP operative.
But it's unclear if any of those playbooks will pan out. Trump maintains an over 40-point lead in 538's polling average, and strategists say his rivals are entering crunch time.
When pressed about it, campaigns hinted that they plan on staying the course.
"Nikki will keep doing what she's been doing — because it's working. The other campaigns can't say that," said one adviser to Haley, who has seen a bump in her national polling after two strong debate performances. "The momentum behind her is real."
The Scott team also intends to stick to traditional campaigning, door knocking, get out the vote initiatives, believing old-school work — particularly in Iowa — will help push their candidate, who has a strong 46% favorability with Republicans according to Five Thirty Eight, into the top tier.
"My strategy is a very simple one. We have to do really well, in Iowa, for us to be successful in this campaign. There's no way to say it any other way. And so we're excited about spending more time in Iowa," Scott added in an interview on the conservative "Ruthless" podcast. "And this is a strategy that I believe will work long term. I hope the definition of long term is between now and January 15."
And Pence, meanwhile, is set to complete the so-called "full Grassley," the 99-county tour made famous by Sen. Chuck Grassley, R-Iowa, even amid speculation that stubbornly low polling may threaten his spot on next month's debate stage in Miami.
"I know there's been a couple articles lately, does grassroots really matter? I still think it does. You still gotta be the candidate that's in the game and going out there trying to earn every vote," said the source familiar with Pence's thinking.
But even Trump's detractors are tacitly conceding that nothing's working — at least not yet.
"We aren't going to waste our money when the electorate isn't focused or ready for a Trump alternative," a pro-Scott super PAC said in a memo to donors explaining its ad spending cuts.
Sullivan, the former Rubio campaign manager, suggested that a more unified focus against Trump could prove fruitful in lowering the former president's own polling numbers as he breaches 50% in some surveys.
"They're all starting to start to draw some contrast, but they need to really move it up," Sullivan said. "A lot of them are heading in the right direction, but it's just gonna be too little too late. I mean, we're sneaking up on Iowa soon."
However, such an explicitly anti-Trump playbook has been shot down by at least one prominent Trump foe.
"All attempts to undermine [Trump's] conservative credentials on specific issues were ineffective," Club for Growth President David McIntosh wrote in a September memo on behalf of the anti-Trump group Win It Back. "Even when you show video to Republican primary voters with complete context of President Trump saying something otherwise objectionable to primary voters, they find a way to rationalize and dismiss it."
And as the candidates revise their playbooks, strategists suggested they may be working with borrowed time.
"I think it's done now. But if Trump wins Iowa, certainly," said veteran GOP strategist Gail Gitcho. "Nobody has managed to break through yet."
"We've reached this kind of silly season. We see silly season happening every cycle, but it's just happening in a cycle where we already have a presumptive nominee. And we just see candidates sort of scrambling to break glass and make a last ditch effort."
Copyright © 2023, ABC Audio. All rights reserved.