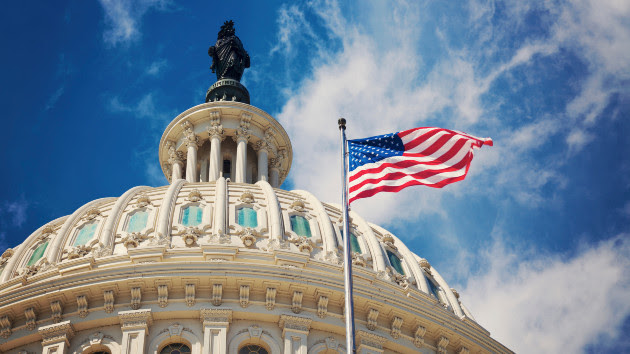 (WASHINGTON) — As President Joe Biden on Thursday made his case to the American public that success in Ukraine and Israel is "vital" to the U.S., the White House prepared a sweeping $105 billion foreign aid package that includes some $60 billion in assistance for Ukraine and $14 billion for Israel, three officials tell ABC News.
In a bid to sweeten the deal for skeptical Republican lawmakers, the full-year request was also expected to include $14 billion to improve security at the U.S.-Mexico border and another $7 billion in assistance for the Indo-Pacific region, which includes Taiwan. Another $10 billion would go toward humanitarian efforts, according to the officials who spoke on condition of anonymity before details were announced Friday.
Biden did not provide specific numbers in his speech, instead focusing on explaining his policy goals to the public.
"History has taught us that when terrorists don't pay a price for their terror, when dictators don't pay a price for their aggression, they cause more chaos and death and more destruction," he said.
The emerging proposal suggests an administration deeply worried the country could be dragged into multiple conflicts abroad — in Europe, where Russia invaded Ukraine a year ago, and in the Middle East, where Israel is fighting Hamas after a terror attack. At the same time, America is grappling with Central and South American migrants rushing to its own border.
In all, "this is a moment in which the administration needs to respond," the White House's Deputy National Security Adviser, Jon Finer, said on ABC's "Good Morning America" ahead of Biden's speech.
"We believe that Congress as well needs to act to make sure that we have the resources to be able to continue our leadership," Finer said.
Still, the proposal to spend some $5 billion a month in Ukraine is likely to meet opposition on Capitol Hill. Republicans there are divided on the issue and some have questioned the ongoing support, pointing to polls that show a notable minority of Americans say the U.S. is doing too much in Ukraine. GOP lawmakers also argue the money would be better used on domestic issues.
Bundling Ukraine aid with Israel, border security and assistance for Taiwan — all GOP priorities — is widely seen as a tactic by the White House to push the proposal through a Congress currently gripped by dysfunction.
At the time of Biden's speech, the House had not yet been able to agree on a speaker amid weeks of conservative infighting.
According to the White House, Biden spoke with Ukrainian President Volodymyr Zelenskyy on Thursday ahead of his public remarks.
Meanwhile, Russian President Vladimir Putin taunted Biden on Thursday, mocking the president's long-held insistence that peace is better achieved through diplomacy while at the same time asking Congress to buy more bombs, munitions and missiles for U.S. allies overseas.
"If Russia has lost the war, why do they supply ATACMS missiles? Let them take them back, and all the other weapons. Let Biden come and sit down for pancakes with us, come and have a tea party with us," Putin said.
ABC News' Patrick Reevell contributed to this report.
Copyright © 2023, ABC Audio. All rights reserved.