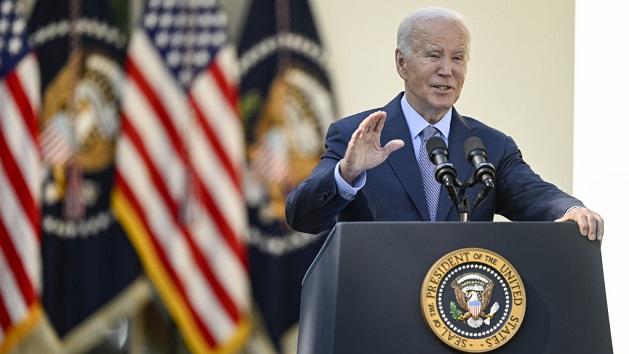 (WASHINGTON) — In a rare address to the nation from the Oval Office, President Joe Biden on Thursday night made the case to Americans that it's vital to both global and U.S. national security to assist Israel and Ukraine in their respective conflicts, which threaten broader disruptions in Europe and the Middle East.
"I know the conflicts can seem far away and it's natural to ask: Why does this matter to America?" Biden said. "So let me share with you why making sure Israel and Ukraine succeed is vital for America's national security. You know, history has taught us that when terrorists don't pay a price for their terror, when dictators don't pay a price for their aggression, they cause more chaos and death and more destruction."
Solemn throughout his remarks, the president stressed what he saw as America's role as a defender of democracy and as a "beacon to the world, still," while seeking to reassure the nation amid a time of rising anger, grief and unrest in the wake of Hamas' terror attack on Israel and Israel's resulting war on Hamas in the Palestinian territory of Gaza.
"To all of you hurting, those of you who are hurting, I want you to know: I see you. You belong," the president said. "And I want to say this to you: You're all America."
Biden's remarks came one day after his wartime visit to Tel Aviv, a high-stakes test of his personal diplomacy and U.S. world leadership in a crisis.
In Israel, he expressed unwavering support in the wake of Hamas' attacks, which killed some 1,400, and secured an agreement from Prime Minister Benjamin Netanyahu and his war cabinet to allow humanitarian aid to enter Gaza. But he also urged officials to practice restraint as they ramp up operations against Hamas in Gaza, where thousands have been killed so far in the conflict.
Biden warned Israel not to repeat what he called the "mistakes" made by the United States in the aftermath of 9/11 — a message he echoed from the White House on Thursday night.
"I cautioned the government of Israel not to be blinded by rage," Biden said in the Oval Office, his second speech there. "And here in America, let us not forget who we are. We reject all forms, all forms of hate, whether against Muslims, Jews or anyone. That's what great nations do, and we are a great nation."
Biden directly addressed the fear in Jewish communities of being targeted, and he denounced the killing of Wadea Al-Fayoume, a 6-year-old Palestinian American boy, in Chicago last week. Authorities suspect it was a hate crime. Shortly after his speech, Biden spoke with the boy's father and uncle, the White House said.
"We can't stand by and stand silent when this happens," Biden said. "We must, without equivocation, denounce antisemitism. We must also, without equivocation, denounce Islamophobia."
Biden's speech laid the groundwork for a large foreign aid proposal he will be sending to Congress in support of Israel and Ukraine, he said — specifically to shore up their defense capabilities. He spoke with Ukrainian President Volodymyr Zelenskyy ahead of his remarks, and Zelenskyy thanked him for the ongoing U.S. assistance.
In his address, Biden took a moment to reflect on his surprise visit to Ukraine earlier this year, first arriving in Poland and then taking a 10-hour train ride to Kyiv, to mark one year since the start of Russia's war. Biden said he was bringing "the promise of America to the people who today are fighting for the same things we fought for 250 years ago."
"Hamas and Putin represent different threats, but they share this in common: They both want to completely annihilate a neighboring democracy," Biden said, referring to the extremist group and Russia's president, who launched an invasion of Ukraine in early 2022.
The president's aid proposal, still in flux, could amount to some $100 billion, including a whopping $60 billion more for Ukraine, sources familiar with the draft have told ABC News.
While Biden did not mention a specific number for his forthcoming request to Congress, he called it "a smart investment that's going to pay dividends for American security for generations, help us keep American troops out of harm's way, help us build a world that is safer and more peaceful and more prosperous for our children and grandchildren."
The White House's draft aid proposal would also include $10 billion for Israel, as well as money for the U.S.-Mexico border — likely an appeal to conservatives who've expressed opposition to sending more assistance to Ukraine.
But the request will fall on a paralyzed Congress, with the House without a speaker since the historic ouster of Kevin McCarthy more than two weeks ago. Republicans have, so far, been unable to come to a consensus on a successor, leaving the chamber in chaos.
The terror attacks in Israel have prompted some sense of urgency to fill the void. Oklahoma Rep. Tom Cole, while nominating Ohio's Jim Jordan for the post, received a standing ovation from Republicans and Democrats alike when he invoked Israel's right to defend itself. But as of Thursday, the path forward to handing down the speaker's gavel remained unclear.
Biden, who is in the early stages of his own reelection bid in next year's election, said Thursday that it was time to get past the divisions at home to ensure order abroad.
"We can't let petty, partisan, angry politics get in the way of the way of our responsibilities of as a great nation," he said. "We cannot and will not let terrorists like Hamas and tyrants like Putin win. I refuse to let that happen. In moments like these … we have to remember who we are. We are the United States of America."
"We are the essential nation," he said.
"American leadership is what holds the world together. American alliances are what keep us, America, safe. American values are what make us a partner that other nations want to work with. To put all that at risk — if we walk away from Ukraine, if we turn our backs on Israel — it's just not worth it."
ABC News' Mary Bruce, Anne Flaherty, Ben Gittleson, Justin Gomez and Rachel Scott contributed to this report.
Copyright © 2023, ABC Audio. All rights reserved.