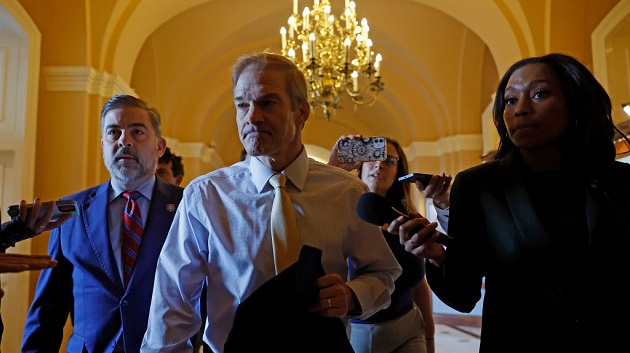 (WASHINGTON) — Several House Republicans who have voted against Rep. Jim Jordan for speaker are seething after threats have been made against them, their offices or even their spouses — including one that a lawmaker called a "credible death threat."
The chaotic battle for the speakership presses on after Republicans twice rejected Jordan — a conservative firebrand and favorite of former President Donald Trump — most recently with 22 members of his party voting against him.
Several in the GOP are opposed to Jordan as speaker — and say they have been threatened or harassed as a result of the pressure campaign Jordan's allies have waged across conservative media.
Rep. Don Bacon, R-Neb., said he and his family have received threats.
"My wife has been getting anonymous texts and phone calls to compel her to get me to change my vote, which is wrong … trying to bully my wife is wrong," he said.
In text messages Bacon provided to ABC News, one person messaged his wife saying "Your husband will not hold any political office ever again. What a disappoint (sic) and failure he is."
Rep. Mariannette Miller-Meeks, R-Iowa, said in a statement she has received "credible death threats and a barrage of threatening calls" after voting against Jordan Wednesday.
"One thing I cannot stomach or support, is a bully," Miller-Meeks said.
Rep. Carlos Gimenez, R-Fla., told ABC News that his office and staff have received calls to try to pressure him to back Jordan.
"[Jordan] told me he wasn't behind it and he has asked people to stop. If you have asked people to stop it, why haven't they listened to you?" Gimenez said.
"I don't really take well to threats. In fact, if you threaten me, I will probably go the other way," Gimenez added.
Rep. Drew Ferguson, R-Ga., voted against Jordan for speaker in the second ballot, and said he and his family have received death threats.
"When the pressure campaigns and attacks on fellow members ramped up, it became clear to me that the House Republican Conference does not need a bully as the Speaker," he said in a statement.
Ferguson switched his vote to Scalise from Jordan on the second ballot.
"Shortly after casting that vote, my family and I started receiving death-threats. That is simply unacceptable, unforgivable, and will never be tolerated," he said.
Jordan told ABC Senior Congressional Correspondent Rachel Scott that the death threats were "terrible."
"There's no place for that for anyone. It's just wrong," Jordan said.
Some conservative media voices have pushed listeners and viewers to call members who don't back Jordan.
Former Trump White House adviser turned podcast host Steve Bannon earlier this week urged his followers to pressure GOP members to fall in line and back Jordan.
"Call them and get in their grill. Let them know what you think … Email, call their local office, all of it, burn it down. That's right. Get up in their face," Bannon said on Wednesday morning's show.
Capitol Police, the agency charged with protecting members of Congress, would not comment on how it is handling the threats.
"For safety reasons, the USCP does not discuss potential security measures for Members or any potential investigations," Capitol Police said Thursday.
Rep. Steve Womack, R-Ark., voted against Jordan for the gavel and suggested to ABC's Scott that even more Republicans oppose Jordan but are "holding their noses because they fear the backlash."
"They all have their reasons. And I have mine," Womack said. "I hope people will at least give us the courtesy of respecting our position. Disagree with us, be mad with us, vote against us. Do what you've got to do. But understand, we all took an oath to the Constitution, we're trying to do our very best."
-ABC News' Will Steakin and Sarah Beth Hensley contributed to this report.
Copyright © 2023, ABC Audio. All rights reserved.