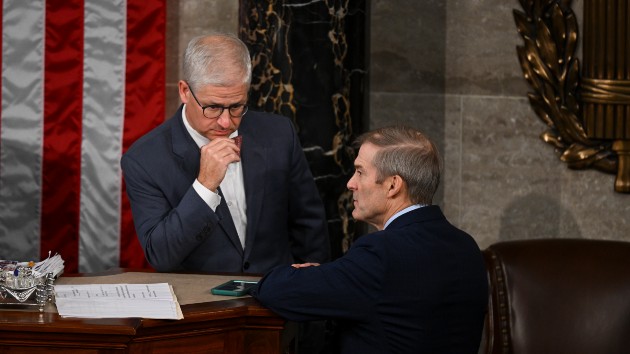 (WASHINGTON) — After Wednesday's failed speaker vote, Rep. Jim Jordan remained defiant, and insisted he still had a path to win the speaker's gavel even after losing more votes than the day before.
"We're gonna keep talking to members. Speaker McCarthy had like a two-month runway from when he was nominated until he became speaker," he told ABC Senior Congressional Correspondent Rachel Scott. "We're at 200 votes, we got a cross section of the conference who is supporting us, so we'll continue to talk and listen to our colleagues."
Jordan, R-Ohio, answered "nope" when asked if he had considered dropping out and argued that he's still best positioned to bring Republicans together.
Leaving the Capitol, Speaker pro tempore Patrick McHenry told reporters that Jordan will have "as long as he needs" to wrangle votes and that Republicans will meet Thursday and could vote again.
"It's my duty to keep electing a speaker," he said. "My effort is focused on getting Jim Jordan the speakership."
But Jordan's critics were just as dug in, despite the potential for political — and even personal — blowback for opposing Jordan and leaving the party in limbo.
"This is a united front, an organic movement that is now growing, that has collectively decided that he is not the best choice for speaker of the House," Rep. Steve Womack, R-Ark., told ABC's Scott, suggesting that even more Republicans oppose Jordan but are "holding their noses because they fear the backlash."
"They all have their reasons. And I have mine," he said. "I hope people will at least give us the courtesy of respecting our position. Disagree with us, be mad with us, vote against us. Do what you've got to do. But understand, we all took an oath to the Constitution, we're trying to do our very best."
Rep. Don Bacon, R-Neb., reiterated his opposition to Jordan, and said he and his family have received threats and been harassed as a result of the pressure campaign Jordan's allies have waged across conservative media.
"My wife has been getting anonymous texts and phone calls to compel her to get me to change my vote, which is wrong … trying to bully my wife is wrong," Bacon said.
Other potential candidates are waiting in the wings, including Reps. Tom Emmer, Mike Johnson, Kevin Hern and Jack Bergman of Michigan, a retired Marine Corps lieutenant general.
An aide to Bergman said he was "approached" by colleagues about a speaker run given Jordan's "narrowing" path and would step in to "steady" the House "in a time of chaos" for the remainder of the 118th Congress.
But it's not clear that any of them can get to 217 votes on the floor. And they aren't likely to announce any bids until Jordan exhausts his options.
The impasse is also leading to more talk around temporarily empowering McHenry, the temporary speaker to take up spending legislation to fund aid for Israel and Ukraine and avoid a government shutdown.
But the North Carolina Republican argues that his role is limited. His allies push back on the suggestion that they would vote with Democrats on any sort of power sharing agreement with concessions, which is what Democratic leaders have said is their price for any cooperation.
"The goal here is to elect a Republican speaker because we have a Republican majority, and that's what we're trying to achieve … my role here is to be determined but I've constructed that as narrowly as the rules say I should and we can't transact a speaker, so that's what I'm going to see to it," McHenry said.
If the caretaker speaker is opposed to temporarily expanding his powers to get the House working again — and there's no clear choice that can win the votes for speaker — where does that leave Congress?
Rep. Mike Gallagher, R-Wis., told reporters that he'd be wary of setting a new "precedent" by empowering a temporary speaker, and that it would only kick the can down the road on the speaker fight.
"The better solution would be, if the McHenry is the guy, then let's just nominate McHenry as the guy [speaker]" through the end of Congress, he said.
"We're like members of a fire department. We're getting all these alarms all over the city. And instead of hopping in the truck and putting them out – Israel, Taiwan, the southern border, Ukraine – we're fighting over who is going to ride shotgun," Gallagher said.
"It's great to have disagreements out in the open, but there comes a point where the disagreement turns into dysfunction and paralysis and I fear we're getting to that point," he said.
Copyright © 2023, ABC Audio. All rights reserved.