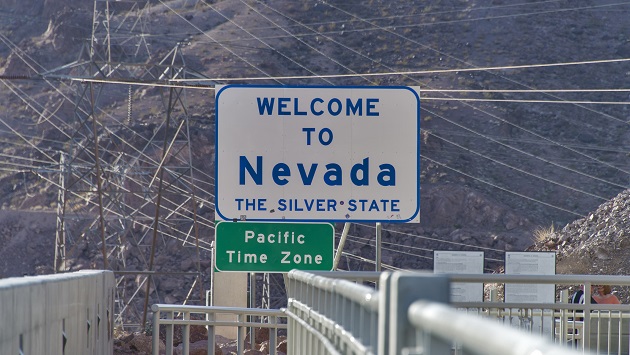 (LAS VEGAS) — In February, Nevada Republican voters are expected to be able to choose from two entirely different ballots for the 2024 presidential nomination.
On one — for the caucus held by the Nevada Republican Party on Feb. 8 — will be former President Donald Trump, Florida Gov. Ron DeSantis, businessman and commentator Vivek Ramaswamy, former New Jersey Gov. Chris Christie, North Dakota Gov. Doug Burgum and pastor and entrepreneur Ryan Binkley.
And on the other — for the state-run primary on Feb. 6 — will be former South Carolina Gov. Nikki Haley, South Carolina Sen. Tim Scott and Vice President Mike Pence, along with some long shot candidates.
While Nevada voters can cast ballots in both the caucus and primary, the latter slate of hopefuls are competing for a symbolic victory. The 26 Nevada delegates that will help determine who wins the Republican nomination will be awarded only through the caucus, not the primary.
The unprecedented parallel contests — which some local experts worry could turn off voters, given all of the intricacies — were the result of a conflict between the state GOP and a 2021 state law that mandated a primary must also be held.
The crowded field of 2024 Republican candidates has divided between the two races.
How did these competing contests come about?
Nevada has long been a caucus state for both the Republican and Democratic parties, but the state law enacted two years ago mandated a primary if more than one candidate files — as happened in the 2024 race.
The Democratic Party has since adopted the primary for 2024, with President Joe Biden and author and speaker Marianne Williamson both filing to compete. But the Nevada Republican Party decided to hold a caucus anyway, declaring that the caucus would be the only way for candidates to win delegates regardless of the outcome of the required primary. (State Republicans also unsuccessfully sought to stop the primary entirely, but the courts allowed them to restrict delegates only to the separate caucus.)
The Nevada Republican Party leadership's push to continue with the caucus has been a hotly contested topic over the past few months, with critics of the move claiming that the caucus — which includes in-person gatherings where voters publicly disclose their preferred candidate in tidy groups, versus traditional voting — was championed by allies of Trump, who already has a deep network of vocal supporters and organizational power across Nevada.
Others have dismissed the idea, contending that the caucus is a more transparent nominating process and that the former president has a strong hold on Nevada Republicans either way.
Earlier this summer, when it became apparent that Nevada was inching toward dueling Republican nominating contests, the state GOP tried to direct candidates to the caucus ballot, penalizing those who chose to participate in the primary by making them ineligible to receive delegates.
But to some Nevada Republicans' surprise, that didn't stop several major presidential candidates — Haley, Scott and Pence — from filing for the primary, effectively giving up on Nevada's delegates.
All three of those hopefuls trail distantly in state polling, according to 538, compared with Trump's yawning lead.
Come February, Nevada voters will be able to cast ballots in two separate contests for the Republican presidential nominating process, resulting in two separate winners, though only the winner of the caucus will get closer to being the 2024 nominee.
"We're gonna continue our voter education program to let people know where caucuses are, where the delegates are assigned, so I think we'll be able to get the word out to everybody," Nevada Republican Party National Committeeman Jim DeGraffenreid said.
Why some candidates opted out of Nevada's caucus and its delegates
The filing fee to get on the ballot for the party-run caucus is $55,000, but candidates have the option of getting a reduced rate of $35,000 by doing a fundraiser with the Nevada Republican Party. The state GOP has told ABC News that all six of the candidates that filed for the caucus have opted to do a fundraiser for a reduced filing fee.
Pence, who in his most recent campaign disclosure filing reported having just over $1 million in the bank entering October — significantly lower than many of his 2024 rivals — pointed to his campaign's limited resources when asked about his decision to file for the primary over the caucus.
"But it's not about money. It's about votes," he said last week in New Hampshire. "And so we want people of Nevada to know that we look forward to carrying our message in Nevada, continuing to tell our story."
Scott, asked about his choice of the primary over the caucus, said the primary gives more people the opportunity to see him. Scott denied that he's avoiding a direct contest with Trump in the caucus.
"The bottom line is: You make the decision that you think gives the most people the most opportunities to take a look at each candidate and come to a conclusion," Scott said earlier this month in New Hampshire.
Haley has not commented on her decision to forgo delegates by participating in the state-run primary. Her campaign did not immediately respond to questions.
DeGraffenreid, with the state party, told ABC News that the state party was in communication with most of the campaigns leading up to the filing deadline for the caucus and that he was "very surprised" about Haley's choice.
"I felt like she was still planning to be competitive," DeGraffenreid said, adding, "Of the three of them, I think I was most surprised that she chose to forego delegates here."
"It remains to be seen how voters will react to that," he continued. "Anybody that understands the process understands that delegates is the goal of every primary or caucus in the nation, so I certainly am perplexed as to why any serious candidate would file for a contest that doesn't allow them any delegates."
Why this matters to Nevada voters and the 2024 race
Some political experts said choosing to compete in the primary versus the caucus was a strategic decision for those candidates who saw a path to winning something valuable other than delegates, especially in light of Trump's continued popularity with the base.
"If I'm running for president and I'm trailing in the polls, and my thought is, I might not even pull enough votes to get a delegate anyway, why spend that $55,000?" Jill Douglas, a Nevada Republican Party Central Committee member, told ABC News. "But I could participate in the primary and garner some national momentum from being able to say, 'Well, I won the primary in Nevada.'"
Some others argue that candidates who skipping the caucus risk leaving a bad impression on Nevada voters who may expect more attention given their early spot in the 2024 nominating calendar.
"For the longest time, Nevada didn't matter because by the time candidates got around to Nevada, pretty much all the delegates had already been decided," Washoe County Republican Party Chairman Bruce Parks told ABC News.
"But now we're the first in the West," he said.
Nonetheless, so far this year, Trump, DeSantis and Ramaswamy are the only GOP candidates that have visited Nevada.
"Is that because they feel like Trump has such a lead that it doesn't make sense to spend the money? Do they feel like the nature of the caucus isn't helpful to their campaign?" wondered Douglas, a member of the state party. "In a normal presidential year, we'd have candidates coming into town and a lot of excitement about people just getting out to see presidential candidates, and that hasn't happened."
Jesus Marquez, a former leader of Latinos for Trump and now a political consultant in Nevada, said the current lack of campaign activities in the state is understandable given that Iowa and New Hampshire, which vote before Nevada, continue to attract much more candidate and media attention.
Later this month, the Republican Jewish Coalition is hosting its annual summit featuring Trump, DeSantis, Haley, Ramaswamy, Pence, Christie, Scott and Burgum in Las Vegas, expected to be the first opportunity for many Republican voters in Nevada to see the candidates.
"I anticipate that in the coming months, we will start seeing more and more candidates," Marquez said.
ABC News' Gabriella Abdul-Hakim, Libby Cathey and Isabella Murray contributed to this report.
Copyright © 2023, ABC Audio. All rights reserved.