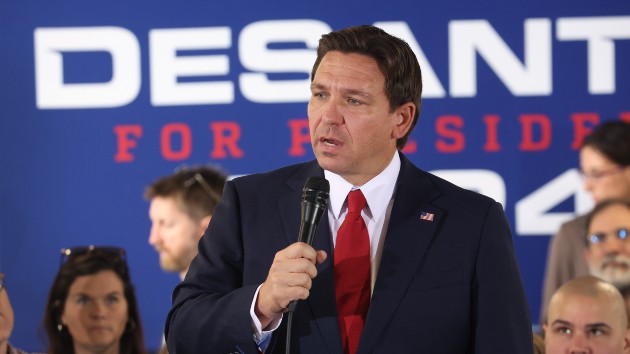 (WASHINGTON) — Florida Gov. Ron DeSantis has made a push to arrange Israel evacuation flights part of his presidential campaign pitch, apparently seeking to show off his role as a state leader amid an unfolding international conflict.
Chartered jets, paid for by the state under a recent executive order, began arriving in Florida from Israel early this week.
But some key details are still emerging, including how many people from Florida have been brought home amid the intensifying Israel-Hamas war — and how much the flights are costing taxpayers.
DeSantis announced his involvement with his executive order last Thursday, pledging "to bring Floridians home and transport the necessary supplies to Israel," according to a news release.
With that move, DeSantis gained a popular talking point and thrust himself to an Israel-heavy news cycle that has in recent days all but ignored the race for the 2024 Republican presidential nomination, a contest in which DeSantis trails heavily behind former President Donald Trump, though he is still the No. 2 most popular candidate in the race.
As DeSantis swung through the early voting state of Iowa for seven events on Saturday, he touted his role in organizing the flights.
"You've got to step up and lead when time calls for it," he said at the top of his remarks to a crowd of a few dozen in the rural city of Creston.
The U.S. has been chartering flights of its own, according to the State Department. U.S. citizens have also been evacuated from Israel by sea, on boats also organized by the U.S.
The State Department declined to comment on any separate flights arranged by Florida.
On Sunday night, on the tarmac at Tampa International Airport, DeSantis, with journalists and cameras in tow, greeted the first chartered flight home, a plane full of roughly 270 Americans who were in Israel as war broke out with the Gaza-based militant group Hamas, which launched a terror attack on Israel on Oct. 7.
The governor has ordered the state to pay for five evacuation flights — a supplement to the efforts of Project Dynamo, a Tampa-based nonprofit rescue group who deployed people to Israel the day after Hamas attacked Israel, to begin evacuation efforts.
Since that assault, Israel has launched a slew of retaliatory military operations on Hamas in Gaza, the neighboring Palestinian territory controlled by the extremists.
Thousands have so far been killed in Israel and Gaza, according to local officials on both sides.
DeSantis' staff connected with Project Dynamo through state Sen. Jay Collins, a friend of Project Dynamo's founder and CEO, Bryan Stern, Stern told reporters on Monday.
"I think that Gov. DeSantis wanted to do something, but before he issued the executive order, he needed to know that he had partners," Stern said.
DeSantis has blitzed national and local media since the weekend, discussing the flights in nearly every appearance. Allied social media accounts have also frequently highlighted his effort.
At the Tampa airport on Sunday, DeSantis gave a 15-minute interview to NBC News and took questions from a larger group of reporters.
Kevin Madden, a Republican communications expert who worked on Mitt Romney's presidential campaigns in 2008 and 2012, told ABC News that a significant event like the war in Israel "sort of shifts the frame of the coverage of the race and shifts the frame with which voters start to judge candidates."
"When that happens, candidates sort of look for the most advantageous backdrop with which to showcase their credentials, and that is what I think you see DeSantis doing," Madden added. "He's trying to show that he's decisive, that he is articulating an idea about what America's foreign policy would look like by standing very firm with Israel."
But details about the chartered flights have been murky from the start and are only now beginning to become clear nearly a week after the governor's executive order.
DeSantis initially indicated the flights were meant to transport Floridians, telling Fox News last Friday, "There are definitely hundreds of Floridians who were stranded there [in Israel]. We don't want to just sit and wait. I don't want to see them dumped in Europe. I want to bring them back to the state of Florida."
On Monday, he told a radio host that the plane that landed in Tampa on Sunday held "mostly Floridians."
In fact, however, only about 70 people on that flight — roughly one-fourth — were from Florida, Project Dynamo's CEO said on Monday.
When asked, DeSantis' office referred ABC News to the Florida Division of Emergency Management (FDEM), who has not yet responded to questions about the numbers.
ABC News also asked both DeSantis and his administration over the weekend what the flights cost but did not receive answers. Florida officials later offered some financial details on Tuesday.
In an interview with NewsNation, Florida Emergency Management Director Kevin Guthrie said the total cost of the flight that landed in Tampa was around $4 million, all paid for by the state.
That cost was for "all of the services, hotel stays, rental cars — anything that we had to get to help the people get back to their homes," Guthrie said.
The $4 million covered just the flight, and services, that arrived in Tampa Sunday night. The state has paid for at least four other Project Dynamo flights that have also already landed — each of which held no more than a dozen people, according to Stern.
At least one landed in Orlando with seven people, the DeSantis administration said Sunday in a statement.
On Wednesday, the governor posted on X that a sixth flight had arrived; he previously said that flight carried roughly 280 people.
"Florida has stepped up to assist our citizens in need," he said on X.
ABC News has asked the Florida Division of Emergency Management for comment about the total cost of the entire operation to bring Americans back from Israel.
DeSantis' efforts echo how he got involved on another, broader issue beyond Florida's borders: Last year, his administration organized a flight to send unauthorized migrants from Texas to Martha's Vineyard off the coast of Massachusetts.
That flight, which drew backlash from Democrats and sparked legal challenges, has been a rallying cry for DeSantis on the campaign trail, where he cites it as an example of how to force liberals to confront immigration.
Stern, with Project Dynamo, said he was grateful to DeSantis' administration and their help with the Israel flights. The FDEM was the first government agency to ever finance a Project Dynamo mission, he said.
He also called the funding a "game changer" that "allowed us to speed up that process" of evacuating Americans from Israel.
But Stern made clear that rescue flights would have taken off eventually, Florida money or not.
Ron and Linda Neumann, a couple who were on the Tampa flight, spoke to reporters about their relief and joy in getting home.
"All I can say is, 'Thank you Project Dynamo, thank you, Gov. DeSantis, thank you, America,'" Ron said, "for bringing us back."
Copyright © 2023, ABC Audio. All rights reserved.