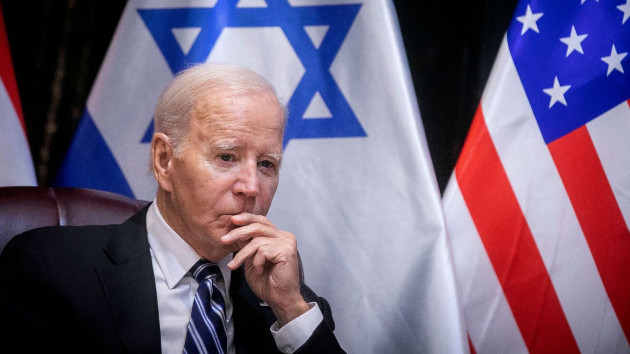 (WASHINGTON) — President Joe Biden will address to the nation Thursday to update Americans on the U.S. response to the Hamas attacks, the White House said.
The 8 p.m. ET Oval Office speech comes a day after Biden's high-stakes visit to Israel where he pressed Prime Minister Benjamin Netanyahu to allow aid from Egypt into Gaza for Palestinian civilians reeling from Israel airstrikes.
In a rare move, Biden spoke to reporters aboard Air Force One, telling them he had been on the phone with Egypt's President Abdel Fattah El-Sisi in "blunt negotiation" and that El-Sisi had agreed to open the closed Rafah crossing gate in southern Gaza to allow up to 20 trucks with aid through.
"I came to get something done — I got it done," he said.
"They're going to patch the road — they have to fill in the potholes for the trucks to get through," he said. "Expect that to take about eight hours tomorrow.So, there may be nothing rolling through … probably until Friday."
Asked about what he told Israeli officials, Biden said, "I was very blunt about the need to support getting humanitarian aid to Gaza, get it to Gaza and do it quickly."
He added, "I got no pushback, virtually none. … Let me say it again, I got no pushback."
"Look, Israel has been badly victimized, but you know, the truth is that if they have an opportunity to relieve suffering of people who are, have nowhere to go, they're gonna be, it's what they should do," Biden said. "And if they don't, they'll be held accountable in ways that may be unfair."
Before he left for Israel, questions were raised about whether making the trip was worth the physical and political risk, something Biden brought up himself Wednesday.
"Let me choose my words here. Not many people thought that we could get this done," he said, apparently referring to the delivery of aid to Gaza. "And not many people want to be associated with failure."
"Not many people want to be associated with failure. And there was quite frankly a — a lengthy, lengthy, hour or more discussion about whether to go, because had we gone and this failed then, you know the United States failed, Biden's presidency failed, et cetera, which would be legitimate criticism," Biden said.
Saying Palestinian Authority President Mahmoud Abbas and Jordan's King Abdullah were in a "tough spot," Biden continued, "We're putting all of them in a tough situation, if we didn't get this done and so. It had to be in my view, we either, either took all the blame or not to put anyone else on the spot, or get it done. And I thought it was worth taking the chance to get it done."
Copyright © 2023, ABC Audio. All rights reserved.