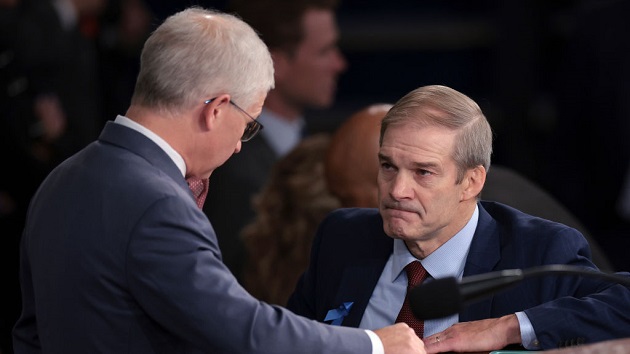 (WASHINGTON) — Moderate House Republicans and institutionalists coalesced this week as the key opposition to Rep. Jim Jordan's ascent to speaker. It's the latest twist to what has become a weekslong fight among conservatives over who will lead the chamber and lift the paralysis over half of Congress.
The dynamic confronting Jordan, the House Judiciary Committee chair who built a national profile as a hard-liner and firebrand, marks the reverse of former Speaker Kevin McCarthy's plight, when a small group of Republicans — some of whom are close allies of Jordan — voted to take away his gavel earlier this month, even as Jordan and others continued to urge support for McCarthy.
Since then, the House hasn't had a speaker.
Rep. Patrick McHenry, R-N.C., is serving in an interim role as a succession of Republican leaders have been chosen as the potential next speaker — all unsuccessfully. Jordan has lost two votes so far, including on Wednesday morning when 22 other GOP members voted against him.
Several of the anti-Jordan lawmakers, who have more centrist voting records or establishment bona fides, have voiced repeated frustrations over his speakership bid, voicing concerns about elevating Jordan given his past, including his baseless attacks on the 2020 presidential election results and his roles in past government shutdowns over policy objections.
Jordan critics have also highlighted what they call a pressure campaign by his supporters inside and outside Capitol Hill to try and get them to change their minds.
"This has got 'House of Cards' stuff written all over and I think the American people are tired of watching this fiasco unfold," Rep. Steve Womack, R-Ark., said on Monday before voting against Jordan twice between Tuesday and Wednesday.
Many of the Jordan detractors have also lambasted the move to oust McCarthy by a handful of renegades led by Rep. Matt Gaetz, R-Fla. Those critics said choosing someone like Jordan, a founding member of the uncompromising House Freedom Caucus, would set a bad precedent in terms of being able to govern the whole conference.
That frustration was compounded after Majority Leader Steve Scalise, R-La., fell short in his own bid to replace McCarthy. House Republicans had narrowly voted 113-99 in a private ballot last week to nominate Scalise over Jordan, but it quickly became clear Scalise wouldn't be able to win over enough other Republicans to clinch the 217 votes he'd need on the House floor.
Speaking with reporters after withdrawing his speakership bid, Scalise suggested that "there are still some people that have their own agendas."
Republican Nebraska Rep. Don Bacon, who has twice voted against Jordan, told reporters on Tuesday that he "can't get past the fact that a small group in our conference violated the rules to get rid of Kevin, and then blocked Steve."
"You don't have a process where I play by the rules and these other people can't, and they get what they want. That's not America," Bacon said.
He has also said he and others were turned off Jordan after the Ohioan's allies, both lawmakers and figures in the media like Fox News' Sean Hannity, were perceived as attempting to strong-arm those against Jordan into voting for him. Those efforts reportedly went as far as to target lawmakers' family members: Bacon told reporters that his wife had received texts about the speakership vote.
"It made us mad, and it backfires," Bacon said Wednesday on Newsmax. "Some of the younger folks, maybe that works. But someone like me … you win us over with an argument that makes sense. You're going to have to convince us. And threatening us does not work."
Some of the Jordan skeptics represent swing districts, such as areas where President Joe Biden won in 2020 and where support for Jordan could be anathema to the more centrist electorate they represent — though that opposition could also engender a primary from other Republicans that could put them at risk as well.
Texas Rep. Kay Granger, the Republican chair of the powerful House Appropriations Committee, in a statement after Wednesday's vote appeared to contrast Jordan with Scalise, whom she called an "honorable man."
Granger twice voted for Scalise rather than Jordan in the speaker votes so far.
"Intimidation and threats will not change my position," she said on Wednesday.
Other detractors said their opposition was fueled by ideology.
Jordan recently opposed boosting aid to Ukraine in its defense against Russia's invasion, which is a bipartisan priority of much of Washington but is opposed by some conservatives who say the money would be better spent at home. Jordan was also a vocal advocate for former President Donald Trump's claims of election fraud and a chief proponent of voting against certifying the 2020 Electoral College results in 2021.
"Jim at some point, if he's going to lead this conference, during the presidential election cycle, and particularly a presidential election year, with primaries and caucuses around the country, is going to have to be strong and say Donald Trump didn't win the election," Rep. Ken Buck, R-Colo., another member of the House Freedom Caucus, told ABC News on Monday. Buck has also voted against Jordan.
Despite that continued opposition, Jordan has flipped several members, including Rep. Ann Wagner, R-Mo., who went form a "hell no" to supportive after having what she said were positive conversations with him.
"Jim Jordan is our conference nominee, and I will support his nomination for Speaker on the House floor," she said in a statement early Monday, when optimism appeared high among Jordan's supporters.
Jordan has insisted he plans on continuing his campaign.
"We're going to keep working, and we're going to get to the votes," he told reporters Tuesday.
Still, the inability to elect a speaker — and thus move any legislation in the chamber, including bills on funding the government to prevent another shutdown — is sparking concern among Republicans.
Republicans may go into a closed-door conference meeting on Wednesday in the wake of Jordan's second failed speaker vote, sources told ABC News.
"After two weeks without a Speaker of the House and no clear candidate with 217 votes in the Republican conference, it is time to look at other viable options," Rep. David Joyce, R-Ohio, who voted for Jordan on Tuesday and Wednesday, said in a statement Wednesday morning. "By empowering Patrick McHenry as Speaker Pro Tempore we can take care of our ally Israel until a new Speaker is elected."
ABC News' Katherine Faulders and John Parkinson contributed to this report.
Copyright © 2023, ABC Audio. All rights reserved.