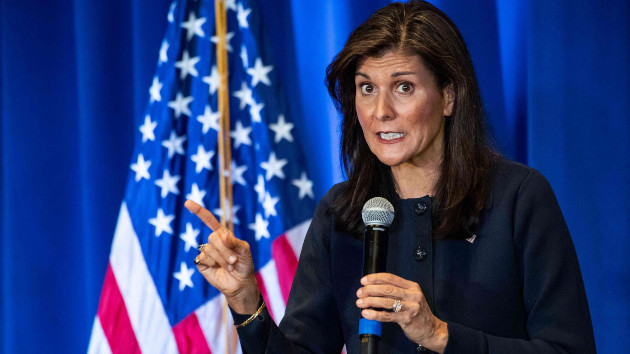 (WASHINGTON) — A top GOP donor who recently called himself a "significant supporter" of Florida Gov. Ron DeSantis is now expected to host a fundraiser for Nikki Haley, sources familiar with the matter told ABC News.
Investor Keith Rabois, a Florida-based venture capitalist and alum of the so-called "PayPal Mafia," is expected to host the fundraiser for Haley in Miami later this month, according to the sources.
The event was originally supposed to be held Monday night, but was postponed, sources said.
The $10,000-per-head fundraiser was billed as an "intimate private reception" hosted by Rabois and his husband Jacob Helberg, according to a copy of the invitation for Monday night's planned event that was obtained by ABC News.
A person familiar with Rabois and Helberg's thinking told ABC News that they are "very much on board" with Haley and "really like her."
Asked about the switch from DeSantis, the source said Rabois and Helberg are "like the American people: making up their minds as they go along."
The development comes as Haley, the former United Nations ambassador and former South Carolina governor, is increasingly seen as a rising star in the GOP presidential primary. The latest national polling average from 538 has her just six points behind Ron DeSantis, who was beating her by over 20 points just six months ago.
The fundraiser comes just three months after Rabois emphatically expressed support for DeSantis, stating at a Fortune conference in July, "I want to say very clearly that my husband and I are significant supporters of the governor and all his policies."
"We think what he's doing in Florida is the recipe that should be copied in every state — period, without exception," Rabois said at the conference, according to a report at the time.
Rabois also expressed support for DeSantis' candidacy in the lead-up to DeSantis' presidential run, telling Fortune in September 2022 that he would be "excited" to see the governor in the White House and that he hoped DeSantis would use his "portfolio of issues" to contrast himself to others.
Despite the public praise, Federal Election Commission records do not show that Rabois, as of last month, had contributed to DeSantis's presidential campaign. Records also show no donations by Rabois to the main super PAC supporting DeSantis, as of June this year. Neither did Rabois donate to DeSantis' gubernatorial campaign last election cycle.
News of the fundraiser comes after Citadel hedge fund founder and CEO Ken Griffin recently revealed that he plans to sit out the GOP presidential primary and not back DeSantis, whom he supported in 2022. Griffin had grown increasingly frustrated with how the Florida governor's early campaign was playing out and with waiting for DeSantis to show progress as a candidate, sources told ABC News.
Rabois has been a prolific GOP donor over the past decade, giving millions of dollars to numerous House and Senate Republicans. He has noticeably ramped up his political giving in the past couple election cycles, giving hundreds of thousands of dollars to House Republicans.
So far this year, he has given nearly $700,000 to Protect the House, the joint fundraising committee for House Republicans, led by now-ousted House Speaker Kevin McCarthy.
Last year, he gave $860,000 to McCarthy's joint fundraising operation and the previous year, he gave nearly $772,000.
Copyright © 2023, ABC Audio. All rights reserved.