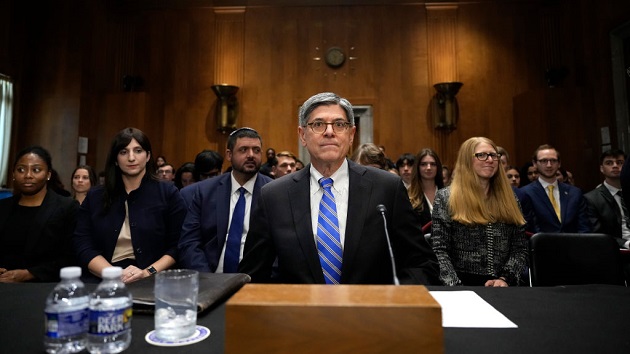 (WASHINGTON) — While senators on both side of the aisle are eager to confirm a nominee to serve as ambassador to Israel, Senate Republicans on the Foreign Relations Committee on Wednesday questioned whether President Joe Biden's nominee to fill the vacant post, Jack Lew, is the right man for the job at a critical moment for the Middle East amid Hamas' terrorist attack on Israel.
Chairman Ben Cardin urged his colleagues to expeditiously confirm Lew following the departure of Tom Nides in July.
"Now is not the time to play political games," Cardin said.
While Ranking Member James Risch, R-Idaho, acknowledged that it was important to "support Israel by filling a vacancy in the position for ambassador to Israel," Risch previewed concerns he had with Lew as a replacement.
"I agree with you: we need this thing filled," Risch told Cardin in his opening remarks. "The problem I have is it needs to be filled with the right person. The only thing worse than having it empty would be having the wrong person there, and I have some issues in that regard, which we're going to talk about."
Throughout his hearing, Lew tried to fend off multiple GOP allegations that while acting as Treasury secretary, he was complicit in trying to bend the rules to allow Iran access to U.S. financial systems following the Joint Comprehensive Plan of Action (JCPOA), better known as the Iran nuclear deal, despite promising the opposite to Congress. Those allegations were first borne out in a 2018 Republican-led report by the Senate Homeland Security Committee's Permanent Subcommittee on Investigations that found that Lew had issued specific licenses to allow Iran to convert some of its funds through the U.S. financial system. On Feb. 24, 2016, the Office of Foreign Assets Control, an agency of the Treasury Department, issued a specific license to Bank Muscat authorizing Iranian assets worth roughly $5.7 billion to flow through the U.S. financial system that would expire in February 2017, according to the report. Lew had testified before Congress in the past that Iran would have no such access. During his questioning, Risch cited the report to accuse Lew of enabling Iran.
"What I can tell you is the government of Iran believed that we did not give them what they expected, which was full access to the world financial system. They complained that my actions were what kept them from getting full access to the world financial system. … We did the letter of the agreement [and] gave them what was agreed to in the JCPOA, nothing more," Lew replied.
"I have to tell you that this is something we knew nothing about at the time that you issued that license, and we believe that that was a direct contravention of what you told us here in this committee in July of 2015, and to be honest with you, I am deeply disappointed with that. … Holding hands with Iran under the table doesn't work for me, and I'm deeply disappointed that you issued that license," Risch said.
Sen. Marco Rubio, R-Fla., read a quote from a 2017 letter Lew wrote that said, "To be clear, the U.S. Department of the Treasury is not working on behalf of Iran to enable Iranian access to U.S. dollars elsewhere in the international financial system, nor are we assisting Iran in gaining access to dollar payment systems outside the U.S. financial system. The administration has not been and is not planning to grant Iran access to the U.S. financial system."
"So basically, the way I would describe this is your testimony is you were not providing them access to the U.S. financial system. You were then issued a special license, which is not published — maybe no one was supposed to find out about it — to help them gain access to the U.S. financial system, then asked two banks to help convert the funds. They chose not to do so … and then when we write you about it, not once, but twice, you deny or mislead that any of this was happening," Rubio said.
"This was not a partisan report," Rubio noted, adding that Lew "deliberately, in my view, misled me … on what was happening behind the scenes with regards to all this."
"I don't think the facts are exactly the way you described them, and I think it's important to distinguish between the technical details to facilitate implementation of JCPOA and more broadly welcoming Iran into the U.S. financial community. We didn't, and I took no actions that would do that."
Lew told Rubio he had "banks and governments coming to [him] saying, 'We want you to do' exactly what [Rubio] described."
"We didn't do that," Lew said. "What we did was we said exactly what I said in response to the ranking member. We told them what sanctions were lifted, what sanctions remained in place and we told them to be careful, and Iran got from that the message that we were telling people not to do business with them. That's why they sanctioned me."
Some Democrats took issue with Republicans' descriptions of Lew's character.
"To challenge your character, to say that you lied when you didn't, to characterize a partisan report as a 'bipartisan report' when it wasn't is unfair to you," said Sen. Brian Schatz, D-Hawaii.
Early stages of the hearing included three separate outbursts from pro-Palestinian protestors who we escorted from the room after interrupting proceedings.
Within moments of Lew's confirmation hearing beginning, a protester in the room interrupted Cardin's comments by calling for a ceasefire in the region.
Following Cardin's warning about "political games," the protester stood up and seemed to respond: "Now is not the time to play political games! How many more bombs need to be dropped on Gaza?"
"How many more children need to be killed. Our families are dying. We need a cease fire now," the man said. He held up a sign that read "Ceasefire now."
Moments later, a separate protester stood up and shouted "You need to stop the genocide in Palestine. Palestine needs its freedom."
Multiple Senate Democrats spoke on the importance of urging Israel to take a humanitarian approach to rooting out Hamas.
"Hamas started this horrible war against civilians, but all Palestinians are not Hamas, all Gazans are not Hamas, and a broader humanitarian challenge in Gaza will serve not Israels interests, will be devastating to Palestinians, will not serve the region's interests," Sen. Tim Kaine said. "We need to do all we can to our ally Israel to take the fight to the perpetrator."
Lew agreed that a humanitarian approach is the right one but emphasized that Biden has noted Israel's right to self-defense, and acknowledged that some civilian loss could occur.
"I don't think the standard can be that it gets to zero," Lew said.
Israel has suffered at least 1,400 deaths since Hamas launched a terrorist attack on Israel on Oct. 7, according to the Israeli Health Ministry. There have been at least 3,478 deaths in Gaza during the same period, per the Palestinian Health Ministry.
The Senate Foreign Relations committee will hold a vote next on whether to advance Lew's nomination to the Senate floor. If all Democrats stick together, there's nothing Senate Republicans can do to prevent Lew from ultimately being confirmed to the post.
Copyright © 2023, ABC Audio. All rights reserved.