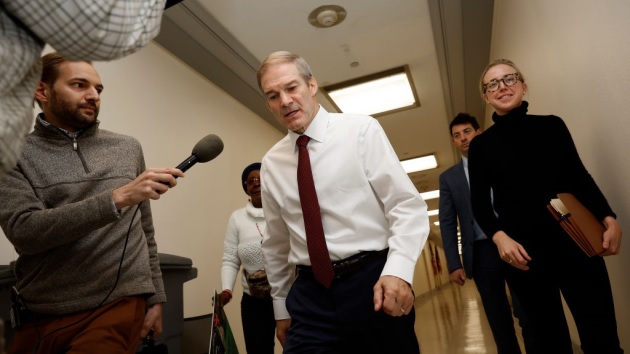 (WASHINGTON) — Rep. Jim Jordan on Monday met with holdouts who don't support him for House speaker — scrambling to shore up support ahead of a floor vote planned for Tuesday afternoon.
Jordan, the conservative firebrand, was nominated by House Republicans for the top spot Friday. Yet a secret vote among their conference on Friday showed 55 House Republicans would not cast ballots for him on the floor — complicating his path to the 217 votes he needs. Jordan can only afford to lose four votes to become the next speaker if all members are voting.
On Monday, the Ohio congressman held one-on-one meetings with several members who are on the fence, sources tell ABC News. The conference will meet Monday evening ahead of the floor vote, which Jordan said is slated for Tuesday at noon. He suggested he would go forward with Tuesday's vote even if he doesn't have the 217 votes he needs going in.
"I think the only way to do this the way the founders intended — is you have to vote tomorrow. We've set it for 12 o'clock," Jordan said.
It appears some of his have efforts paid off. Several Republicans have flipped, saying they will now support Jordan.
Just days ago, Rep. Ann Wagner, R-Mo., said "hell no" when asked if she would support Jordan. On Monday, she released a statement that she's backing him after their conversations.
"Jim Jordan is our conference nominee, and I will support his nomination for Speaker on the House floor," she said in the statement.
Rep. Ken Calvert, R-Calif., and Rep. Mike Rogers, R-Ala., also announced in a statement that they would be backing Jordan.
Others such as Rep. Steve Womack, R-Ark., said they are still on the fence.
"The dash light that has the transmission icon on it is flashing, we can't get out of control," he told ABC News Senior Congressional Correspondent Rachel Scott.
Womack said he's concerned about how the goal posts have changed.
"This has got 'House of Cards' stuff written all over and I think the American people are tired of watching this, this fiasco unfold," Womack said, referring to Netflix's political drama.
Earlier Monday, Jordan sent a letter to his colleagues, which was obtained by ABC News.
"It's an honor to receive our conference's nomination as Speaker-designate. Over the past weeks, each of you have communicated the issues that matter most to you and your constituents," Jordan wrote in the letter.
"We've discussed frustrations about the treatment of Kevin McCarthy and Steve Scalise and the events of the past month. You've been honest and open, and I appreciate the candid conversations."
"The role of a Speaker is to bring all Republicans together. That's what I intend to do," he added.
It has been a chaotic battle for the speakership after Rep. Steve Scalise, R-La., who received the party's nomination last week, backed out when it became clear he didn't have the votes he needed to win. All of this was brought on by former speaker Kevin McCarthy's ouster by hard-line Republicans on Oct. 3.
The pressure is on for Republicans to elect a new speaker so the House can provide aid to Israel after Hamas-led attacks ravaged the region and left more than 1,000 dead in Israel — including Americans — leading Israel to declare a war in response. The new speaker will also come in with one month to push through funding legislation to prevent a partial government shutdown, which would have rippling consequences for millions of employees and recipients of social services.
Copyright © 2023, ABC Audio. All rights reserved.