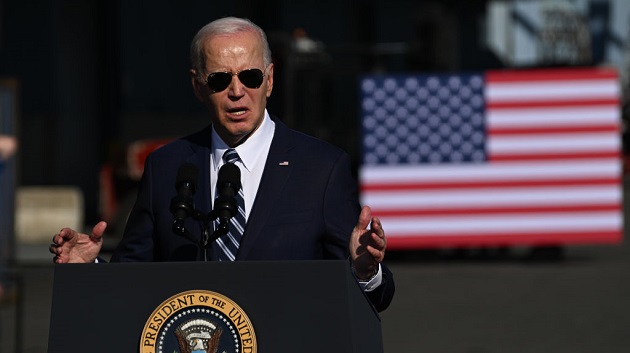 (PHILADELPHIA) — President Joe Biden on Friday spoke with the families of 14 missing Americans, saying they are in "agony" as they wait for more information about their loved ones who remain unaccounted for since the Hamas terror attack on Israel this past weekend.
Biden reflected on the Friday morning video call he made from the White House during an afternoon event in Philadelphia, saying that he talked with the families virtually for over an hour. The call was led by the Special Presidential Envoy for Hostage Affairs Roger Carson, according to the White House.
"They're going through agony not knowing what the status of their sons daughters, husbands, wives children are," Biden said. "You know, it's gut wrenching. I assured them my personal commitment to do everything possible, everything possible to return every missing American to their families."
"We're working around the clock to secure the release of Americans held by Hamas, in close cooperation with Israel and our partners around the region. We're not going to stop until we bring them home," Biden continued.
The White House has said Americans are among the scores of people being held hostage by Hamas.
National Security Council spokesperson John Kirby told reporters Thursday the administration believes the number of Americans being held is "less than a handful" but still had no information about their condition or status.
Secretary of State Antony Blinken, while in Doha on Friday, said the U.S. and Qatar are working "intensively together" to secure the release of the Americans and others taken hostage by Hamas.
"I'm grateful for the urgency that Qatar is bringing to this effort. I had an opportunity to meet yesterday with the families of some of those being held hostage by Hamas," Blinken said at a press conference alongside Qatari Prime Minister Sheikh Mohammed bin Abdulrahman bin Jassim Al Thani. "Their anguish is profound. They're desperate to bring their loved ones home. And we are working urgently on that effort. We're doing that with Qatar and we're doing that with allies and partners across the region."
Al Thani appeared to express some optimism that some of the hostages would eventually be recovered and stressed that Israel should follow international law in all its military operations.
At least 27 Americans have been killed since the fighting began on Saturday when Hamas launched an unprecedented incursion in Israel.
Biden said Friday "the more we learned about the attack, the more horrifying it becomes" and said Hamas "make Al Qaeda look pure."
"They're pure evil," Biden said of Hamas. "As I've said from the beginning, the United States, make no mistake about it, stands with Israel."
The U.S. is providing charter flights to help evacuate Americans in Israel. The first flight left on Friday for Europe.
"The State Department will continue to organize these charter flights for as long as there is a demand from US citizens for departure assistance," Kirby said on Friday.
For the past several days, Israel has fired airstrikes at Gaza and is currently preparing for a possible ground invasion. Early Friday, the Israel Defense Forces told more than 1 million Gazans to flee south to avoid the fighting.
President Biden on Friday highlighted both Blinken and Secretary of Defense Lloyd Austin's visits to the region in recent days, again reiterating that the U.S. would make sure Israel had the support it needed.
But Biden also raised concern about the growing humanitarian crisis in Gaza, saying it is a "priority" to urgently address it.
"At my direction, our teams are working in the region including communicating directly with the governments of Israel, Egypt, Jordan, and other Arab nations and the United Nations to surge support and humanitarian consequences for Hamas' attack to help Israel," Biden said.
"You know, we had to — we can't lose sight of the fact that the overwhelming majority of Palestinians had nothing to do with Hamas, and Hamas's appalling attacks. And they're suffering as a result as well," the president added.
ABC's Alexandra Hutzler and Shannon Crawford contributed to this report.
Copyright © 2023, ABC Audio. All rights reserved.