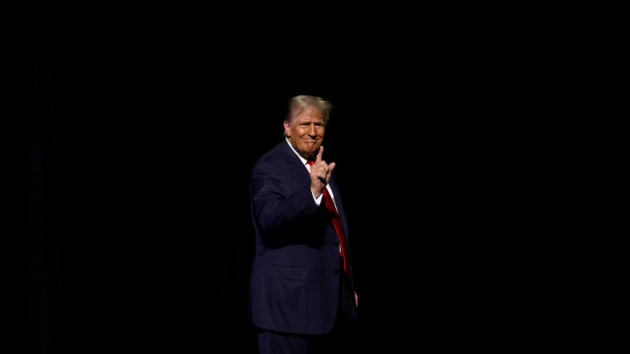 (WASHINGTON) — In a rare move, the White House on Thursday publicly pushed back against former President Donald Trump after he labeled Israel's defense minister a "jerk" and also called the Lebanese militant group Hezbollah "very smart."
Hamas, the Palestinian extremists who control Gaza next to southern Israel, launched a terror attack on the country over the weekend, killing more than 1,200 people, officials have said.
Israel launched a war in response and has so far carried out a number of military strikes and operations on Gaza. More than 1,000 people have been killed in the territory, according to Palestinian officials.
Hezbollah, based out of Lebanon to the north of Israel, has fought with Israel before, underlining the concern that it could open up another front in the conflict. A senior U.S. defense official earlier this week told reporters that the Pentagon was "deeply concerned" about such a possibility. "We are working with Israel and with our partners across the region to contain this to Gaza," they said.
Trump referred to that in a campaign speech in Florida on Wednesday night.
"Two nights ago I read all of Biden's security people … they said, 'Gee, I hope Hezbollah doesn't attack from the north, because that's the most vulnerable spot.' I said, 'Wait a minute. You know, Hezbollah is very smart.' They're all very smart," Trump said, going on to add that "the press doesn't like when" he says things like that, as he has when praising the effectiveness of China's authoritarian President Xi Jinping.
Trump swiped at two top Israeli officials, Defense Minister Yoav Gallant and Prime Minister Benjamin Netanyahu, with whom Trump once appeared to be close.
"They [Israel] have a national defense minister … if you listen to this jerk, you would attack from the north because he said that's our weak spot," Trump said.
Gallant's office reportedly said in response that Trump was making "far-fetched speculation" and attested to the military's strength.
Of Netanyahu, Trump said he "let us down" while talking about the U.S. killing of Iranian military officer Qassem Soleimani.
Biden spokesman Andrew Bates said in a Thursday statement that what Trump said about Hezbollah was "dangerous and unhinged."
"It's completely lost on us why any American would ever praise an Iran-backed terrorist organization as 'smart.' … This is a time for all of us to stand shoulder to shoulder with Israel against 'unadulterated evil,'" Bates said.
Trump's comments also drew criticism from his former vice president, Mike Pence, who is challenging him for the 2024 Republican presidential nomination.
"Hezbollah aren't smart. They're evil," Pence said during a New Hampshire radio appearance on Thursday.
He added that Trump, the front-runner for the nomination so far, is "simply not expressing — and his imitators in this primary are not expressing — the same muscular American foreign policy that we lived out every day."
Another GOP presidential candidate, Florida Gov. Ron DeSantis, said in a statement on social media that "it is absurd that anyone, much less someone running for President, would choose now to attack our friend and ally, Israel, much less praise Hezbollah terrorists as 'very smart.' As President, I will stand with Israel and treat terrorists like the scum that they are."
In his campaign speech, Trump had touted "how much safer the world was" while he was in office while spending much of his nearly two-hour speech blaming the Biden administration for the Israel-Hamas conflict. He said that if reelected, he would seek to "permanently" destroy Hamas.
"I was … proud to be the best friend Israel has ever had in the White House by far," he said.
Among other controversial claims, Trump alleged, with no evidence, that the Biden administration has been "inviting" in "terrorists and terrorist sympathizers" because former President Barack Obama is his "boss."
Trump then repeatedly said Obama's full name — Barack Hussein Obama — while invoking the "great [conservative radio host] Rush Limbaugh," who also referred to Obama that way.
It appeared be an incendiary attempt by Trump to link Obama with extremists by repeatedly bringing up Obama's middle name.
An Obama spokeswoman declined to comment to ABC News when asked for reaction to what Trump said.
In a statement, a Trump spokesman did not address his Obama remark but said, "President Trump was clearly pointing out how incompetent Biden and his administration were by telegraphing to the terrorists an area that is susceptible to an attack. Smart does not equal good. It just proves Biden is stupid."
In his speech, Trump criticized the Biden administration for freeing up $6 billion in Iranian oil revenue in the weeks before Hamas attacked Israel. That money was part of a deal to release five American detainees who were held in Iran.
Trump, as other Republicans have done, urged Biden to freeze the Iranian revenue. Trump called Biden a "dumb, dumb, dumb, dumb person."
On Thursday, ABC News reported that, according to sources, the fund has since essentially been blocked again.
"We have strict oversight of the funds and we retain the right to freeze them," Secretary of State Antony Blinken had said Thursday when asked by reporters about the Iraninan money while visiting Israel.
The Biden administration has responded to criticism over initially freeing up the money by saying it was being closely monitored, hadn't yet been disbursed and could only be used for humanitarian purposes. Skeptics of that view argue the money nonetheless eases broader financial pressures on Iran, which is a primary sponsor of Hamas.
Referring to the potential security and military failures that may have led up to Hamas' surprise assault on Israel, Trump said on Wednesday: "You talk about the intelligence or you're talking about some of the things that went wrong over the last week, they've got to straighten it out because they're fighting potentially a very big force."
Sen. Tim Scott, R-S.C., another 2024 candidate, on Thursday said the former president's comments about Netanyahu were "wrong," and said the new agreement on stopping access to the Iranian assets was insufficient.
In a radio interview on Thursday, amid the criticism, Trump shared his support for Israel. "They've been, you know, a part, really a part of this country, the fabric of what we stand for. We have to protect Israel. There's no choice."
ABC News' Gabriella Abdul-Hakim, Libby Cathey, Hannah Demissie, Fritz Farrow, Luis Martinze and Will McDuffie contributed to this report.
Copyright © 2023, ABC Audio. All rights reserved.