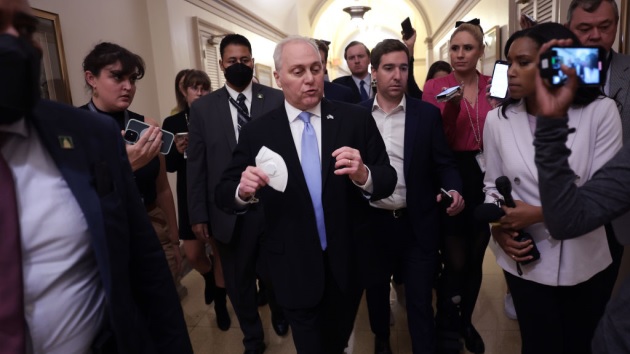 (WASHINGTON) — House Republicans emerged from a closed-door meeting Thursday afternoon with little clarity about who will be the next speaker as it appears Majority Leader Steve Scalise doesn't currently have the votes needed to earn him the top spot — just one day after he won the party's nomination in a private ballot at the Capitol.
Scalise addressed the conference during the closed-door session Thursday. He left the meeting telling reporters that he will be talking with holdouts to work to flip their votes.
"We're honing in on, I think, the real concerns and issues that members have. Members want to get the House working again, but they want to get the institution working again. Congress is broken. And we need to fix it," Scalise told ABC News Senior Congressional Correspondent Rachel Scott. "We need to continue to make the kind of reforms that open this process up again, that address the problems that are facing hardworking families."
By ABC News' count, at least 13 Republicans don't plan to back Scalise — the latest sign that Republicans are still deeply divided and fractured after the removal of Kevin McCarthy as speaker. Scalise would need 217 votes on the House floor to be elected speaker. All Democrats will support Rep. Hakeem Jeffries, D-N.Y.
The House adjourned Wednesday night with no scheduled floor vote for a new speaker, further complicating Scalise's path to the gavel. On Wednesday, House Republicans narrowly elected Scalise — pushing aside Rep. Jim Jordan, R-Ohio, a firebrand and chairman of the House Judiciary Committee.
McCarthy said while he supports Scalise, the Louisiana congressman has a long road ahead to earn the speakership.
"It's not an easy task, you've got to listen to people … but time is of the essence. There's not that much time left," McCarthy told Scott.
When asked if it's possible for Scalise to get the votes needed to be speaker, McCarthy said "it's possible."
"…It's a big hill though. He told a lot of people who would be at 150 [votes] and he wasn't there," McCarthy said.
The latest GOP holdouts come from across the party spectrum — from deep-red rural districts to more moderate suburban regions — and had a range of explanations for why they wouldn't back Scalise.
Rep. Marjorie Taylor Greene, R-Ga., suggested she won't back Scalise because he has cancer. The Louisiana congressman is currently undergoing aggressive treatment for blood cancer.
"We need a speaker who is able to put their full efforts into defeating the communist Democrats and save America," Greene wrote on X, formerly known as Twitter.
Rep. Nancy Mace, R-S.C., who, like Greene, still plans to vote for Jordan on the floor, says she can't vote for Scalise after learning that Scalise attended an event linked to a white supremacist group in 2002.
"Especially given what's happening in Israel right now, I just cannot support someone who's associated with anything that divisive, whether it's race or religion," Mace said to reporters.
In 2015, Scalise came under fire for attending and speaking at a workshop organized by an alleged white supremacist group in 2002. A Scalise spokesperson told ABC News at the time that he didn't remember attending the event, at which he reportedly gave a conventional stump speech, and he may not have been aware of its affiliation. A local blogger once said Scalise described himself as "David Duke without the baggage," but it's not clear that Scalise ever described himself that way publicly.
Others said the process has been rushed, which is giving them pause.
"What unfolded over the last 24 hours was not the way I think we should do things," said Rep. Chip Roy, R-Texas, who accused Scalise of trying to rush to the floor after winning the GOP vote for speaker.
Speaker Pro Tempore Rep. Patrick McHenry, R-N.C., said Wednesday that this was an "unprecedented moment."
"This is the fastest speaker's election in modern history," he said.
While Scalise has won over some of McCarthy's critics, such as Reps. Matt Gaetz, R-Fla., he may have alienated some of McCarthy's loyal allies, such as Rep. Carlos Gimenez, R-Fla., and Lloyd Smucker, R-Penn.
"He's going to have to give us a message or an understanding of how he's going to bridge that gap and make certain that he brings Congress together and not divide the Republican conference more," House Intelligence Committee Chairman Mike Turner, R-Ohio, said on CNN.
Anna Paulina Luna, R-Fla., who had earlier supported Scalise as speaker, posted to X that she changed her mind.
"There is no consensus candidate for speaker. We need to stay in Washington till we figure this out. I will no longer be voting for scalise. I don't even think we make it to the floor," she wrote.
Jordan, who was the first to officially launch a bid to become speaker, said he plans to vote for Scalise on the floor and is encouraging his colleagues to do the same.
"We need to come together behind Steve," Jordan said Thursday afternoon.
Some lawmakers who said they supported Scalise doubt he'll reach the 217 threshold to secure the speaker's gavel.
"You have two great candidates. I don't think either one of them can get to the 217. I just don't," Rep. Troy Nehls, R-Texas, said Thursday. "How do we do it? I would love to see us come to find a way to do that. I don't think we will."
Nehls — who has urged former President Donald Trump to become speaker — said if the process drags into the weekend, it may be time to "try to nominate someone else."
The pressure is on for Republicans to elect a new speaker so the House can provide aid to Israel after Hamas-led attacks have left at least 1,200 dead — including at least 27 Americans. The new speaker will also come in with a little more than a month to push through funding legislation to prevent a partial government shutdown, which would have rippling consequences for millions of employees and recipients of social services.
It's not yet clear when a speaker vote will be set.
Rep. Michael McCaul, R-Texas, said each passing day without a speaker creates a more "dangerous" landscape.
"I just made the conference aware that we're living in a dangerous world. The world is on fire. Our adversaries are watching what we do. And quite frankly, they like it … Every day that goes by it gets more dangerous," McCaul said. "One of the biggest threats I see is in that room because we can't unify as a conference and put the speaker in the chair together."
Meanwhile, Jeffries is calling on Republicans to "get their act together."
"House Republican need to end the GOP civil war — now. What is the problem? They've had an election. They designated someone to be brought to the floor," he told Scott Thursday afternoon.
"Why is that so complicated? Particularly during such a difficult time for the American people, for Israel for the Ukrainian people and for the free world," he added.
ABC News' Jay O'Brien, John Parkinson, Lalee Ibssa, Katherine Faulders and Sarah Beth Hensley contributed to this report.
Copyright © 2023, ABC Audio. All rights reserved.