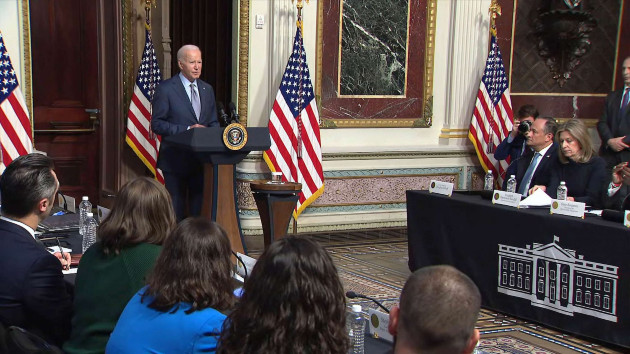 (WASHINGTON) — President Joe Biden on Wednesday said he was doing "a lot" to free hostages held by Hamas, including Americans, and that he hasn't given up hope, but he revealed no details.
"We're working on every aspect of the hostage crisis in Israel, including deploying experts to advise and assist with recovery efforts," he told a gathering of Jewish community leaders. "Now, the press are going to shout to me, and many of you are, that you know … what are you doing to bring these — get these folks home? If I told you, I wouldn't be able to get them home. Folks, there's a lot we're doing, a lot we're doing."
"I have not given up hope of bringing these folks home," he continued. "But the idea that I'm going to stand here before you and tell you what I'm doing is bizarre. So, I hope you understand how bizarre I think it would be to try to answer that question."
Earlier, the White House said the U.S. is "keeping options wide" for the recovery of Americans being held hostage by Hamas, but at the same time, a spokesman acknowledged it had no update on their condition or whereabouts.
At least 22 Americans have died in Israel since the fighting began on Saturday when Hamas launched unprecedented surprise attacks. Seventeen Americans remain unaccounted for or missing, press secretary Karine Jean-Pierre said.
According to White House spokesman John Kirby, a "number of those Americans" are being held hostage by Hamas. He said the public should prepare for the possibility that the number of U.S. citizens being held by the terrorist group will grow.
ABC News Chief White House Correspondent Mary Bruce asked Kirby if there were anything he could share about the hostages' condition, and whether the administration is in contact directly or indirectly with Hamas about securing their release.
"Now, where they are and in what condition, no," Kirby responded, adding the administration isn't aware if they are in one group or at what frequency they may be being moved. "Sadly we don't know. And that makes efforts very, very difficult."
He also told ABC White House Correspondent MaryAlice Parks he is "not aware of any specific proof of life on any individual hostage."
Kirby said the U.S. is in discussion with some countries, such as Qatar, that have lines of communication with Hamas on freeing the hostages.
Pressed on whether the U.S. has made any contact with Hamas, Kirby deferred to his previous answer — telling reporters that like in other instances where Americans are being held hostage or wrongfully detained, "the less you say out there publicly the better."
Asked if President Biden has ruled out sending any American forces into Gaza to help secure their release, if necessary, Kirby said they just "don't have enough information to be able to make decisions like that."
"Obviously we're casting a wide net," Kirby said regarding discussions about hostages with allies and partners in the region. "We're also keeping the options wide open right now as we get more information but we just don't have enough granularity to be able to fine-tune those options."
According to two U.S. officials familiar with the matter, it does appear that allies and partners in the Middle East in communication with Hamas are being helpful in advocating for the release of the hostages.
But despite recent apparent overtures to the Hamas leadership, the officials say Hamas has shown no real willingness to partake in diplomacy up to this point. And despite Israel's long history of prioritizing the lives of its citizens that are taken hostage, the officials said there's no appetite on their side to cut a deal right now either.
Copyright © 2023, ABC Audio. All rights reserved.