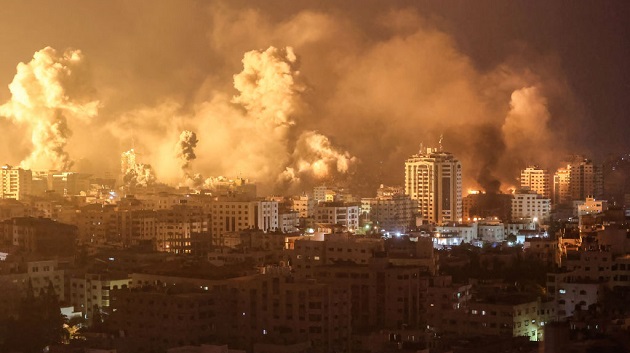 (WASHINGTON) — As Israel gears up for a possible ground invasion of Gaza following the devastating terror attacks by Hamas, the U.S. is pushing for a safe passage for civilians to flee.
The Biden administration is in active discussions about the issue with Israel and Egypt, White House spokesperson John Kirby said on Wednesday, though no breakthrough has been reached on a humanitarian corridor or other action.
The Rafah border crossing from southern Gaza into Egypt, the only route out, has been closed.
"Civilians are not to blame for what Hamas has done," Kirby said. "They didn't do anything wrong, and we continue to support safe passage."
Kirby added, "Civilians are protected under the laws of armed conflict, and they should be given every opportunity to avoid the fighting."
Secretary of State Antony Blinken, leaving Washington for Israel to show support, said the issue of safe passage is "complicated."
"But we want to make sure to the best of our ability, and I know that Israel to the best of its ability, that civilians are not harmed," he said on the tarmac in Washington. "But Israel has to take steps to defend itself."
As the violent conflict stretched into its fifth day, at least 1,200 people have been killed in Israel and 2,900 injured. In Gaza, 1,100 people have died and 5,184 are injured.
The ground offensive Israel could launch is expected to result in an increase of casualties on both sides.
President Joe Biden has spoken to Israel Prime Minister Benjamin Netanyahu four times so far, including earlier Wednesday.
With concerns mounting over civilian casualties, Biden, speaking to a gathering of Jewish community leaders, reiterated his support for Israel but also recounted what he said was his recent message to Netanyahu.
"I've known Bibi for over 40 years and [we have a] very frank relationship," Biden said, recalling one of their recent conversations. "One thing that I did share is that it is really important that Israel with all the anger, frustration and it just cannot explain it, that exist, is that they operate by the rules of war. The rules of war. And there are rules of war."
Kirby, asked Wednesday if the U.S. has done anything to try to deter Israel from the ground offensive or if Biden has asked Israel to show restraint, deferred to the Israeli military to talk about their plans.
But Kirby did briefly, and forcefully, comment on the question generally, stating, "Nobody wants to see any more innocent life lost."
"None. Nobody," he said. "No matter who you are. If you're an innocent civilian, you didn't cause this. You didn't ask for this. And you shouldn't be having to fear for your life. Nobody wants to see that happen."
"And I think it's important to remind that, especially on the Palestinian side, Hamas is directly endangering their lives. hospitals and schools," Kirby added. "They didn't ask for that either. And Hamas doesn't speak for the majority of the Palestinian people or their aspirations for peace and security."
The White House spokesperson also stressed the importance of getting humanitarian assistance to civilians in Gaza.
As for American citizens still in Israel, Kirby said the State Department is in touch with them to establish a connection and see if they want to leave.
Copyright © 2023, ABC Audio. All rights reserved.