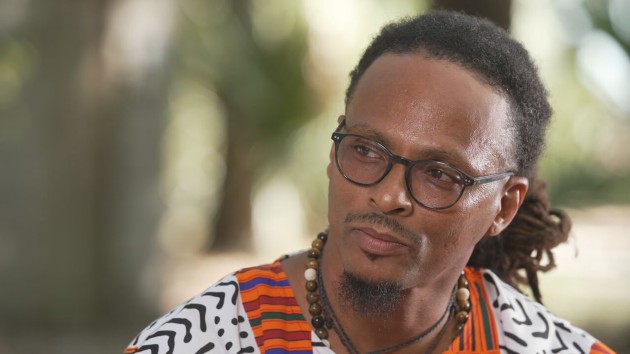 (MITCHELVILLE, S.C.) — The wooded and marshy northern tip of Hilton Head Island in South Carolina is home to a little-known symbol of freedom whose legacy, advocates say, hangs in the balance before the U.S. Supreme Court.
"If you don't have the people, you don't have the culture," said Taiwan Scott, a 47-year-old island native and member of the Gullah people, African American descendants of slaves who were forced to work the rice, indigo and Sea Island cotton plantations on the southeastern coast.
"This is where freedom began," Scott said in an interview on the historic site of Mitchelville, the first freedmen's town formed during the Civil War. "And we should still feel that this is our safe haven."
While the area has been recently preserved as a public park and Gullah education center, decades of development and gentrification on the island have nearly obliterated Black neighborhoods and native-owned businesses.
And now, Scott argues, newly-drawn election maps first used last year are threatening to further diminish Black voters' influence nearby.
"It's taking our opportunity to elect a representative away from us," said Scott, who is a plaintiff in a high court case challenging the constitutionality of the map for the state's 1st Congressional District, which includes Hilton Head and used to include more Black neighborhoods. "I think it's deliberate how it was drawn."
The South Carolina NAACP and Scott, the only individual plaintiff, sued Republican lawmakers last year alleging they predominantly considered voters' race when drawing district boundaries in violation of the 14th Amendment's equal protection clause.
In a unanimous decision earlier this year, a panel of three federal judges agreed, finding that state Republicans had illegally "bleached" the 1st District of 30,000 Black voters.
The Supreme Court on Wednesday will hear arguments on the lawmakers' appeal.
"I've never heard anything like that," Charleston County GOP Chairman Andrew Boucher said of the claims that state legislators were aiming to deliberately move Black voters in order to consolidate political power.
The 1st District, which stretches from Savannah and Hilton Head up to Charleston along the Atlantic coast, is represented by Republican Nancy Mace.
"When we move the lines around on a map, not much changes," Boucher said defending the challenged map. "Charleston is a swing county. It is a red county, but it still has some blue tendencies every now and then."
Republican state legislators directly involved with the map drawing, who did not respond to ABC News' requests for an interview, argue in court documents that political affiliation — not race — was the guiding factor and that the lower court erred in its factual findings.
"There's no way you can say it wasn't racial," contends Brenda Murphy, president of the South Carolina NAACP. "If you look at who's living and what neighborhoods and how it's carved out, it's Black people. If you look at that map, it's not contiguous. It's very obvious."
The nation's high court has said partisan gerrymandering, or the act of drawing election maps for political gain, does not violate the Constitution but that the express use of race as a predominant factor for sorting voters does violate Americans' rights.
Just outside of Charleston, the town of Lincolnville is seen by advocates as a prime example of the alleged impact of racial gerrymandering. Murphy said this community, which was founded by freed slaves after the Civil War, has been carved out of the 1st District.
Lincolnville's popular park and playing fields, surrounded by leafy streets lined with historically Black family homes, were for years a contiguous part of the district. But on the new map, only the park itself remains — the Black families living around it are now part of the neighboring 6th Congressional District.
"They made it whiter," Murphy said. "We have people that are living in this community that have similar needs as those in congressional district one, but now they are not included."
DuBose Kapeluck, who chairs the political science department at The Citadel college in Charleston, believes state Republicans calibrated the new map with an aim of shoring up power after a series of uncomfortably close elections. In 2018, a Democrat won the 1st District seat by less than 2%; in 2020, Mace won it back for conservatives — but by just 1%.
"We've had a lot of people moving into the district — young, cosmopolitan people living in urban areas — and I think that they were more reliably Democratic voters. And so in order to create a district that's more Republican, you're really going to have to have a whiter district," Kapeluck said. "African-Americans are highly Democratic."
Mace acknowledges benefiting from the more Republican-friendly map in her 2022 reelection, in which she won by double digits, but insists she did not have a role in drawing the new district and staunchly opposes racial motivations.
"I don't know how they came up with those lines, but I do know you cannot legally draw lines based on race," Mace said in an interview. "I don't want anyone to feel in South Carolina that their voices are silenced."
As for the Supreme Court case, Mace said she believes state Republican lawmakers should prevail, taking them at their word that race was not a motivating factor.
"I do wholeheartedly believe that. But the Supreme Court at the end of the day will be the ultimate arbiter," she said.
The outcome of the case could ultimately influence the balance of power in Washington.
"It's a razor thin majority that the U.S. House Republicans have now, and losing a seat here or a seat there could result in a Democrat taking control of one chamber of the legislative branch. So that's not small potatoes," said Kapeluck.
But for Taiwan Scott, the case is about so much more.
"Justice is an even playing field. One person, one vote," he said. "We need to focus on the impact of what's happening to this significant community."
Asked if he's confident the justices will deliver that, he said: "I'm very confident. I am."
The Supreme Court is expected to hand down a decision by early 2024.
Copyright © 2023, ABC Audio. All rights reserved.