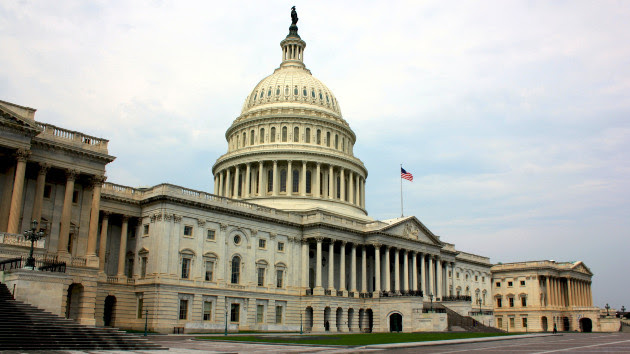 (WASHINGTON) — House Republicans scrambled Tuesday to coalesce behind a speaker candidate one day before their party vote, questioning Reps. Jim Jordan of Ohio and Steve Scalise of Louisiana about their visions and strategies for the majority.
Most Republicans have not announced their support publicly, teeing up a day of uncertainty for Republicans as they prepare for what could be several secret ballot votes for speaker.
Currently, a candidate only needs a simple majority vote to win the party's nomination and head to the House floor. But, the GOP will vote on an internal rule change to raise that threshold to 217 — to prevent a repeat of the messy 15-ballot floor fight Kevin McCarthy endured last January.
But that change could lead to a longer process on Wednesday, Republicans said.
"There's merit to … the unity play, where you come out of the locker room all together, no messiness and no drama on the floor," Rep. Jodey Arrington of Texas said. "Doing that in … the privacy of our conference is going to drag this out for a long time."
Rep. Thomas Massie of Kentucky told reporters there is a "2%" chance the House will have a new speaker named by Wednesday morning.
In the members-only meeting held behind closed doors, Scalise said he would support Jordan as the party's speaker nominee if he lost the party vote, members told ABC News. But Jordan's answer to that question was less clear to some of those in attendance, leaving some uncertainty as to whether the party could unite.
The two candidates also left colleagues with different impressions of how they plan to avoid a government shutdown in November. Jordan reportedly laid out a proposed stopgap measure that would attempt to pressure the Senate to accept steeper spending cuts — an approach that conservatives refused to back under McCarthy.
Members weren't as clear on Scalise's strategy, but some said it would also involve a stopgap funding measure.
"Here we've got a different shot clock because we have tens of days left before the government runs out of money," Rep. Matt Gaetz of Florida, a McCarthy critic, said when asked if a new speaker would be punished for following McCarthy's approach. "So I don't know that you can apply the McCarthy analysis to either Scalise or Jordan."
Rep. Marjorie Taylor Greene of Georgia told reporters she pushed both candidates on their stance on Biden's impeachment. While both said they would continue the inquiry opened by McCarthy, Greene said she wanted them to take more aggressive action.
Another wild card in play is the number of lawmakers still loyal to McCarthy and who are still potentially smarting over his removal.
Even though the former speaker has said he will not be a candidate Wednesday, some allies still argue that neither Jordan nor Scalise has enough support to lock up the gavel — and could withhold their support for both men for several rounds of voting.
Copyright © 2023, ABC Audio. All rights reserved.