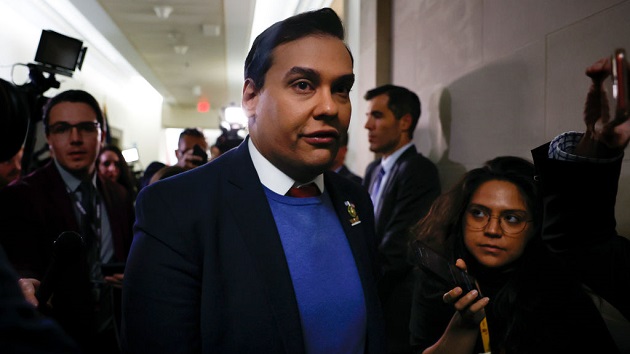 (WASHINGTON) — Hours after he was hit with a new round of federal charges, New York congressman George Santos briefly sat down with a small group of reporters on Wednesday morning to reiterate a few things: He does not intend to resign, he does not intend to take a plea deal and he intends to fight the case until "the bitter end."
"I'm strong in my convictions that I can prove my innocence," he insisted.
Prosecutors this week said that Santos, a Republican first elected last year, allegedly racked up thousands of dollars in charges on his donors' credit cards, exaggerated contributions to his campaign and claimed to have lent $500,000 of his own money when he only had $8,000 in the bank.
A superseding indictment was filed against Santos on Tuesday. He was previously charged by federal prosecutors in May and accused of three schemes, including defrauding his supporters out of tens of thousands of dollars and lying in disclosures to the House. He pleaded not guilty.
He has not yet appeared in court on the latest counts. The charges against him now include wire fraud, money laundering, aggravated identity theft and falsifying records submitted to obstruct the Federal Election Commission, among others.
"Santos is charged with stealing people's identities and making charges on his own donors' credit cards without their authorization, lying to the FEC and, by extension, the public about the financial state of his campaign. Santos falsely inflated the campaign's reported receipts with non-existent loans and contributions that were either fabricated or stolen," Breon Peace, the United States attorney for the Eastern District of New York, contended in a statement on Tuesday.
Santos insisted on Wednesday that he has "no control over specifically campaign finances."
His former campaign treasurer Nancy Marks last week pleaded guilty to a conspiracy charge for, prosecutors said, filing the names of false donors.
Prosecutors said that together, Marks and Santos allegedly worked together make it seem like Santos was getting enough donor support to qualify for party funds.
On Wednesday, Santos sought to distance himself from the accusations and suggested Marks could have been responsible even as he said, "I'm not blaming that on her."
He maintained that he had "emails … that we will use for my defense" in which he questioned Marks on reports and figures.
"It's frustrating to me that I have to sit here and now have to defend myself for things that I pay someone else to do," he said, adding, "I'm just saying it wasn't me. … I didn't handle the finances."
Pressed about whether he had some responsibility for occurred during his campaign, as the candidate in charge, he pushed back.
"'The buck stops with me' is an exaggerated term, especially when you're a candidate … I'm not an experienced politician," he said.
He specifically denied the allegation that he falsely reported loaning his campaign half a million dollars, calling it "b——-."
"I never directed a single person to go ahead and say, 'Hey, make false donations, make ghost donation, straw donations,' whatever it is you want to call it," he said.
"I did not create a fake campaign," Santos said.
He provided no evidence or emails to back up his claims.
He said he was "pretty much denying every last bit of [the] charges" but appeared less defensive about allegations by prosecutors that he filed false unemployment claims at the height of the COVID-19 pandemic even though he had an investment job making about $120,000 a year.
"Even if I were to have taken two checks too many, let's make it very clear: Nobody in this country gets indicted for taking a check or two more than they are entitled to during unemployment period or in that case and completely extenuating circumstance of the pandemic," he said.
He said again that he will run for reelection in his swing seat. He faces a growing field of Democrats seeking to beat him.
ABC News' Aaron Katersky contributed to this report.
Copyright © 2023, ABC Audio. All rights reserved.