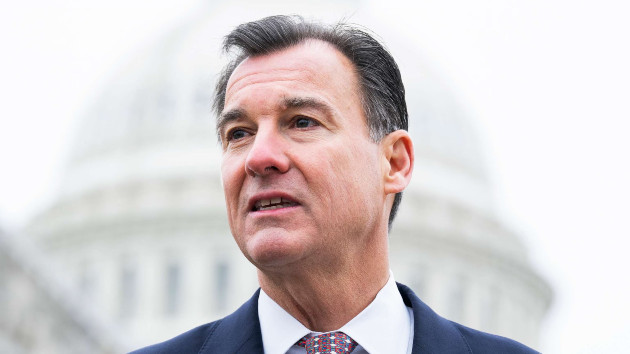 (NEW YORK) — Former New York Rep. Tom Suozzi announced on Tuesday that he's running to win back the seat he left earlier this year — which is now held by embattled Rep. George Santos.
In a statement, Suozzi, a Democrat, called out his Republican successor by name.
"The madness in Washington, DC and the absurdity of George Santos remaining in the United States Congress is obvious to everyone," Suozzi said.
"You know me. I've never sat on the sidelines. From the cost-of-living to immigration, crime, climate change, combating terrorism in the Middle East and globally, and simply helping people, we need more common sense and compassion and less chaos and senseless fighting," he said.
ABC News has reached out to Santos' office and campaign for comment.
Santos, in announcing his own reelection bid earlier this year, said in part: "We need a fighter who knows the district and can serve the people fearlessly. … Good isn't good enough, and I'm not shy about doing what it takes to get the job done."
Santos faces legal troubles and backlash on multiple fronts. He has been charged by federal prosecutors with fraud, money laundering, stealing public funds and lying to Congress. He has pleaded not guilty.
Santos is also the subject of a House ethics investigation, including whether he broke any laws regarding his 2022 campaign, and has said both that he will comply "100%" with the probe and, more recently, "I have a right to defend myself and I'm doing that."
While in office, he has been further mired in scandal after admitting to telling some lies about his background, such as falsely claiming he graduated from college, though he has said he was "embellishing."
Suozzi joins a growing field of Democrats, including New York state Sen. Anna Kaplan and activist Zak Malamed, who are seeking to replace Santos in the 3rd Congressional District, which covers a swath of Long Island.
Suozzi first beat Santos in 2020, then retired from his seat to mount an unsuccessful bid for New York governor in 2022, losing in the Democratic primary to Gov. Kathy Hochul.
Santos ran again for the 3rd District in 2022 and flipped it, defeating Democrat Robert Zimmerman by about 20,000 votes, similar to how other seats in New York state were won by Republicans that year.
Suozzi said in his statement on Tuesday that his "formal campaign kickoff" will be held after local elections in November.
Copyright © 2023, ABC Audio. All rights reserved.