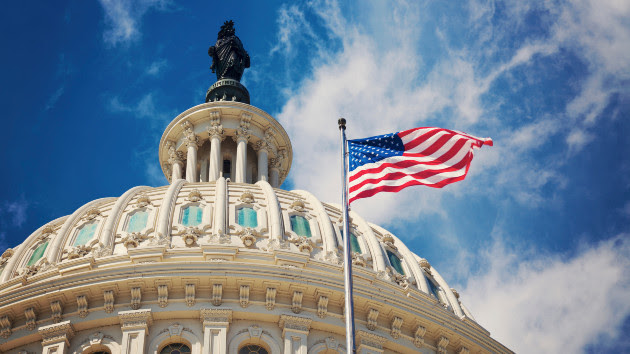 (WASHINGTON) — Hamas' surprise attack on Israel over the weekend, which killed hundreds and triggered a new war in the Middle East, also drew a range of political reactions in the U.S.
Presidential contenders seized on the issue, deposed House Speaker Kevin McCarthy sought to draw a contrast with the White House and the Biden administration — like most of the rest of Washington — reiterated support for Israel as some demonstrations also showed divisions among left-leaning lawmakers and some Republicans said their own infighting was an obstacle to providing aid to Jerusalem.
GOP members of Congress and White House hopefuls alike tore into President Joe Biden for past criticism of Israel over settlement expansion, a controversial judicial overhaul plan by Israeli Prime Minister Benjamin Netanyahu and more, on top of a recent unfreezing of $6 billion in Iranian assets as part of a deal to free American detainees.
"I can't imagine how anybody who's Jewish or anybody who loves Israel — and frankly, the evangelicals just love Israel — I can't imagine anybody voting Democrat, let alone for this man," former President Donald Trump said of Biden on Monday while in New Hampshire, an early voting state in the 2024 nominating contest.
Biden, for his part, issued a joint statement with several other world leaders to "express our steadfast and united support to the State of Israel, and our unequivocal condemnation of Hamas and its appalling acts of terrorism."
In a separate statement, he shared his grief at the "inexcusable hatred and violence."
South Carolina Republican Sen. Tim Scott urged on CNN that "we should be prepared to send resources to Israel without any question" — and in a campaign stop he indirectly criticized 2024 rival Vivek Ramaswamy for previously suggesting financial aid to Israel shouldn't be given indefinitely or as regularly as it is now. Ramaswamy has since attested to his support for Israel.
Florida Gov. Ron DeSantis, the No. 2 candidate in the GOP primary so far, said in his own statement: "[R]ight now, America must immediately do three things: (i) freeze any money Joe Biden has made available to Iran; (ii) cut off any and all types of foreign aid flowing to Hamas; and (iii) immediately shut down America's … southern border to ensure we are in a position to better protect Americans here at home from these real threats."
The Republican National Committee drew criticism of its own after its chair, Ronna McDaniel, said the fighting marked "a great opportunity for our candidates" to contrast with Biden's policies on the issue, which McDaniel lambasted.
"While apparently some individuals like Ronna McDaniel consider this loss of life and pain a 'great opportunity,' most Americans see it as a horrific tragedy," White House spokesman Andrew Bates said in a statement.
McDaniel said in a social media post on Sunday, "My heart goes out to all those who have lost loved ones in these horrific acts of terrorism. We stand with you and with Israel."
Separately, Republicans are also lamenting Congress' inability to approve more aid to Israel — largely because the body remains bottlenecked after a small group of GOP lawmakers left the House without a speaker and unable to pass legislation.
"When you see events like what we are seeing unfold in the Middle East, it shows why you don't play politics with this stuff," Rep. Mike Lawler, R-N.Y., who represents a district Biden won by 10 points in 2020, said on Monday.
McCarthy, the speaker who was voted out last week, spoke with reporters on Monday about what he felt should be done to address the attack on Israel.
"Now is the time for action," he said. "America needs a five-point plan to meet this moment, to help our ally Israel and to strengthen our own future."
ABC News Senior Congressional Correspondent Rachel Scott pressed McCarthy about what message it sent that the House is without a speaker amid the crisis.
"It's wrong. It's wrong," McCarthy said, adding: "We are living in very dangerous times. The pettiness has got to stop."
Since the attack unfolded beginning on Saturday, a number of demonstrations in support of Israel and the Palestinians have been held in the U.S. — sometimes leading to reports of altercations between attendees.
One rally in New York City, intended to be "in solidarity" with Palestinians, was denounced by New York's Democratic Gov. Kathy Hochul as "abhorrent and morally repugnant" as critics of the event noted that organizers opposed the right of Israel to exist.
Other Democrats joined Hochul, like Rep. Ritchie Torres. Some of the party's most vocal critics of Israel's government, including Rep. Rashida Tlaib of Michigan, the first Palestinian in Congress, condemned the violence while also sharing support for Palestinian civilians.
"Today is devastating for all those seeking a lasting peace and respect for human rights in Israel and Palestine," Rep. Alexandria Ocasio-Cortez, D-N.Y., said in a statement.
All the while, the 2024 election cycle grinds on, raising the question of how much this unfolding foreign policy issue may influence voters.
The brazenness of Hamas' sprawling attack and the anticipatedly fierce response by Israel may draw one of the U.S.' closest allies into a protracted conflict that could keep eyes fixed on Jerusalem and Gaza for months to come.
"Given how volatile and fluid the situation is, I think it is very difficult to speculate about the political impact at this point," said Democratic pollster and presidential campaign veteran Matt Hogan.
GOP strategists who spoke to ABC News also mostly agreed that the conflict would do little to impact next year's general election.
David Kochel, another presidential campaign veteran, said it's "too early to tell" what the impact would be but said he hadn't seen foreign policy impact a presidential general election "without U.S. troops" on the ground.
"I don't necessarily think it will impact the general, but I'm sure it will play into the broader foreign affairs debate on both sides," said one GOP strategist with extensive experience working in Iowa.
Republicans were torn, however, over whether the fighting would play up in the GOP presidential primary, particularly in Iowa, where evangelical voters hold outsized sway.
"It's looking like it could turn into a broader debate about isolationism, but Iowa conservatives are overwhelmingly supportive of Israel. Caucusgoers will be looking for their preferred candidate to back Israel, so I'd expect contenders will be tripping over themselves to be the most pro-Israel in the coming weeks — especially when in Iowa," said one strategist with experience working in the state.
Kochel predicted that former South Carolina Gov. Nikki Haley could get a fresh look from voters, given her foreign policy credentials after serving as U.N. ambassador under Trump. Haley advocates a muscular U.S. involvement abroad.
Trump, whose campaign did not immediately respond to a request for comment from ABC News, still could point to a string of moves that appeal to Republicans, including moving the U.S. embassy from Tel Aviv to Jerusalem and forging peace deals between Israel and several Arab countries during his administration.
"I don't look for the war in Israel to change a lot of minds," said Bob Vander Plaats, an influential Christian conservative leader in Iowa. "Most candidates are rock-solid on our alliance with Israel."
Copyright © 2023, ABC Audio. All rights reserved.