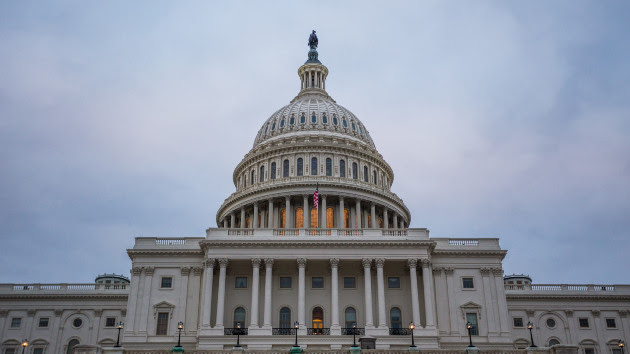 (WASHINGTON) — House Republicans are rudderless in Washington as they search for a new leader — leaving one half of Congress in the lurch and freezing key legislative business — but the political ripple effects of former Speaker Kevin McCarthy's ouster this week could stretch far beyond Capitol Hill.
By shunting McCarthy, eight GOP lawmakers led by hard-liner Rep. Matt Gaetz of Florida demoted one of the party's most dogged fundraisers just as Republicans are preparing to protect their five-seat majority next year — including several swing-seat incumbents in places like California and New York, where McCarthy was credited by Republicans with beefing up donations and recruitment.
"We won in places no one thought we could win," McCarthy said on Tuesday night, in remarks to reporters shortly after losing his speakership.
The role won't be filled on a permanent basis until next week at the earliest, but Republicans who spoke with ABC News are already scratching their heads as to whether McCarthy's shoes can be filled and how long it'll be before they even have someone who can try.
Rep. Elise Stefanik of New York, a member of Republican House leadership, said in a speech on Tuesday defending McCarthy ahead of the motion to remove him that he had developed deep ties to his conference: "He's been to our districts, toasted at our weddings, celebrated the birth of our children and has cheered us when we haven't believed in ourselves."
Rob Stutzman, a California GOP strategist who has known McCarthy for years, spoke bluntly of the former speaker's campaign prowess, telling ABC News: "McCarthy's without peer … especially in California and New York."
"I don't know who else can step into that role. Kevin has been the preeminent fundraiser and strategist in that conference," Stutzman said. "What is for certain is that Gaetz and the rest of the crew have handed a huge political benefit to the Democrats and have significantly imperiled the odds of the Republicans maintaining a majority by displacing McCarthy."
House Majority Leader Steve Scalise, R-La., McCarthy's No. 2, and Rep. Jim Jordan, R-Ohio, the firebrand chair of the Judiciary Committee and a McCarthy ally, have launched speakership campaigns, while Rep. Kevin Hern, R-Okla., chair of the conservative Republican Study Committee, is also thought to be a potential contender.
Sources who spoke for this story said that all three — while notable in the conference — would have their own hills to climb to match McCarthy's reputation for grueling fundraising schedules.
McCarthy in total helped raise $645 million for his aligned Congressional Leadership Fund and its associated nonprofits, including $215 million for the 2020 election, about $350 million for 2022's midterm races and roughly $80 million so far this cycle, the group confirmed. The Californian also helped the National Republican Congressional Committee raise tens of millions of dollars for the 2022 midterms which saw the GOP retake the House.
"I don't think there is somebody who's his equal. And there is a learning curve. The learning curve is the 13 months until the next election. That's not enough time," said California GOP strategist Sal Russo. "We're definitely handicapped."
"That's the foolhardiest thing. The eight didn't seem to realize that if it wasn't for Kevin's extraordinary efforts in fundraising and skills in campaigning and dedication to electing a Republican House, they wouldn't be in the position they are now," Russo said. "And they probably won't be in this position in the next cycle, all things being equal."
The Republicans sources speculated that Scalise would more easily slide into McCarthy's shoes, given his public support for his erstwhile boss and reputation as someone who can appeal across the GOP spectrum, versus Jordan.
One Scalise campaign official confirmed that the Louisianan has raised almost $170 million for Republicans over the past decade and that his digital fundraising program worked with almost 80 Republican members, candidates and figures in the 2022 cycle.
Still, Jordan has proven to be a muscular fundraiser in his own right, leaning on his good standing with the GOP grassroots to fuel a small-dollar donor machine. A source familiar with the matter told ABC News that Jordan has already traveled to eight states this year to fundraise for more than a dozen lawmakers and that Scalise's team has asked Jordan to sign on to fundraising mailers, including as recently as in the past few weeks.
"The type of donors that Kevin has cultivated for over 20 years that trust him, that participate in his programs, someone like Jordan is completely incapable of stepping into that type of role," Stutzman argued. "If Scalise goes, I think he's the most likely to be able to maintain some institutional progress in terms of the political operation and fundraising."
Regardless of who takes the reins, though, some Republicans fear a general sense of chaos could at least curtail the money faucet from the rush it was under McCarthy to more of a drip — an issue that one former House Republican said could be ameliorated if McCarthy, who remains in the House, were to remain involved and "be front and center in handing the baton."
"I think they're turned off immensely by the chaos of it all," said the former lawmaker, who served with McCarthy and asked not to be quoted by name to speak about private conversations. "I've heard from some of the donors that they're like, 'You know what, they're gonna have to prove to me that they're going to stop this circular firing squad before I give to them again.' So the new speaker's got his work cut out for him or her. They're gonna have to convince the donors that it's not going to be the inmates running the asylum."
All the while, Republican front-liners have expressed fury.
Rep. Mike Lawler, who flipped a Biden district in New York last year, has floated trying to expel Gaetz from the conference — as Gaetz has defended his campaign against McCarthy — and California Rep. Michelle Steel called McCarthy's removal "a reckless and unnecessary distraction."
"I think they're really, really nervous," the former House member said of the most endangered incumbents, many of whom represent Biden-friendly parts of the country.
Some GOP strategists downplayed concerns over the void created by McCarthy's toppling, maintaining that battleground incumbents will still get the resources they need even if there is some shakeup in the party fundraising infrastructure.
"If you're a top-level target, you're gonna get funded one way or the other. So the immediate impact, it's going to cause some angst and some concern, but I've yet to be on a top-tier congressional race that didn't get all the funding that it needed," said California operative Mike Madrid.
But even these voices believe Republicans will be at a knowledge and fundraising deficit without McCarthy.
"I don't think anybody can out-California Kevin," said Doug Heye, a former House leadership aide, who added that he expects the next speaker to be a "strong fundraiser."
"I think it's a wait and see," added a senior New York GOP official. McCarthy "was willing to invest in hardworking candidates … and he's continued that. He's been here, he's done individual fundraisers, he was all in on New York."
And strategists warned that even once a new speaker is elected and the current disarray ends, donor trust may not be restored without fundamental changes to how House Republicans operate.
Several Republicans have insisted that the next speaker raise the current one-member threshold needed to trigger a vote on a motion to vacate — the procedural tool Gaetz used to boot McCarthy — warning that until that happens, chaos could reign in the House and repel those with money to give.
"There's no confidence that anybody is in control of this thing," Madrid said. "Donors want to have a high degree of confidence that if they're going to make significant investments in your operation, that the operation is going to be there, even just be there in a few months. No one knows who the speaker is going to be, and no one knows how long the next speakership will last. So it does not inspire any confidence in the donor community. How can it?"
Copyright © 2023, ABC Audio. All rights reserved.