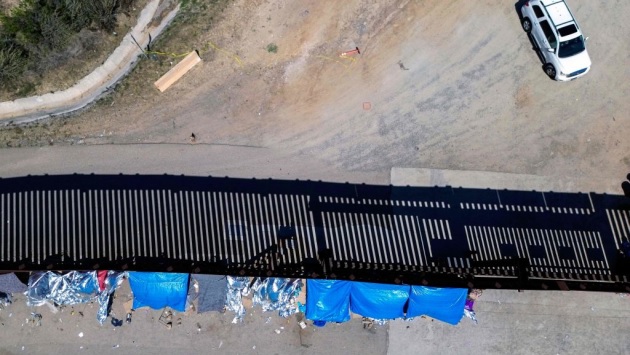 (WASHINGTON) — President Joe Biden on Thursday said his administration had no choice but to build about 20 miles more southern border wall — after he's long dismissed Donald Trump's wall as a waste of money that doesn't work to stop illegal immigration.
"Money was appropriated for the border wall," Biden told reporters, referring to congressional action during the Trump administration. "I tried to get them to reappropriate — to redirect the money. They didn't, they wouldn't. And in the meantime, there's nothing under the law other than they have to use the money for what is appropriated. I can't stop that."
White House press secretary Karine Jean-Pierre could not point to instances when Biden attempted to change the funding designation. The White House also could not immediately explain why the project was moving forward now.
The Biden administration is waiving 26 federal laws to make way for unfinished border wall construction in South Texas, according to documents formally published in the federal register Thursday.
The waivers include ones for the Clean Air Act, Safe Drinking Water Act and Endangered Species Act allow for border barrier construction in select areas of Starr County, Texas.
In explaining the rationale for the move, made amid a migrant surge, GOP outrage and Democratic criticism, Homeland Security Secretary Alejandro Mayorkas said, "there is presently an acute and immediate need to construct physical barriers," even as Biden repeated to ABC Senior White House Correspondent Selina Wang Thursday his argument that a wall isn't effective.
Biden pledged during his 2020 presidential campaign against then-President Trump that his administration would not build "another foot of wall." But the Department of Homeland Security is required to use the funds appropriated in 2019 on border barrier construction, a Customs and Border Protection spokesperson said in a statement Thursday.
Construction plans from Customs and Border Protection describe an 18-foot portable barrier, different from the 30-foot bollard design used during much of the Trump administration. Trump's design at times required blowing up land to lay the foundation for his wall, as ABC News reported in 2020.
"CBP remains committed to protecting the nation's cultural and natural resources and will implement sound environmental practices as part of the project covered by this waiver," the spokesperson said.
Border officials have said barriers, and the infrastructure that comes with them, can help focus patrols and allow agents to apprehend migrants more efficiently. However, migrants have been known to evade barrier sections, crossing in more dangerous and remote areas.
Further, barriers constructed above the official borderline do not prevent migrants from turning themselves into authorities and initiating an asylum claim. Once a non-citizen crosses the official international boundary – which exists in the middle of the river along much of the Rio Grande Valley region – they are legally allowed to fight deportation proceedings.
The construction authorized under the waivers will span a total of 17 miles in Starr County, Texas, where wall building was left incomplete, and wouldn't be continuous.
"This is not a new barrier announcement," Homeland Security spokesperson Luis Miranda said in a statement. "The specific construction in the [Rio Grande Valley] was announced in June, and as made clear then, DHS continues to prioritize deploying technology and other system elements."
The announcement stirred the ire of environmental advocates who fought the Trump administration's construction efforts for years.
"It's disheartening to see President Biden stoop to this level, casting aside our nation's bedrock environmental laws to build ineffective wildlife-killing border walls," said Laiken Jordahl, Southwest conservation advocate at the Center for Biological Diversity. "Starr County is home to some of the most spectacular and biologically important habitat left in Texas and now bulldozers are preparing to rip right through it. This is a horrific step backwards for the borderlands."
Legacy landowners and local leaders in the region told ABC News they have not been consulted or informed of plans for barrier construction. Many are committed to "fighting" any new construction.
"What the hell! We can't catch a break down here," one Starr County landowner told ABC News. "This feels like what we had to go through 3 years ago. We haven't been told anything and it's frustrating."
The Biden administration announced last year it would work to close gaps in the barriers and fix incomplete construction zones. The work also involved cleaning up abandoned construction sites and finishing gates that agents used on patrols.
Copyright © 2023, ABC Audio. All rights reserved.