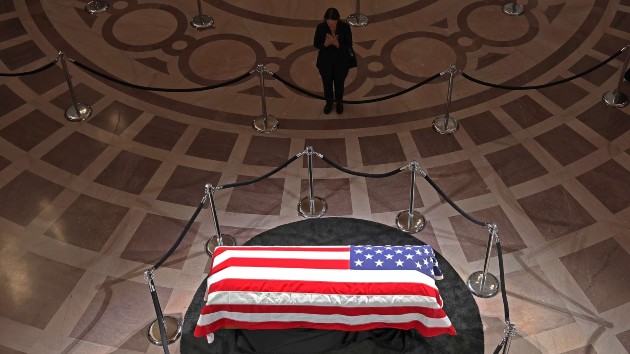 (SAN FRANCISCO) — Sen. Dianne Feinstein's memorial service taking place in San Francisco on Thursday will now be closed to the public, according to officials from the late senator's office.
"Due to increased security, tomorrow's memorial service" is no longer open to the public, only guests with invites will be allowed to attend, according to the short press release.
Officials said that those who still wish to view the service are welcome to stream it online.
The service was originally set to be held as a funeral in Herbst Theater in the War Memorial Building on Thursday, but Feinstein's press office said Monday that a memorial service would instead be held on the front steps of City Hall.
The public was invited to pay their respects on Wednesday and sign a condolence book from 9:00 a.m. to 7:00 p.m. while the late senator's body was lying in state inside the Rotunda of City Hall.
According to the city, City Hall will be closed to all in-person services due to the "street closures and reduced access to the building for security purposes," from Sen. Feinstein's memorial.
Sen. Feinstein died Thursday night at her home in Washington, according to her office.
She became California's first female senator and went on to serve six terms, the longest of any woman in Senate history
Gov. Gavin Newsom announced on Sunday that he would appoint Laphonza Butler to fill Sen. Feinstein's Senate seat.
Butler is the first openly LGBTQ+ person to represent California in the Senate.
She is also only the third Black woman in the chamber, fulfilling a pledge Newsom made to appoint a Black woman to fill Feinstein's seat. Butler was sworn in by Vice President Kamala Harris — who was the second Black woman in the Senate. There were no Black women currently serving in the Senate prior to Butler's swearing-in.
Copyright © 2023, ABC Audio. All rights reserved.