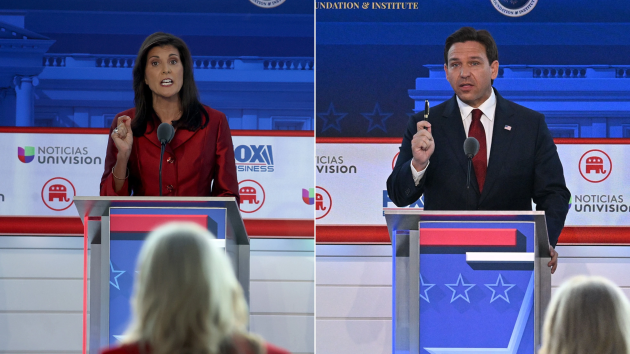 (WASHINGTON) — A group of prominent Republican donors is asking representatives for Florida Gov. Ron DeSantis and former U.N. Ambassador Nikki Haley's 2024 presidential campaigns to travel to Dallas later this month to pitch why they feel their candidates are each the best Republican alternative to Donald Trump.
NBC and The New York Times were first to report details of the meeting.
The event is being coordinated by GOP megadonors Ken Griffin, Harlan Crow and Paul Singer through the American Opportunity Alliance.
Although donors are not expected to lock in support for one of the candidates that day, they can hear from each person's team on why DeSantis or Haley is the best option to go against the former president to try and win the Republican presidential nomination even as he continues to dominate the primary field, reflecting his enduring popularity with the base despite his numerous legal challenges and other controversies. (He denies all wrongdoing.)
DeSantis remains a distant No. 2 in most national and state-level primary polling, according to 538, with Haley at No. 3.
Trump hasn't polled at less than 50% in 538's national average since late August.
The donor summit comes as Haley has seen what she has called gathering momentum after her first primary debate performance, in August. Since then, she said she saw an increase in fundraising and volunteers and some polls have shown her as the only Republican candidate who can beat President Joe Biden in a hypothetical general election.
According to 538, her national poll numbers have also ticked up since the first debate. DeSantis, by contrast, has seen his national poll numbers steadily decline since July, according to 538.
Asked about the upcoming donor meeting, Andrew Romeo, communications director for DeSantis' campaign, told ABC News in a statement that the primary race is still between him and Trump.
"Ron DeSantis is the only candidate who can stop Donald Trump in Iowa and beyond," Romeo said. "But don't just take our word for it, the continuing actions of the Trump campaign confirm they know what we know – that it is a choice of Ron DeSantis or Donald Trump for our party's nomination."
The Haley campaign has not responded to ABC News' request for comment.
During the third quarter fundraising period, DeSantis brought in $15 million between his presidential campaign committee, leadership PAC and joint fundraising committee. That hefty sum was less than the $20 million he brought in during the second quarter.
Only $5 million of the $15 million he raised can be used in the Republican primary. The rest cannot be touched until the general election.
"Anyone that knows Ron DeSantis knows that he is a fighter, a winner, and a leader," said James Uthmeier, DeSantis' campaign manager. "This significant fundraising haul not only provides us with the resources we need in the fight for Iowa and beyond, but it also shuts down the doubters who counted out Ron DeSantis for far too long."
Haley has not released her fundraising numbers yet, and the deadline to submit those numbers to the Federal Election Commission is not until the middle of October. But her previous fundraising numbers were less than DeSantis' second quarter haul: Haley's campaign raised $5.3 million in that period, ending June with $6.8 million in the bank.
In addition to announcing the governor's fundraising haul, a third of DeSantis' campaign staff was informed on Wednesday that they would relocate to Iowa — a sign of how much he is betting on the early nominating state. He has repeatedly argued that a successful primary bid against Trump will be won by wooing residents in Iowa and New Hampshire.
Dan Eberhart, a DeSantis donor, previously told ABC News that Iowa is where DeSantis "needs to be focused because it's going to be the first real challenge of his candidacy."
Copyright © 2023, ABC Audio. All rights reserved.