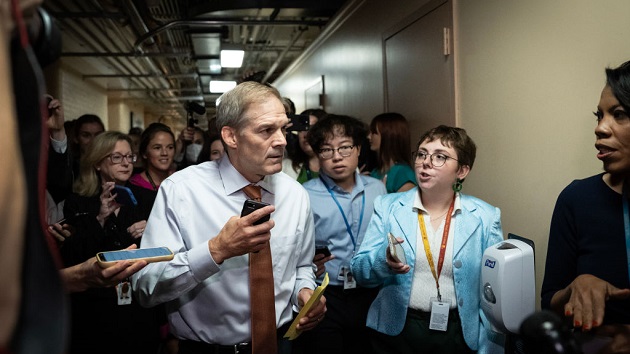 (WASHINGTON) — For the first time in U.S. history, the speaker of the House was toppled with a motion to vacate that laid bare the divisions in the Republican Party.
Now, the question becomes who will replace Kevin McCarthy in the top post.
The horse race began not long after Rep. Patrick McHenry, the speaker pro tempore, angrily slammed down the gavel to close out the unprecedented session. Republicans are said to be planning a candidate forum for next Tuesday and a speaker election as early as Wednesday.
Here is what to know about the lawmakers being considered for speaker.
Who is officially running?
Jim Jordan
The Ohio Republican and conservative firebrand was the first member to publicly throw their hat into the ring.
A staunch ally of former president Donald Trump, Jordan vigorously defended Trump during both of his impeachments and in the wake of his four criminal indictments. He has used his post as chairman of the House Judiciary Committee to investigate the prosecutors who've brought charges against Trump.
Jordan has led the charge in the House against what Republicans view as the "weaponization" of the federal government and investigations into Hunter Biden, the president's son. He's also been tapped to co-lead the impeachment inquiry into President Joe Biden launched by McCarthy last month.
In his letter to colleagues announcing his bid on Wednesday, Jordan touted his work on immigration and oversight as he made his case for speaker.
"We are at a critical crossroad in our nation's history," Jordan said. "Now is the time for our Republican conference to come together to keep our promises to Americans."
Steve Scalise
The Louisiana Republican, currently the No. 2 House Republican, has been considered a favorite to ascend to leader behind McCarthy. Rep. Matt Gaetz, the hard-liner who moved to oust McCarthy, has repeatedly said he thinks "very highly" of Scalise.
Before becoming majority leader, Scalise served as both majority and minority whip as well as chair of the Republican Study Committee — the largest conservative caucus in the chamber.
In 2017, he rose to national prominence after he was shot at a congressional baseball practice. When announcing he was running for speaker, Scalise called the GOP conference a "family" and said its members helped him recover from his life-threatening injuries.
"During that time, I was often asked why after nearly losing my life because of this job I would want to go back," Scalise said. "But it was never a question for me: I love this country, and I believe we were sent here to come together and solve the immense challenges we face."
Notably, he did not mention his ongoing treatment for blood cancer in his letter to colleagues. Scalise announced the diagnosis earlier this year, and recently said the cancer had "dropped dramatically."
Several members were lining up to support Scalise, including current House Majority Whip Tom Emmer — someone who was once rumored to be a possible McCarthy replacement.
Another name being floated
Kevin Hern
Serving Oklahoma since 2018, Hern is the chairman of the Republican Study Committee. He previously served on the House Ways and Means Committee.
Back in January, during McCarthy's tumultuous ascension to speakership, Hern was nominated by a fellow colleague — Rep. Lauren Boebert of Colorado, who then called Hern a "unifier."
"We're doing the same thing over and over and expecting different results where leadership just keeps ascending through the ranks. People have asked me about looking at an alternate choice," Hern said on Wednesday. "And so I'm going around talking about this issue with other groups of people and see if their votes are there."
Copyright © 2023, ABC Audio. All rights reserved.