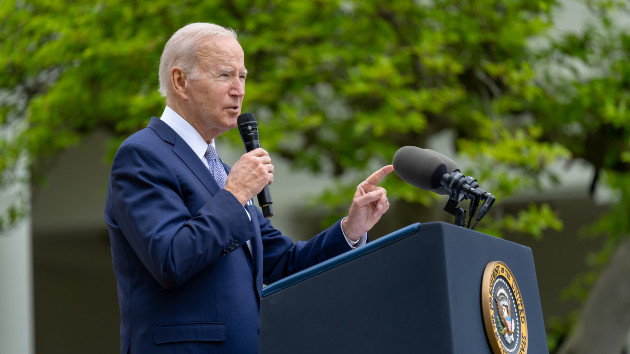 (WASHINGTON) — Days after borrowers once again began paying back their student loan debts after a three-year pause, President Joe Biden will give a speech on Wednesday highlighting what his administration has done to fix holes in the student loan system and deliver some form of debt relief, according to the White House.
Biden's plan to cancel between $10,000 and $20,000 in student loan debt for millions of Americans was overturned by the United States Supreme Court this summer. And now, as borrowers return to their loan payments without any cancelation, the political frustration with Biden on debt relief will certainly grow.
But there are other ways the Biden administration has still been working to cancel peoples' debts, which is what the president will tell the public on Wednesday.
Biden will announce that those efforts have reached 3.6 million borrowers, for a total of $127 billion in approved debt relief — an increase of $9 billion and 125,000 borrowers since August, according to the White House. Exactly how much of that money has gone out the door was unclear and ABC News has asked the White House and the U.S. Department of Education for comment.
The vast majority of those receiving debt relief — nearly 1.6 million of the total 3.6 million — are people who were in repayment programs that weren't working as intended. The Biden administration has acknowledged issues with those programs and begun to give relief to fix them.
Those 1.6 million borrowers were enrolled in programs that were always supposed to result in their debt being wiped clear after they paid for a set amount of time. But they weren't getting that relief due to administrative errors.
For example, 855,000 borrowers on income-driven repayment plans have been approved for debt relief because they reached their 20- or 25-year mark of paying, but were left paying well beyond their payment end dates, with no forgiveness in sight.
Additionally, 715,000 borrowers in the Public Service Loan Forgiveness plan have been approved for debt relief because, after 10 years working in public service, the government didn't cancel their loans as promised.
Taken together, the Biden administration has forgiven $94 billion in debt between those two programs, reaching 1.6 million borrowers.
The other, smaller programs that Biden has used to give relief include $11.7 billion for almost 513,000 borrowers with a disability that has kept them from being able to pay their loans and $22.5 billion for more than 1.3 million borrowers who went to scam colleges that lied about the prospects for success or unexpectedly shut down.
Copyright © 2023, ABC Audio. All rights reserved.