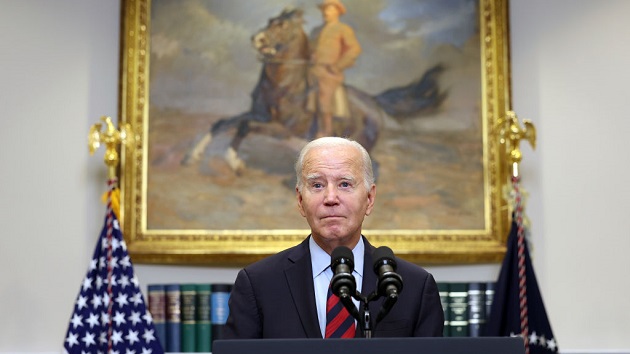 (WASHINGTON) — President Joe Biden weighed in Wednesday on the historic ouster of former Speaker Kevin McCarthy, calling on Congress to change the "poisonous atmosphere in Washington" and come together on important issues, such as funding for Ukraine.
"More than anything, we need to change the poisonous atmosphere in Washington. You know, we have strong disagreements, but we need to stop seeing each other as enemies. We need to talk to one another, listen to one another, work with one another. And we can do that," Biden urged at a White House event about canceling student loans, speaking about Tuesday's historic vote.
Biden acknowledged the uncertainty without a clear successor to McCarthy, saying the GOP will "reorganize" and that it's going to "take some time" to select a new speaker.
He said there's "a lot of work" to get done as the clock ticks once again towards the end of a stopgap bill in November.
"We have a lot of work to do and the American people expect us to get it done," he said. "We cannot and should not again be faced with an 11th hour decision, brinksmanship that threatens to shut down the government."
Biden reiterated his commitment to bipartisanship, saying that Democrats are prepared to do so "for the good of the American people."
In one of the most candid moments from Biden on the current state of future aid for Ukraine, the president admitted he is worried that it may not happen, though he stressed that there continues to be bipartisan support.
"It does worry me. But I know there are a majority of members of the House and Senate in both parties who have said that they support funding Ukraine," he said.
Biden added that he's "going to be announcing very shortly a major speech [he's] going to make on this issue and why it's critically important for the United States and our allies that we keep our commitment."
The president said the U.S. can support Ukraine through "the next tranche" and that there is "another means by which we may be able to find funding," but he did not get into what that path is.
Biden's concern may stem from the fact that at least one of the contenders for speaker, Rep. Jim Jordan, has long been opposed to additional Ukraine aid.
Jordan reiterated that position on Wednesday, shortly after he became the first to throw his hat into the ring.
"I'm against that," Jordan told reporters. "What I understand is at some point we're going to have to deal with this appropriation process in the right way and we're going to try to do that in the next — what are we down to? 41 days. The most pressing issue on the mind of Americans is not Ukraine, it is the border situation."
Biden also defended his communications with McCarthy after the former speaker claimed the two had not communicated directly in a long time, arguing, "We had two agreements we shook hands … on." He said he was willing to speak to anyone who wanted to talk, but said it was "not reasonable" to think he was going to change McCarthy's views.
Rep. Matt Gaetz, who filed the motion to vacate that precipitated McCarthy's ouster, accused McCarthy of making a "side deal" with Biden on Ukraine funding to get Democratic support to avoid a government shutdown, but McCarthy denied that claim.
Asked for his advice to the next speaker of the House as he left the room, Biden paused and grinned widely, chuckling as he said, "That's above my pay grade" and exited the room.
ABC News' Mary Bruce contributed to this report.
Copyright © 2023, ABC Audio. All rights reserved.