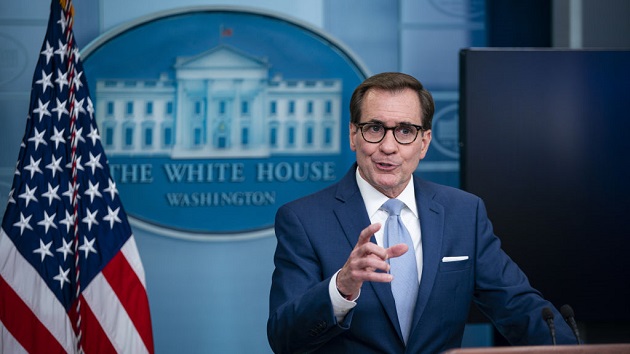 (WASHINGTON) — The White House on Tuesday expressed confidence that regardless of developments on Capitol Hill, the U.S. would ultimately provide more assistance for Ukraine — but warned, absent progress, current funding could run out in "a couple of months."
Despite Congress' failure to approve additional aid for Ukraine in government funding passed over the weekend — and with House Speaker Kevin McCarthy's job hanging in the balance — White House national security spokesman John Kirby said he remained hopeful.
"All of the House leadership is supportive of continuing to help Ukraine, and the vast majority of House members on the Republican side are in support of continuing to help Ukraine," Kirby said. "There's a small number of very vocal — a small minority of vocal members who are pushing back on that, but they don't represent their party, they don't represent their leadership."
But without additional aid from Congress, the U.S. could continue to provide funding for Ukraine at the current levels for just "a couple of months or so, roughly," he said.
The exact length of time depended on developments on the battlefield in the coming weeks and how Ukraine's needs evolve, he added.
On Monday, the White House said only that it could sustain Ukraine's battlefield needs "for a bit longer."
"I need a little bit of breathing room on what 'a bit' means," Kirby said Tuesday. "But — but you know, in coming weeks — and a couple of months or so is roughly about right."
President Joe Biden called allies Tuesday morning to update them on developments on Capitol Hill and tell them he was "confident that we're going to continue to have bipartisan and bicameral support up on Capitol Hill and that the United States will continue to meet our commitments" to Ukraine, according to Kirby.
"None of the foreign leaders expressed concerns about continued U.S. support," Kirby said. "They understand what's going on up on Capitol Hill. They understand that this is a small minority of extreme Republicans that are holding this up, and that, and they understand that the bulk of Republican leadership, House and the Senate, all support Ukraine."
Support for funding for Ukraine has been a key sticking point in Rep. Matt Gaetz's bid to oust McCarthy, with the Florida Republican accusing McCarthy of making a "side deal" with Biden on Ukraine funding to get Democratic support to avoid a government shutdown. McCarthy, now the subject of Gaetz's motion to vacate, has denied this claim.
Biden, who has emphasized the importance of funding Ukraine, was asked by a reporter on Sunday if he was "going to be able to trust Speaker McCarthy when the next deal comes around."
"We just made one about Ukraine," Biden replied. "So, we'll find out."
The White House has since declined to clarify what deal Biden had been referring to, or even say if Biden and McCarthy had actually made a deal at all. Rather, officials have pointed to McCarthy's public support for military aid to Kyiv.
Kirby told ABC News Senior White House Correspondent Selina Wang on Tuesday that reduced U.S. support would mean Ukraine would not be able to still defend itself — and that Russia would be able to retake the initiative in its invasion.
"We know that the counteroffensive has not gone as far or as fast as even the Ukrainian wanted to," Kirby said, noting that there were only six to eight more weeks before winter weather would make Ukraine's counteroffensive more challenging.
"Time is not our friend," he said.
Kirby warned that it was "imperative" to help Ukraine "take advantage of every single day" — and to send a message to Russian President Vladimir Putin.
"A lapse in support for even a short period of time can make all the difference on the battlefield," Kirby said. "Just as critically, such a lapse in support will make Putin believe that he can out — he can wait us out."
Copyright © 2023, ABC Audio. All rights reserved.