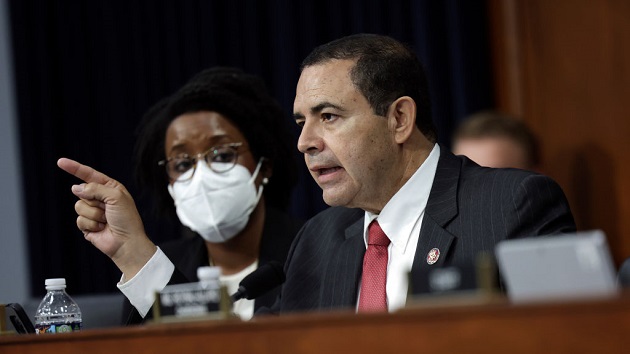 (WASHINGTON) — Rep. Henry Cuellar offered his firsthand account Tuesday after he was carjacked at gunpoint Monday night.
"I was just coming into my place. Three guys came out of nowhere and they pointed guns at me. I do have a black belt, but I recognize when you got three, three guns — I looked at one with a gun and another with a gun, a third one behind me — So they said they wanted my car. I said, 'Sure.' You've got to keep calm under those situations. And then they took off," Cuellar told reporters Tuesday morning on Capitol Hill.
Cuellar said police have recovered his car and his phone, and he thanked both U.S. Capitol Police and the Metropolitan Police Department.
"I'm a big law enforcement person. I got three brothers in law enforcement, so I certainly appreciate the good work that the police did," he said.
President Joe Biden spoke with Cuellar today after he was carjacked last night, White House press secretary Karine Jean-Pierre said during Tuesday's briefing.
"So what we saw happen, the — the reporting that we saw happen to the congressman, obviously was unacceptable. The president did have an opportunity to speak with the congressman today and we will always continue to speak out against any sort of violence, and we've been consistent here in this administration. We are certainly grateful and relieved that the congressman was unharmed, and we are thankful to the law enforcement to have reacted so quickly," she said.
The Capitol Police and the FBI have leads in the investigation into the carjacking, according to a statement from Capitol Police.
"We have a number of leads," said U.S. Capitol Police Chief Tom Manger. "Our investigators are focused, determined and working around the clock."
Cuellar was carjacked around 9:30 p.m. Monday night in the Navy Yard neighborhood of Washington, D.C. — just blocks away from the US Capitol, according to police. The congressman was approached by three men in black clothing and black masks, according to a statement he gave to police.
"According to the victim's statements, the suspects 'swarmed [the victim's] vehicle, pointed firearms in his face and demanded the keys to the car.' Thankfully there were not any injuries," a statement from Capitol Police said. "A witness told investigators three males in knit caps and ski masks were involved. The witness reported that the suspects were 5'10" black males who may have been around the age of 16 due to their build."
Washington surpassed 200 homicides thus far this year, D.C. police confirmed on Sept. 26 — a 28% rise compared to last year. The same grim milestone was reached on Dec. 29 of last year. The city has already exceeded 2022's total homicide rate of 203, announced during a press conference held by Acting Police Chief Pamela Smith.
Some neighborhoods have suffered from the recent crime wave, including Ward 6, which includes the site where Cuellar was carjacked and is the largest ward in D.C. Armed robberies in Ward 6 are up 95%, according to the DC Police Union.
Carjackings are also up 57% in the district, and there have been over 720 carjackings year to date — "well more than two per day," the police union said.
MPD has lost 1,400 officers since 2020. The police union has blamed the city council's actions for the rise in crime.
ABC News' Beatrice Peterson, Molly Nagle, Rachel Scott and Jack Date contributed to this report.
Copyright © 2023, ABC Audio. All rights reserved.