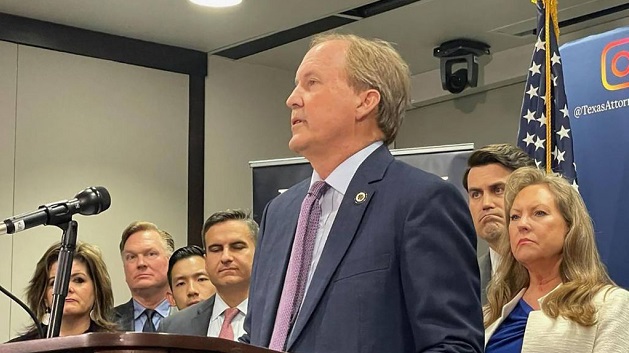 (AUSTIN, Texas) — Texas Attorney General Ken Paxton was recently acquitted by the state Senate on 16 articles of impeachment, but the state's top lawyer still has multiple legal battles ahead.
Paxton has been under an ongoing federal investigation in Texas since the fall of 2020, when the FBI began to probe allegations of abuse of office and misconduct brought by a group of whistleblowing former employees.
Many of those claims, which Paxton adamantly denies, were also the focus of the impeachment proceedings.
While a majority of the state House backed the articles of impeachment against Paxton, including many of his fellow Republicans, he was ultimately acquitted by the state Senate's Republican majority.
State House Speaker Dade Phelan, a fellow Republican, said in a statement after Paxton's acquittal that there had been "more than enough damning evidence to warrant impeachment" and that the trial was "not the end of this matter," citing Paxton's other legal troubles.
No charges have been filed against Paxton in the federal probe, and the Department of Justice announced in February that its Public Integrity Section would be taking over what was originally a state-led case.
Paxton has repeatedly said he did nothing wrong.
"Every allegation is easily disproved, and I look forward to continuing my fight for conservative Texas values," he said in a statement issued in May, days before the State House of Representatives adopted 20 articles of impeachment against him.
In another statement following his acquittal, Paxton characterized the charges brought by the state House as "false allegations" and labeled the proceedings as a "sham" and "shameful."
Separately, Paxton also faces a long-delayed trial on securities fraud charges that were announced shortly after he entered his first term as attorney general in 2015.
He is being accused of defrauding investors by encouraging them to fund a tech startup that he was, unbeknownst to them, being paid to promote. He has pleaded not guilty.
In an email sent to supporters shortly after the charges were announced, Paxton said he expected "to be fully vindicated of these charges when the full facts of this case come to light."
The felony is punishable by up to 99 years in prison, and even if Paxton is convicted and put on probation, he will lose his legal license.
The securities fraud trial was most recently delayed due to the Senate impeachment trial but a new date is expected to be set during a scheduled Oct. 6 hearing.
Additionally, last week the Texas Supreme Court ruled in favor of four whistleblowers who asked the high court to lift an abatement placed in February that put their ongoing lawsuit proceedings on pause.
The former employees claim that Paxton violated the Texas Whistleblower Act when he allegedly fired them for reporting him to the FBI in 2020. The high court's decision allows the suit to continue in district court.
Paxton previously called the whistleblowers "rogue employees" and dismissed what he has characterized as their "false allegations." Paxton hired an outside law firm which produced what his office called in a May press release "a report that documents the … legitimate, non-retaliatory grounds for terminating each of these individuals."
Paxton, however, had agreed to a multimillion-dollar settlement with the former employees in which he would apologize for calling them "rogue" but admitted no wrongdoing.
Paxton sought to have taxpayers cover the settlement, but the Legislature did not agree and the House began investigating him — leaving the suit in limbo amid the impeachment proceedings.
Paxton's team did not immediately respond to ABC News' request for comment on Monday on the suit and he hasn't addressed the lifting of the abatement.
Finally, last year, Paxton was also sued by the state bar over alleged professional misconduct for backing a lawsuit against the 2020 election results.
"No matter how much the partisan activists at the Texas State Bar retaliate against me and my staff for working to promote election integrity, secure our southern border, and fight for conservative values, I will not back down," Paxton said in a September 2022 statement.
Oral arguments for the case were postponed until after the Senate trial and are set to begin on Nov. 15.
Copyright © 2023, ABC Audio. All rights reserved.