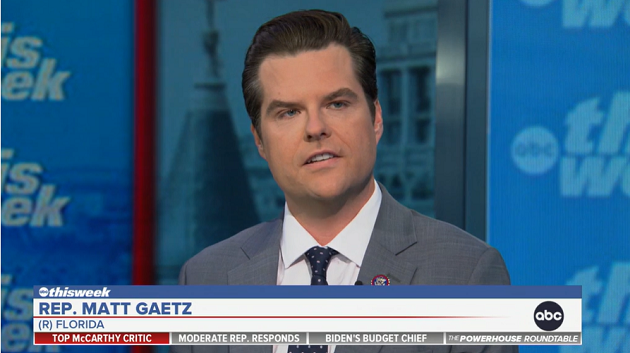 (WASHINGTON) — In a dramatic move that could roil the House, hard-line Republican Rep. Matt Gaetz said Sunday that he plans a vote this week to try and remove Speaker Kevin McCarthy from his role as punishment for McCarthy backing a bipartisan stopgap funding bill to stave off a partial government shutdown.
In an interview with ABC "This Week" co-anchor Jonathan Karl, Gaetz, a longtime McCarthy critic, savaged the speaker's leadership and handling of the spending fights since conservatives retook the House this year.
"The one thing Democrats, Republicans, the White House, that we all have in common is that Kevin McCarthy, at one point or another, has lied to all of us," Gaetz said.
The stopgap legislation that was hastily passed on Saturday, with hours to go before the federal government ran out of money, did not include border security provisions or broader spending cuts that had been demanded by some in the GOP. McCarthy had previously supported such moves as well.
The measure funds the government through mid-November while Republicans continue to work on single-subject, longer-term spending bills.
All Democrats but one joined 126 Republicans in approving the temporary bill on Saturday; 90 Republicans voted against it.
"I tried every possible way listening to every single person in the conference," McCarthy told reporters Saturday after the vote. "I want to be part of a conservative group that wants to get things done," he added.
He also sought to play down the risk to his speakership, via a so-called motion to vacate.
Because Republicans hold only a five-seat majority, a small group of detractors could successfully remove McCarthy from his leadership role — which would essentially halt all legislative business in the House until a replacement is picked.
"If somebody wants to make a motion against me, bring it," McCarthy said Saturday. "There has to be an adult in the room. I am going to govern with what's best for this country."
Gaetz, on "This Week" on Sunday, responded.
"Kevin McCarthy's going to get his wish," he said.
It remains unclear if Gaetz currently has more than a handful of votes for such a dramatic move. Once Gaetz introduces his motion to vacate, it must be voted on within two legislative days.
The motion has never successfully been used against a speaker before, though a few lawmakers have tried throughout history.
"I'll survive," McCarthy said on Sunday on CBS. "Let's get over with it. Let's start governing," he said.
Pressed by Karl on "This Week," Gaetz acknowledged he may not yet have the support to actually oust McCarthy. Still, he said that he might get enough votes before 15 rounds of ballots — which is how long it took for McCarthy to win the gavel.
"If, at this time next week Kevin McCarthy is still speaker of the House, it will be because the Democrats bailed him out," Gaetz said, "and he can be their speaker, not mine. … This is an exercise to show the American people who really governs you and how that governing occurs."
On CNN on Sunday, Rep. Alexandria Ocasio-Cortez, a prominent Democratic lawmaker, said she would vote to remove McCarthy as he had "clearly lost control." Other Democrats have indicated they may merely vote "present" on a motion to vacate — not weighing in while making it easier for McCarthy to win, because it would lower the number of total votes he needs.
Gaetz said on "This Week" that his motion being defeated wouldn't stop him from trying again.
"I am relentless, and I will continue to pursue this objective," he said.
When Karl followed up to ask whom Gaetz would support as McCarthy's replacement, Gaetz suggested he hadn't decided on someone. A similar dynamic played out during the speakership contest in January, when McCarthy's Republican critics — a minority of the conference — could not settle on an alternative who could unite the party.
"We have a lot of talented people in our conference," Gaetz told Karl. "Obviously, it's an awkward discussion while our No. 2, [Majority Leader] Steve Scalise, is in treatment for blood cancer. … I want to see how Steve Scalise comes out of that."
In a separate interview on "This Week," New York Rep. Mike Lawler, a more moderate Republican, called Gaetz's position "delusional" and accused him of being "mealy mouthed" and "duplicitous."
Despite his harsh words for McCarthy, Gaetz insisted what he was doing "isn't personal."
He said McCarthy had failed to live up to his promises in order to become speaker, including consistently pursuing broad spending cuts and rejecting a pattern of approving funding via continuing resolutions — like the one passed Saturday — and sweeping omnibus bills that tie all government programs together in one vote.
"I don't think the adult in the room would allow America to sit atop a $33 trillion debt facing $2.2 trillion annual deficits," Gaetz said.
"This is about what turf we battle on to reduce spending. I do not believe that we will ever reduce spending if the manner of negotiation is just, what is the condition or the ornament that we're going to hang on to a continuing resolution," he said.
He also pushed back on criticism from other conservatives for not supporting an earlier funding bill that did include spending cuts. He argued that was a "mirage" because the Senate didn't back it and President Joe Biden would veto it.
He conceded that because Washington is currently divided between the two parties, there has to be some kind of compromise — while still pushing single-subject spending bills.
"I don't think you should work with them on a continuing resolution or omnibus bill," he said. "You should make those Senate Democrats have to take up our defense bill to give troops a raise, take up our homeland security bill to make changes at the border, take up our veterans bill."
ABC News' Meghan Mistry and Benjamin Siegel contributed to this report.
Copyright © 2023, ABC Audio. All rights reserved.