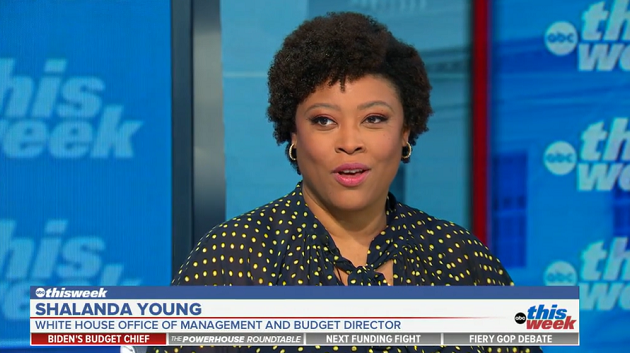 (WASHINGTON) — It was Democrats in the House who helped avert a partial government shutdown this weekend, in the final hours before funding ran out amid "brinkmanship" and "theater" by hard-line conservatives, President Joe Biden's budget director argued on Sunday.
"I will tell you, if I'm sick of it, I can only imagine what the American people are feeling," White House Office of Management and Budget Director Shalanda Young told ABC "This Week" co-anchor Jonathan Karl. "Why go down this road, take us so close?"
After increasingly urgent deliberations in the House, Republicans on Saturday introduced a stopgap funding bill that will fund the government until Nov. 17, a near "clean" continuing resolution that did not include the priorities of some in the party, such as border security measures and broader cuts.
The measure only passed on Saturday in the House with Democratic support, as 90 Republicans voted against it and 126 of them voted for it.
"Let me tell you, there were over 200 Democrats who saved us from shutdown. Go look at the votes," Young said on "This Week."
The temporary funding bill was then quickly approved by a bipartisan majority in the Senate and signed by President Joe Biden late Saturday night — an hour before the midnight deadline.
Young on Sunday urged lawmakers to resume work on longer-term funding legislation.
"We need to start today to make sure that we do not have this brinkmanship, last-minute anxiousness of the American people," she said. "Let's do our jobs to not have this happen again. Let's have full-year funding bills at the end of this 47 days."
Karl asked Young if Speaker Kevin McCarthy — now threatened with a motion to remove him by one vocal GOP critic — deserved credit for putting the bipartisan bill to a vote on the floor, despite threats to his job.
"That's the job of speaker," Young said. "Put the American people before anything else, keep your end of the bargain, keep your end of the deal."
"I appreciate the speaker for keeping it, but, boy, vote after vote after vote, 30% cuts," Young said, referring to some previous Republican-led attempts at funding legislation. "When none of that worked, finally, finally, putting a bill on the floor that serves the American people and kept his end of the bargain," she added.
However, a major priority of the president's — that has bipartisan support — was left out of the bill that eventually passed: billions in financial assistance for Ukraine in defending against Russia's invasion.
In a written statement on Saturday, Biden said he expected McCarthy "will keep his commitment to the people of Ukraine and secure passage of the support needed to help Ukraine at this critical moment."
Senate leaders Chuck Schumer and Mitch McConnell, along with key committee heads, said in their own joint statement on Saturday that their chamber intends to continue "to provide critical and sustained security and economic support for Ukraine."
A separate bill focused on Ukraine funding is expected to be taken up in the House.
Asked by Karl on Sunday whether more assistance could pass over strong opposition from some House Republicans, who believe the money could be better used on domestic priorities or not poured into an overseas conflict, Young said she is still "confident" it will.
"We've seen that the majority of Congress understands what's at stake in Ukraine," Young said. "Who are you for? Western democratic values or dictators like Vladimir Putin?"
Karl pressed Young on how confident she is that McCarthy will be able to shepherd through spending legislation, over the objections within his own conference, that satisfies an earlier deal with the Biden White House.
"Speaker McCarthy is one member. You saw a coalition, mostly Democrats, and Republicans, who say, 'Enough is enough.' That's what that vote was yesterday," Young said.
"We have to use that coalition of bipartisan members to start work now to make sure we aren't in this place again."
Copyright © 2023, ABC Audio. All rights reserved.