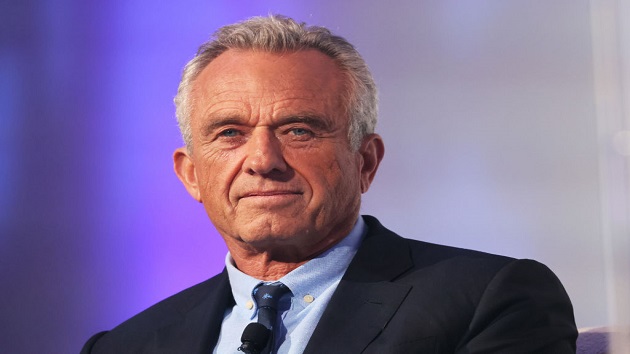 (NEW YORK) — Robert F. Kennedy Jr. teased an announcement on Friday that he said would create a "sea change in American politics" amid speculation that the Democratic candidate may leave the party. Kennedy previously refused to rule out an independent run for president in August. 2024 contest.
Kennedy said in a video on Friday that voters were frustrated with Congress and the leadership of both political parties.
"A lot of Americans who had previously given up any hope of real change would ever come through the American electoral process have begun to find new hope in my candidacy," Kennedy said in the video entitled 'Save the Date. Save the Country,' declining to provide any specifics. "I want to tell you now what I've come to understand after six months of campaigning: there is a path to victory. The hope we are feeling isn't some kind of trick in the mind."
Kennedy's announcement is set for Monday, October 9, in Philadelphia.
But Kennedy — the nephew and son of party stalwarts President John F. Kennedy and Attorney General Robert F. Kennedy, respectively has flirted with the idea of running independently before — refusing to close the door earlier this month on leaving his party's primary amid a bitter fight with the Democratic National Committee over its rules governing the nomination process, even after saying he would only run as a Democrat.
Speaking during a town hall in North Charleston, South Carolina, in September, Kennedy said he was keeping all options open when asked by an attendee if he was prepared to run an independent campaign amid perceived hurdles erected by the DNC, which the campaign claims were built to foil his candidacy.
"They're trying to make sure that I can't participate at all in the political process, and so I'm going to keep all my options open," Kennedy said of the DNC. A day later, he told another crowd in New Hampshire that he "would have to make a call before Oct. 15" if he decided to run independently.
While Kennedy has long assumed the role of an outsider Democratic candidate up against Biden's better-established and better-funded incumbency, he has frequently brushed aside questions about any potential third-party bids.
During a NewsNation town hall in June, Kennedy called being a Democrat part of his identity.
"You know, people have said to me, 'Why don't you run it as an independent?'… and I say 'because I'm a Democrat,'" Kennedy said.
"This is who I am. This is my identity. But I want my party back. I want my party to be … the party that I grew up in. The party of John Kennedy, the party of Robert Kennedy, the party of FDR and Harry Truman," he said.
And again, when asked during a Fox News interview in August if he would consider a third-party bid in the 2024 election, Kennedy explicitly said he would not.
"No, I'm a Democrat. You know, I'm a traditional Democrat, and … part of my mission here is to summon the Democratic Party back to its traditional ideals," Kennedy said. "I'm not surprised that the people who are aligned with the DNC, people who are closely aligned with the White House, are troubled by my candidacy."
When asked by ABC News a day after his North Charleston town hall if he were willing to make a third-party run, Kennedy said he was going to "wait and see."
"I'm hoping to run in the Democratic Party. If it's possible to have a fair election in the Democratic Party, I will run in the Democratic Party, and I haven't made any kind of plans other than that," he said.
No Labels, a bipartisan group committed to launching a third-party 'unity ticket,' commented that they are not involved with RFK Jr.s' announcement; however, the group supports Kennedy's decision to potentially do the same.
"The failures of our two major parties have created an unprecedented groundswell of support for new voices and choices in our politics, which is why the No Labels movement is growing exponentially," No Labels national co-chair Dr. Benjamin F. Chavis Jr. said in a statement.
The Kennedy family members have long been standard-bearers in the Democratic Party — a fact Robert F. Kennedy Jr. has sought to capitalize on in his bid to defeat President Joe Biden in the contest for the 2024 Democratic presidential nomination.
Earlier this week, the New York Times broke the news of a previously unreported meeting Kennedy had in July with the Libertarian Party Chair Angela McArdle, where the two "had a really good conversation," McCardle told ABC News on Friday.
"I have not had any conversations [with Kennedy] since then," McCardle said. "At the time, you know, he said he wasn't looking to switch parties. But you know…the Libertarian Party is the only third party. We are the third party," McCardle said, referring to the Libertarian Party's status as the third largest in the country by membership. "And there is no other party that's going to come close to getting 50-state ballot access at this point."
ABC News' Kelsey Walsh contributed to this report.
Copyright © 2023, ABC Audio. All rights reserved.