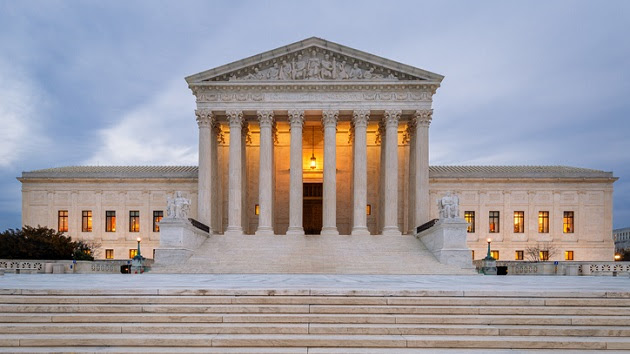 (WASHINGTON) — The U.S. Supreme Court opens a new term on Monday staring down a fresh docket of cases and more opportunities to deliver big wins for conservatives that could continue to transform American life and the law.
Second Amendment advocates want the justices to allow Americans under domestic violence restraining orders to possess guns. Business groups are seeking to gut the Consumer Financial Protection Bureau and roll back federal agency power. South Carolina Republicans are asking to reinstate an election map that lower courts deemed racist.
The justices will also likely take up the legality of Food and Drug Administration regulations around the abortion pill mifepristone; a federal ban on machine guns applied to bump stocks; and school bans on transgender students using bathrooms consistent with their gender identity.
The big question is how far the high court's six-member conservative-leaning majority will go.
"There was a lot of evidence that the court had become a 6-3 conservative court that was moving very quickly and very far in a rightward direction. This past term, though, looked different," said Irv Gornstein, executive director of the Supreme Court Institute at Georgetown University Law Center.
Decisions handed down in June upholding a key section of the Voting Rights Act, siding with Native American tribes and affirming President Joe Biden's immigration policy surprised many veteran court watchers for their restraint compared to prior rulings like the 5-4 decision to reverse Roe v. Wade's protections of abortion access.
Gornstein said the more recent decisions reflect a "3-3-3 court" — referring to the alignment of the justices — with Chief Justice John Roberts and Justices Brett Kavanaugh and Amy Coney Barrett in the middle bloc, exerting a relatively moderating influence that could extend into the new term.
"The liberal justices on the court last term were more often in the majority than Justices [Samuel] Alito and [Clarence] Thomas," said David Cole, legal director of the American Civil Liberties Union. "This term will give us more evidence as to what type of court this is."
One of the most consequential cases facing the court this fall is U.S. v. Rahimi, the first gun rights dispute to reach the court since its landmark 2022 decision enshrining an individual right to carry a firearm outside the home.
Rahimi involves the constitutionality of a longstanding federal law that prohibits people subject to domestic violence restraining orders from possessing a gun.
"Firearms in the hands of people who have a history of domestic violence are tools of death — to intimidate partners, children and the broader community," said Esther Sanchez-Gomez, litigation director at the Gifford Law Center, a gun safety group which wants the law upheld. "The Supreme Court must look to these harms."
Challengers say the law is overly broad and curbs legitimate gun rights of Americans who are not dangerous. "The notion that any right is limited to only law-abiding citizens is really odd," said Cole.
Other major cases on the court's docket in the upcoming term involve social media platforms and free speech.
The justices are expected to review laws in Florida and Texas that prohibit social media platforms from removing or de-emphasizing certain content and force them to publish details of their algorithms. They will also hear a pair of cases on whether public officials can block constituents on Facebook and Twitter and censor their comments.
"Trying to figure out how to distinguish between a public official talking to the public [on social media] as part of his job, as opposed to as a private person, including a private person running for reelection, is I think one of the important issues," said Hashim Mooppan, a veteran Supreme Court litigator and former clerk to Justice Antonin Scalia.
Last month, the court also agreed to wade into an emotionally charged dispute involving liability for the opioid epidemic, which claimed the lives of more than 80,000 Americans from overdoses in 2021 alone, according to government statistics.
The justices will review a major settlement between state and local governments and OxyContin-maker Perdue Pharma over a provision that would shield members of the Sackler family, which owns the company, from lawsuits. The Biden administration sued to block it.
"This is an outrage, according to the government, and the court set the case for argument," said Lisa Blatt, a veteran Supreme Court litigator. "I think the government has a lot of law on its side."
With the 2024 presidential election on the horizon, the high court is also likely to be confronted with questions about state voting rules and candidate eligibility.
Experts say the justices may soon have to address efforts to disqualify former President Donald Trump from the ballot under Section 3 of the 14th Amendment, which states that candidates aren't eligible for future office if they previously took an oath to support the Constitution but then "engaged in insurrection or rebellion against the same or have "given aid or comfort to the enemies thereof."
"That has been almost entirely ignored by history for 150 years until recently, as people looked at the events of the 2020 election and especially the attack on the Capitol on Jan. 6, 2021, as a possible example of an insurrection," said University of Chicago law professor and constitutional scholar William Baude.
"If any state were to try to exclude Trump for the ballot, then it will certainly have to go to the state courts," Baude said. "And if a state court did conclude that lawful, whether in Minnesota or Colorado or somewhere else, the Supreme Court could well review that."
Overshadowing the court's official business are lingering questions about its ethics practices prompted by a recent wave of reports alleging undisclosed financial dealings and misuse of court resources.
"We can increase confidence. We're working on that," Kavanaugh told a gathering of judges last month in Ohio. He added that he hopes there will be "concrete steps soon," but there is no indication from the court that any new action is imminent.
Justice Elena Kagan, a member of the liberal-leaning minority, said last week that there are "legitimate concerns" holding up the adoption of a new ethics code but that she is hopeful "totally good faith disagreements" can be worked out soon.
In April, the justices released a rare, jointly-signed statement attesting to ethical principles and practices, but it did little to quell public concern or congressional Democrats' efforts to advance a mandatory ethics code.
"Public scrutiny is welcome," Barrett said in an August appearance in Wisconsin, projecting optimism the recent firestorm around the court would subside.
One issue certain to draw continued scrutiny this fall: Alito's public refusal to recuse himself from a major tax law case, Moore v. U.S., because of his association with an attorney in the matter.
The lawyer, David Rivkin, has published columns in The Wall Street Journal editorial page based on multiple interviews with Alito. Senate Democrats had written to Roberts demanding that Alito step aside in the case.
Rivkin's "access to Justice Alito and efforts to help Justice Alito air his personal grievances could cast doubt on Justice Alito's ability to fairly discharge his duties in a case in which Mr. Rivkin represents one of the parties," Senate Judiciary Committee Chairman Sen. Dick Durbin, D-Ill., wrote in August.
In a four-page statement attached to orders from the court this month, Alito flatly rejected the request, saying Rivkin was acting as a journalist and that there was "no sound reason" to recuse.
Durbin also called on Justice Thomas to recuse himself from a major regulatory case, Loper Bright Enterprises v. Raimondo, after the nonprofit investigative news outlet ProPublica reported that Thomas had attended donor summits hosted by billionaire businessmen Charles and David Koch, who have long championed deregulation.
"The Koch brothers are the architects of one of the largest, most successful political operations in history, aimed at influencing all levels of government and the courts. Justice Thomas hid the extent of his involvement with the Koch political network and never reported gifts associated with these engagements," Durbin said in a statement last week.
Thomas did not respond to a request for comment.
The justices return to action with public opinion of the court holding at a historic low, according to a Gallup poll released Friday: Just 41% of Americans say they approve of how the court is handling its job; 58% disapprove.
Continuing a practice that began during the COVID-19 pandemic, the court said it will offer an audio livestream of oral arguments available to the public throughout the term.
Decisions in cases argued before the court this fall are expected to be released before the end of June 2024.
Copyright © 2023, ABC Audio. All rights reserved.