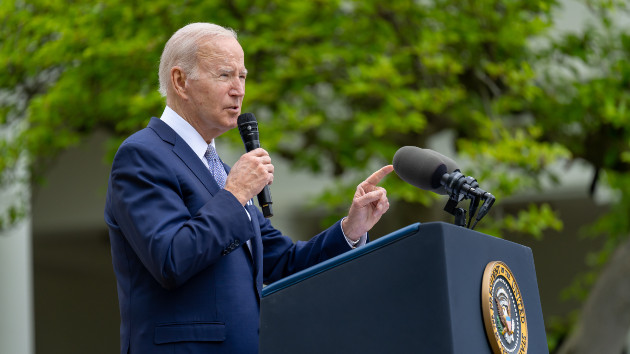 (WASHINGTON) — President Joe Biden on Thursday will deliver the latest in a string of speeches about democracy, as he seeks to draw a further contrast with his Republican rivals — and, in particular, those he calls "MAGA" conservatives — one day after most of them gathered for their second primary debate.
While in Arizona, Biden will deliver what a White House official said is the fourth in a series of speeches focused on democracy, with this one specifically focused on "the importance of America's institutions in preserving our democracy and the need for constant loyalty to the U.S. Constitution."
The backdrop of Arizona is intended to draw on the legacy of the late Republican Sen. John McCain, who was close with Biden and "whose intolerance for the abuse of power and faith in America sets a powerful example to live by," according to the official.
"Protecting democracy continues to be the central cause of Joe Biden's presidency," the official said. "President Biden will talk about his conviction that we must not walk away from the sacrifices generations of Americans have made to defend our democracy."
Biden will be joined in Tempe by some of McCain's family, Democratic Gov. Katie Hobbs and members of the Arizona congressional delegation.
The speech builds on a main theme that Biden has hit on since his campaign launch in 2019, for his first White House term.
At the time, Biden linked then-President Donald Trump to the deadly 2017 mob in Charlottesville, Virginia, in which a white nationalist killed a counter-protester. He has since torn into Republicans for not uniformly and vocally refuting Trump's baseless claims of widespread voter fraud in 2020 and the Jan. 6, 2021, insurrection by pro-Trump rioters.
In his speech, Biden plans to explicitly cite McCain's service during the Vietnam War, when he was captured, and his tenure in the Senate, when he advocated for a restoration of civility in Washington.
"The president will honor his friend and war hero," the official said.
The speech is also likely an effort to highlight Biden's own reelection bid — a campaign that is anticipated to face off again against Trump next year.
It comes a day after most Republican presidential contenders, but not Trump, gathered in California for their second primary debate.
Many of the candidates have said that Biden won the 2020 election, though fewer have been vocal in their denunciations of Trump's allegations of fraud, with the exceptions of former Govs. Chris Christie of New Jersey and Asa Hutchinson of Arkansas.
Copyright © 2023, ABC Audio. All rights reserved.