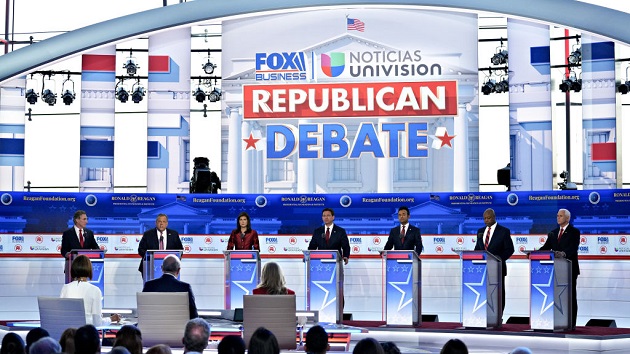 (SIMI VALLEY, Calif.) — The major Republican presidential candidates went toe-to-toe in the second primary debate, on Wednesday night in California — trading barbs in a race still largely defined by former President Donald Trump's polling dominance.
The candidates frequently delved into policy and their differences on the issues, but the most attention-grabbing moments may be remembered as the personal attacks between the contenders.
Here are five takeaways Wednesday's debate.
Haley and Ramaswamy in the spotlight again
Former South Carolina Gov. Nikki Haley and entrepreneur and commentator Vivek Ramaswamy were near center stage at last month's debate, and they followed that performance up again Wednesday, in light of their relatively high spots in the polls next to Florida Gov. Ron DeSantis, though all three trail Trump.
DeSantis, who polls in the No. 2 slot, stood in the center with Haley and Ramaswamy on either side of him.
The two were in the thick of several exchanges, both on policy and on personality in a debate filled with seven candidates regularly shouting and sniping over each other, as the Fox News, Fox Business and Univision moderators interjected to restore order.
"TikTok is one of the most dangerous social media apps that we could have. I — honestly, every time I hear you, I feel a little bit dumber for what you say," Haley said at one point, noting Ramaswamy's recent participation on TikTok despite his criticism of the platform. Ramaswamy said it was done to appeal to voters.
"I think we would be better served as a Republican Party if we're not sitting here hurling personal insults and actually have a legitimate debate about policy," he responded.
Haley later followed up by accusing Ramaswamy of being overly cozy with China, with Ramaswamy repeatedly defending himself from attacks by almost every candidate on stage — including South Carolina Sen. Tim Scott, standing to Ramaswamy's left, who Ramaswamy tried to dismiss with a raised finger.
Ultimately he spoke for the longest cumulative time, behind Florida Gov. Ron DeSantis, according to an ABC News analysis.
Other hopefuls keep trying to break through
The debate also offered an opportunity for lower polling candidates to break through — and they appeared to know it.
Scott and North Dakota Gov. Doug Burgum looked to go on the attack or to beef up their own profiles, with their support from GOP voters lagging in the low double digits so far, according to 538.
Scott threw the first unprompted elbow Ramaswamy's way after the latter offered praise for the other candidates on stage.
"I appreciate that because last debate, he said we were all bought and paid for," Scott said before jabbing at Ramaswamy's business ties to China.
At one point later in the debate, Scott, seemingly flippant, asked if the moderators couldn't see him and Burgum repeatedly expressed frustration over not being included in a segment about energy policy despite being an "energy state" governor.
Former Vice President Mike Pence, who did not express as much frustration as Scott and Burgum at the debate format, also sought to break through amid middling polls, taking his own opportunities to go after Ramaswamy and Trump by name as well as tout himself as the only authentic conservative on stage.
"This is a time for those of us that have the experience, the tested experience and a commitment to the conservative agenda that Ronald Reagan brought forward in this party," he said.
DeSantis gets in the mix, with some pointed barbs at Trump
Whereas at the first primary debate, last month, DeSantis mostly spoke when asked a question, on Wednesday he inserted himself into more back and forths and used moderator questions to forcefully argue for his record as Florida's top executive.
He also went after Trump by name on a few different occasions, including early in the debate, for choosing to skip out on the debates.
"Donald Trump is missing an action. He should be on this stage tonight. He owes it to you to defend his record where they added $7.8 trillion to the debt. That set the stage for the inflation that we have," DeSantis said. (Former New Jersey Gov. Chris Christie, who has been a vocal Trump critic, similarly criticized Trump for not showing up.)
Trump has said he sees no value in attending, given his lead, and it's unclear if those attacks — or anyone's overall performance — will be enough to topple Trump from his front-runner perch.
For much of the night, the candidates focused on Biden's time in office, though they will have to more immediately beat Trump to win the party's nomination.
"Democrats would panic if any of those candidates won the nomination. But nothing about tonight fundamentally changed the trajectory of a Biden vs. Trump rematch," said GOP strategist Alex Conant, who worked on Florida Republican Sen. Marco Rubio's 2016 presidential campaign.
Ukraine continues to divide the field
U.S. assistance to Ukraine in defending against Russia's invasion again divided the primary field, raising the stakes the presidential race has for the largest land war in Europe since World War II.
Haley and Pence pushed for continued assistance to Kyiv, while Ramaswamy and DeSantis looked to pump the breaks, with the Florida governor repeating his line that there should be no "blank checks."
The debate mirrors the divide on Capitol Hill, where establishment Republican figures like Senate GOP leader Mitch McConnell of Kentucky are advocating for further aid to be included in the next government funding bill while hard-liners are pushing for that money to be directed to enhancing security at the southern border.
The debate covered many topics, with little time on abortion
The debate moderators made a point of hitting on various policy topics in detail, from the economy to energy to education to China as well as immigration, the border, child care, crime and unions. In many of those areas, the candidates broadly agreed on approach, with differences over specific tactics and solutions.
About 105 minutes into the 120-minute debate, the moderators brought up abortion rights when they noted that several state referendums to curtail abortion access have failed.
Since Roe v. Wade was struck down by the U.S. Supreme Court last year, abortion regulations have been returned to the states — a move hailed by conservatives. But voters across the country have repeatedly gone to the ballot box to defend abortion access and, in some swing states, they have said it's a key issue and favor Democrats on it.
Republicans have acknowledged, publicly and privately, that the issue motivates their base while potentially posing risks in general elections.
DeSantis, at the debate, touted the six-week abortion ban he implemented in Florida and again hit at Trump for blaming abortion opponents for disappointing midterm losses by Republicans. DeSantis said his success in Florida showed that abortion restrictions can be popular in battleground areas.
He later said in an exchange with Scott that he'd commit to supporting a 15-week abortion ban as president.
Copyright © 2023, ABC Audio. All rights reserved.