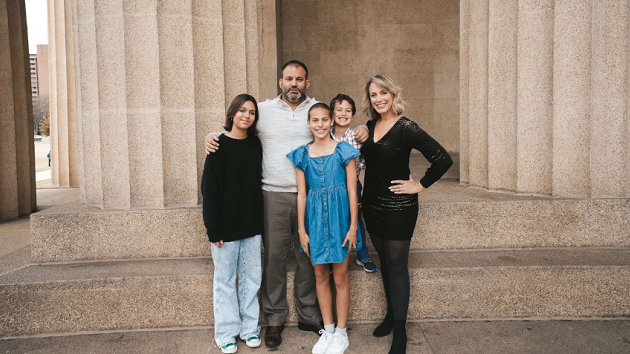 (WASHINGTON) — As the nation nears another government shutdown, military families face an uncertain financial future where they may not receive a paycheck unless a spending deal passes in time.
Besa Pinchotti is chief executive officer of the National Military Family Association. Her husband, Dave, is a veteran of the Marine Corps and currently a civilian employed by the Air Force; his paycheck could be affected or cut by the shutdown, if it happens.
"I have no idea if my husband will get a paycheck," Pinchotti told ABC News Senior Congressional Correspondent Rachel Scott. "We're just going about our business hoping that he will, but planning in case he doesn't."
A government shutdown appears increasingly likely with just a few days until funding expires. Lawmakers have until the end of the day Sept. 30 to pass a spending deal to avert the shutdown.
As many as 4 million workers could lose pay as a result of a shutdown — about half of whom are military troops and personnel.
Pinchotti's husband was furloughed in the 2019 government shutdown, and while the prospect of dealing with another shutdown is daunting, she said her family will work to weather it again. Other military families may not be so lucky, she said.
"We have three kids and I feel fortunate that we're doing OK, but we know that so many military families are not. And this will absolutely impact them in ways that I hope that we don't have to see," she said.
For some military families, that may mean losing services they have come to rely on: everything from nutrition assistance to health care, mental health care, after-school activities for their kids, and even childcare centers.
Access to the Special Supplemental Nutrition Program for Women, Infants, and Children, commonly known as WIC, is one element Pinchotti said will have a "huge impact" on many military families. Some 7 million women, infants and children rely on WIC.
"There are WIC offices on military installations all over the world because it is such a critical nutrition for families at a really key developmental part of their lives. So not having it will have a huge impact," she said. "We know that millions and millions — more than half of American families have relied on WIC and for military families, it is also a huge number. So we're expecting that to be a serious problem."
Resources could be even more strained for those military families living paycheck to paycheck, Pinchotti said. And while the military may see back pay, there are families that can't afford to miss a paycheck, she said.
"I don't think that a lot of the country understands how tight the military budget is, and the fact that so many are living paycheck to paycheck," she said. "For example, more than 25% of military families are food insecure. And when you know that fact, and you know that what could be affected and you know that your service member may get paid, but maybe not right now. You really have to think about what's going to happen today or next week."
Rep. Bob Good, R-Va., said the shutdown's impact would be "minimal" for many Americans.
"We have to worry about all 330 million Americans — not just isolated stories and specific individuals," Good told Rachel Scott.
He said the need for spending cuts justifies the shutdown: "This is the time to do it if we don't do it now."
Good, who has more than 5,000 federal workers in his district alone, said it's absolutely worth shutting down the government over his and other hard-liners' demands.
A recent "Pulse Check" survey that Blue Star Families conducted of its members found most active-duty families — 54% — said they would be "greatly impacted" by a government shutdown. In open-ended responses from the more than 600 respondents, many cited pay as the most common concern.
"My husband is the only working parent, we will have no income. It is looking better and better to get out and join the private sector!" one respondent wrote in the survey, Blue Star Families said.
Pinchotti said in speaking with many military families, the impact won't be "minimal," as Good says.
"My message to Congress is, 'Get it together.' It's not fair what you're doing to military families," she said. "Besides our service members, we also have 16,000 military spouses who work for the federal government. And in today's society, it really takes two incomes to make ends meet. So you're talking about military families' livelihood, and they've got to get it together."
Copyright © 2023, ABC Audio. All rights reserved.