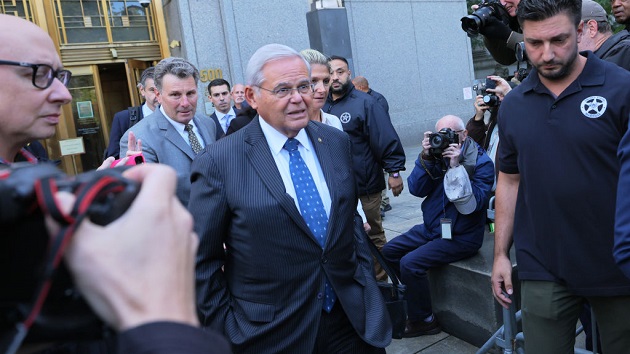 (WASHINGTON) — Sen. Bob Menendez is expected to address his fellow Democratic senators behind closed doors Thursday with over half of them calling on him to resign.
Senate Majority Leader Chuck Schumer, who on Wednesday stopped short of calling for Menendez's resignation after he pleaded not guilty earlier in the day on bribery and extortion charges, said "we'll see what happens after" the closed-door lunch. Asked directly whether he believed Menendez should resign, he only reiterated that "we will see what happens" after Menendez's address to Democrats.
"Like you, I'm just deeply disappointed. I was disturbed when I read the indictment. I've known Sen. Menendez a very long time and it was truly, truly upsetting," Schumer said. "But we all know that [for] senators, there is a much, much higher standard, and clearly when you read the indictment, Sen. Menendez fell way, way below that standard."
Schumer did not go as far as the at least 26 Democratic senators who have called on Menendez to resign.
That group notably includes Menendez's New Jersey Senate colleague Cory Booker. Booker called the allegations against Menendez "hard to reconcile with the person I know," but said he ultimately concluded that Menendez ought to resign his seat in the Senate.
"Stepping down is not an admission of guilty but an acknowledgement that holding public office often demands tremendous sacrifices at great personal cost," Booker said in a statement Tuesday morning. "Sen. Menendez has made these sacrifices in the past to serve. And in this case he must do so again. I believe stepping down is the best for those Senator Menendez has spent his life serving."
On Monday, Menendez seemed to swipe at those who are using his indictment to forward their political campaigns.
"Remember prosecutors are wrong sometimes. Sadly, I know that," Menendez said. "Instead of waiting for all the facts to be presented, others have rushed to take the opportunity for themselves or those around them."
Menendez and his wife, Nadine, are accused of accepting hundreds of thousands of dollars in bribes in exchange for his wielding of political power to enrich three businessmen — Wael Hana, Jose Uribe and Fred Daides — and benefit the Egyptian government. Those bribes, according to prosecutors, included gold bars, a luxury convertible car, home mortgage payments and more. Menendez has denied wrongdoing.
Menendez has temporarily stepped away from his role as Chairman of the Senate Foreign Relations Committee amid allegations.
This is the second time Menendez has been charged with corruption. A 2015 indictment ended in a mistrial in 2018 after a jury failed to reach a verdict on all counts and a judge acquitted him on some charges.
Copyright © 2023, ABC Audio. All rights reserved.