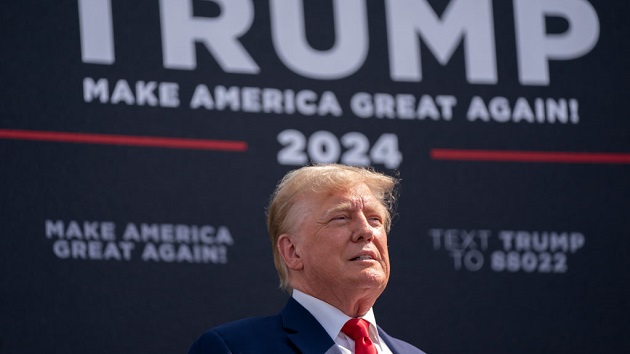 (NEW YORK) — Former President Donald Trump submitted "fraudulent valuations" for assets that were then used by himself, his eldest sons and his business to obtain better loan and insurance terms, a judge in New York decided Tuesday.
The judge's determination came as he granted partial summary judgment in New York Attorney General Letitia James' multimillion-dollar civil fraud lawsuit.
Judge Arthur Engoron cites "false and misleading square footage" of Trump's Fifth Avenue apartment among other faulty valuations.
The judge immediately canceled all of the defendants' business certificates in New York, and ordered that they must recommend no more than three potential independent receivers to manage the dissolution of the canceled LLCs within 10 days.
This severely restricts Trump's ability to conduct business in New York going forward
The judge said Trump and the other defendants have a "propensity to engage in persistent fraud," severely undercutting the defense Trump will offer when the case goes on trial next month.
Engoron wrote in his order that Trump, his adult sons, Eric and Don Jr., and the other defendants fraudulently inflated the value of properties including Mar-A-Lago, Trump's own triplex apartment, 40 Wall Street, Trump Park Avenue, multiple golf courses and an estate in upstate New York.
Trump inflated the value of his own Trump Tower residence between $114 million and $207 million, including claiming the property was triple its actual size in square feet, Engoron ruled.
"A discrepancy of this order of magnitude, by a real estate developer sizing up his own living space of decades, can only be considered fraud," Engoron said in his order.
Engoron also found that Trump inflated the value of his Mar-a-Lago club by at least 2,300%, claiming the property assessed by the county between $18 million and $27.6 million was actually worth between $426,529,614 and $612,110,496.
In total, Engoron wrote that the New York attorney general "submitted conclusive evidence" that the defendants overvalued their assets between $812 million and $2.2 billion dollars.
A lawyer for the New York attorney general's office had earlier described "staggering" misrepresentations about the value of Trump's properties and assets, arguing that Trump engaged in a prolonged "bait-and-switch" to lower his tax burden while inflating his assets to obtain favorable loan terms.
Copyright © 2023, ABC Audio. All rights reserved.