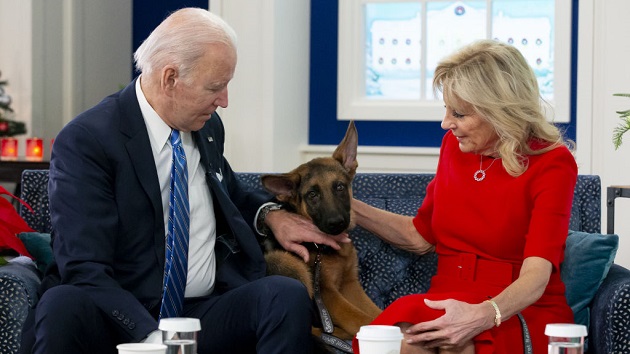 (WASHINGTON) — President Joe Biden's dog Commander bit another Secret Service officer on Monday, according to a statement from a Secret Service spokesperson.
Commander, a purebred German shepherd, bit the Secret Service officer around 8 p.m. Monday. The officer was treated by medical personnel, according to a Secret Service spokesperson.
This would be the 11th known instance of Commander biting a Secret Service officer and acting aggressive.
U.S. Secret Service emails obtained by Judicial Watch in July via a Freedom of Information Act request describe 10 incidents of the German Shepherd biting people in a four-month period — including one incident that resulted in the victim, a Secret Service agent, being transported to a hospital after getting treatment from White House medical personnel, according to the emails.
The Bidens had another dog, Major, who behaved aggressively, including biting Secret Service and White House staff. They eventually sent the dog, also a German shepherd, to live with friends in Delaware.
Commander joined the first family at the White House in December 2021. He was gifted to Biden by his brother James and his sister-in-law for his birthday. The family also has a cat, Willow.
ABC News' Sarah Beth Hensley contributed to this report.
Copyright © 2023, ABC Audio. All rights reserved.