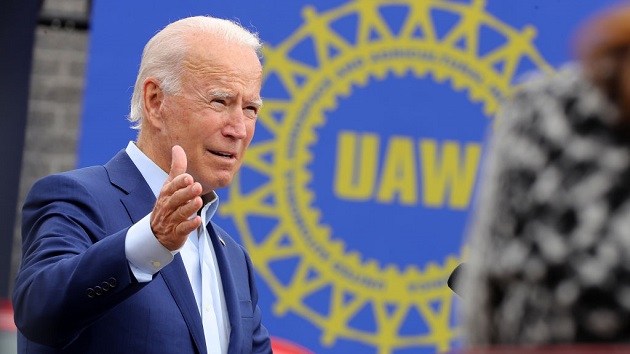 (DETROIT) — With national attention drawn toward the United Auto Workers amid their strike, and as 75% of Americans back them in their negotiations, according to Gallup polling published in August, the 2024 presidential front-runners are increasingly angling to boost their ties to workers.
Donald Trump plans to skip the second Republican presidential debate on Wednesday to instead court unionized employees with remarks outside Detroit. President Joe Biden joined the picket line in Michigan just a day before.
A sitting president attending a strike is without precedent in modern history, and while the White House insists that shouldn't signal Biden is inserting himself in the ongoing talks, administration officials also say it reflects his continued support for workers.
On the picket line on Tuesday afternoon, Biden took control of a bullhorn to express his support for the striking auto workers.
Biden, wearing a UAW black baseball cap, told the workers to "stick with it" because they "deserve a significant raise" and "other benefits."
Political experts believe there is electoral value in Biden's position as well.
"It's important that Biden be viewed as on the side of the unions, especially since the unions currently have their highest level of support in memory from the public," Matt Grossmann, director of the Michigan-based Institute for Public Policy and Social Research, told ABC News.
Democrats have historically relied on union support to buoy their campaigns, with double-digit margins of union household voters favoring the party over Republicans in some past races, according to exit polling.
But Trump's victory in 2016 was powered, in part, by him earning more union votes than other Republicans.
In 2016, his Democratic rival Hillary Clinton struggled with union voters in states like Michigan and Ohio, exit polls showed. Trump won both.
Four years later, Biden narrowly won Michigan and two other Rust Belt states, Pennsylvania and Wisconsin, that had gone for Trump in 2016.
Some of Trump's appeal with union voters has been credited to his opposition to free trade agreements in comparison to Clinton. Trump also vowed to revive domestic manufacturing — a pledge the Biden White House is now quick to contend that they, and not Trump, have better sought to fulfill through new investments and regulations.
According to government statistics, Michigan and Pennsylvania were in approximately the top fourth of states with the highest proportion of unionized workers in 2022. Wisconsin, too, had a higher rate than more than 20 other states.
In 2020, Biden won union households 56-40% over Trump, exit polling found.
"I am a union man, period," Biden told Pittsburgh laborers when he launched his 2020 campaign. Four years later, he again held his first campaign rally of the cycle in front of union workers in Pennsylvania.
Jonathan Hanson, a lecturer at the Gerald R. Ford School of Public Policy at the University of Michigan, said Democrats should keep thinking about how to reach union workers.
"I think Democrats should be concerned about what is their message that's going to appeal to these voters," Hanson told ABC News. "They didn't do so well in responding to Trump's use of campaigning against trade agreements in 2016. That seemed to work pretty well for him."
Democratic Rep. Debbie Dingell of Michigan told reporters last week that in 2016 Trump had an ability "to understand people's concerns and their anxieties," something she said made her take that election seriously.
"Michigan is not a blue state. We are a purple state," Dingell said, adding that "nobody can take Michigan for granted."
Rep. Haley Stevens, also a Michigan Democrat, agreed: "Certainly our state is in play."
But the two lawmakers laid into Trump, criticizing him for his plans to speak to laborers in the state, suggesting it was insincere.
"It's just laughable, and it's not welcome," Stevens said.
A closer look at Biden and Trump on unions
Trying to draw a contrast between the former president and Biden, Dingell argued last week of Trump, "The truth is that he was one of the most anti-worker presidents this country ever had."
Trump's aides have returned fire at Biden for announcing his trip to the picket line after Trump had announced his own speech in Michigan, on the same night as a Republican presidential primary debate that he is skipping.
"Joe Biden's trip to Michigan is nothing more than a cheap photo op as he finds himself between a rock and a political hard place," Trump adviser Jason Miller wrote on social media. Miller also criticized Biden for not undoing environmental regulation that Miller argued while harm auto manufacturers. Biden has said he wants to invest in car companies as they shift to make electric vehicles as part of a broader push to address climate change.
In office, Trump worked to renegotiate the North Atlantic Free Trade Agreement between the U.S., Canada and Mexico into a new trading pact that the AFL-CIO, the largest federation of unions, praised at the time as something "that working people can proudly support."
But critics have pointed to the incongruence between many of Trump's comments and actions.
In his inaugural address, Trump denounced "politicians [who] prospered, but the jobs left and the factories closed." He later hailed electronics manufacturer Foxconn's investment in Wisconsin at a groundbreaking ceremony, only for the scope of the company's involvement to drastically scale back in the following years, according to local reports.
The Trump administration also asked the Supreme Court to decide in favor of a petition that ultimately curbed unions' ability to solicit dues. Additionally, Peter Robb, the Trump-appointed general counsel of the National Labor Relations Board (NLRB), issued a memo that labeled Uber drivers as contractors, rather than employees, effectively stripping them of federal protection to unionize.
Since taking office, Biden has taken steps to signal his abiding support for unions, including his day-one move to fire Robb. He's also signed a bipartisan infrastructure bill that includes a requirement that American-made iron, steel and other material be used in construction projects funded by the law — though waivers could be granted.
But Biden found himself at odds with the labor movement last year when he signed legislation to force railroad workers to accept a deal — which his administration played a role in negotiating — in order to avoid a strike. Biden said he was "reluctant" to do so but said a work stoppage's potential impact to the economy outweighed the concerns of the group of laborers who held out on accepting the agreement.
The AFL-CIO endorsed Biden earlier this year. The UAW has not made any endorsement.
'Unions are always part of our path'
Democrats did not wait until the UAW strike to start maneuvering. Last month, during a motorcycle tour across Michigan to tout Democratic legislative victories, Sen. Gary Peters made a stop at a UAW union hall in Lansing where he delivered fiery remarks in support of their cause — as they geared up for a strike authorization vote — crediting them with strengthening the middle class and the country.
Peters, who leads Democrats' senate campaign committee, later told reporters, "Unions are always part of our path. … We work together. When you lock arms, that's how you're victorious."
Some Republican presidential hopefuls have struck a different tone. Former U.N. ambassador Nikki Haley has criticized Biden for "emboldening" unions, adding that she believes taxpayers will pay for the UAW's strike.
"We're all gonna suffer from this," Haley, who calls herself a "union buster," said in a Fox News interview.
Sen. Tim Scott of South Carolina, asked by a voter in Iowa last week if, as president, he would insert himself in labor negotiations, pointed to then-President Ronald Reagan's firing of air traffic controllers who went on strike in the 1980s.
"He said, 'You strike, you're fired,'" Scott said of Reagan. "Simple concept to me, to the extent that we could use that once again."
The senator has also recently said, when asked about UAW, "I support workers."
But he has panned the union's demand, in light of high auto company profits, for a 46% raise over a four-year period and a four-day work week, something fellow 2024 GOP candidate and former New Jersey Gov. Chris Christie called a "problem."
Grossmann said these criticisms could hurt both candidates in 2024 if they are their party's presidential nominee.
"It's potentially good in a Republican primary, but it's definitely not a general election in Michigan," Grossmann said. "There is a history of Republicans trying to be more pro-labor in Michigan."
Other candidates like Florida Gov. Ron DeSantis and former Arkansas Gov. Asa Hutchinson have instead focused their criticism on Biden's push for a transition to electric vehicles as part of his effort to tackle climate change, rather than the union members.
The electric vehicle transition is of concern for many UAW members who feel the move could negatively impact their jobs, and that unease is in part why the union has so far withheld an endorsement of Biden.
"What I think the UAW leadership is doing is really trying to put pressure on the president," said Hanson, with the University of Michigan. "I think they know that Biden is wanting their support in the upcoming election next year, and they're using that as leverage."
With UAW President Shawn Fain publicly voicing his opposition to Trump being reelected, it's not likely the former president will secure the UAW's endorsement. But Grossmann predicts that if Trump sufficiently talks about union issues, he could bypass leadership and woo the rank and file.
"If Trump visibly sides with the union workers and against the companies enough to get flack within the Republican Party, then that might cause this issue to increase in salience and give the Republicans more of an opportunity," Grossman said.
Democrats say they are prepared to keep making their case to workers.
"When these negotiations are done, we need to go out and fight like blank," Dingell said.
ABC News' Gabriella Abdul-Hakim, Justin Gomez, Lalee Ibssa, Nicholas Kerr, Soo Rin Kim, Molly Nagle and Kelsey Walsh contributed to this report.
Copyright © 2023, ABC Audio. All rights reserved.