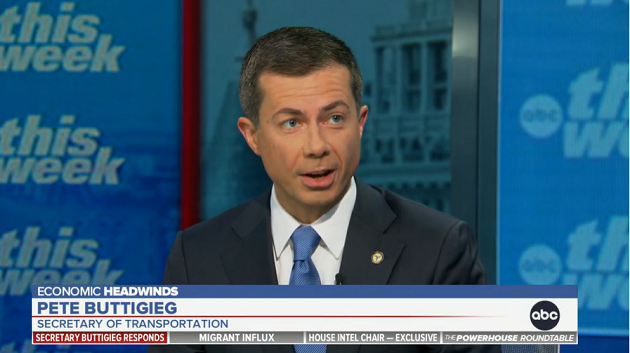 (WASHINGTON) — Secretary of Transportation Pete Buttigieg on Sunday defended President Joe Biden's approach to the economy and the public's problems amid a new ABC News/Washington Post poll that shows many Americans feel their financial situation has deteriorated at the same time that Biden ramps up his reelection bid.
"Well, look, we all know the economic pressure that Americans have felt," Buttigieg said in an interview with ABC "This Week" co-anchor Martha Raddatz. "When the president took office, the economy was flat on its back [during COVID-19]. But we're also getting extraordinary results. More than 13 million jobs created — that's more than any presidential term in American history."
Still, in the new ABC News/Washington Post poll out Sunday, 44% of Americans say they feel worse off economically than when Biden first took office — the highest percentage for a president in ABC/Post polls since 1986.
While the ABC/Post survey should not be taken as predictive of the 2024 election — given how far away it is — the results show Biden is broadly unpopular and doubts about his suitability for a second term are extensive; wherever they end up in more than a year, a substantial number of Americans today are taking the opportunity to express their displeasure.
Buttigieg, on "This Week," pointed to the trillion-dollar bipartisan infrastructure law signed in 2021 as one example of Biden's "generational" success, though he admitted "it takes a while for people to feel the full benefits of those results, just like it's going to take a while to build all of the infrastructure that we're now underway on."
"When you look at the economy, the most important thing in the president's view is to support families and support workers, not just with the job creation that's going on but lowering costs," Buttigieg went on to say, highlighting the administration's work to try and cap insulin prices for seniors.
He contrasted that with Republicans' approach to argue that the public "agree[s] with us" versus the alternative of tax cuts and less government assistance which "is not what the American people want to see in response to these conditions."
Raddatz pressed the secretary on the stark reality as seen in the latest polling, however: "You are seeing the disconnect. … The message is not getting through."
"There's a lot more work to do," Buttigieg conceded. "The story of these investments, these efforts and these results isn't going to tell itself. But that's exactly the work that we're doing and we're an administration that isn't all about the polls. We recognize that if we get the results, over time, people will come to appreciate that."
Rising gas and food prices are particular problems being felt by Americans right now, according to the new ABC/Post survey, which appears to be souring them on Biden's approach.
"It's just not breaking through because they live their lives, they see it every day," Raddatz said.
Buttigieg acknowledged costs at the pump are going up but said they remain below pandemic-era highs. "We are prioritizing making life easier and more affordable for Americans," he said.
He differentiated that with Republicans, who are currently at an impasse in Congress over federal government spending.
"Even if you have agreement on an economic challenge, like prices at the grocery store, you have two different ways of dealing with it," he said. "Our way of dealing with it is to invest in the supply side that, for example, improves the supply chains which in turn helps bring down those prices … and the other side is talking about a shutdown."
Funding must be passed by Congress by Sept. 30. Otherwise, parts of the government will shutter, which would affect military personnel's pay and clinical trials, among other things, such as the Department of Transportation's air traffic controller training program.
"I can't believe some of the very same congressional Republicans who get in line to try to beat us up anytime there's a there's a travel disruption, even a weather-related travel disruption, are gonna turn around and shut down air traffic control training," Buttigieg said.
He also pushed back on another finding in the ABC/Post poll: that in the event of a shutdown, 40% of Americans say they'd chiefly blame Biden and Democrats in Congress, versus 33% who'd pin it on the Republicans in Congress.
Buttigieg maintained that the GOP minority holding up spending legislation is reversing course on an earlier agreement that House Speaker Kevin McCarthy worked out with Biden.
Some of those Republican hard-liners are pushing for deeper cuts and believe the government is too big, dismissing the previous deal with McCarthy and Biden as a failure.
Should there be a shutdown, "I think Americans are going to see very quickly how we got in that situation," Buttigieg contended.
The transportation secretary was also asked about the escalating strike by the United Auto Workers union, which decided on Friday to target 38 additional General Motors and Chrysler-owner Stellantis locations as they push for a 46% pay raise over four years and a four-day work week, citing increased industry profits.
The manufacturers have offered less substantial double-digit raises and stuck to a 40-hour work week. Negotiations are ongoing.
"We stand with the UAW's determination to make sure that auto workers benefit from the next chapter in the auto industry," Buttigieg told Raddatz.
Though he's tried to avoid the bargaining table, Biden said he plans to join UAW strikers on the picket line in Michigan on Tuesday to "stand in solidarity" with them. That would be a historic move by any president.
Raddatz asked Buttigieg if that was "good idea" or if it could push Biden too close to the situation.
"He is an unapologetically pro-union president," Buttigieg said.
"There is a win/win future to be had," he said. "And that's what the president and the administration are urging the parties to reach."
Copyright © 2023, ABC Audio. All rights reserved.