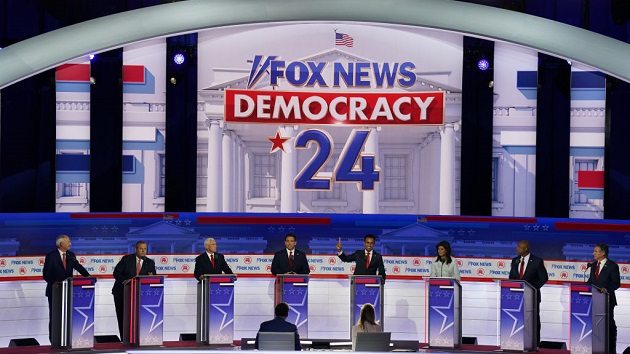 (WASHINGTON) — With a week before the second Republican primary debate, six candidates expect to be on stage at the Reagan Library in Simi Valley, California on Sept. 27.
The campaigns of Florida Gov. Ron DeSantis, entrepreneur Vivek Ramaswamy, former Vice President Mike Pence, South Carolina Sen. Tim Scott, former Ambassador to the United Nations Nikki Haley and former New Jersey Gov. Chris Christie have told ABC News that they believe they'll qualify to be at the second debate.
That's down from the eight candidates who participated in the first debate in Milwaukee last month. Two other candidates, former Arkansas Gov. Asa Hutchinson and North Dakota Gov. Doug Burgum, have not yet qualified for the Republican National Committee's elevated criteria, which include an increased polling threshold of 3% from 1% and 50,000 unique donors, up from 40,000 in August.
Former President Donald Trump appears to have also cleared the polling and donor benchmarks to make the second debate, though he has not signed the required pledge to support whoever becomes the eventual GOP nominee. Trump is expected to skip the debate and will instead visit Detroit to deliver a speech in front of union workers amid the major auto strike, according to a senior adviser.
The RNC has not said whether it has approved any of the candidates' spots on the second debate stage, though Christie has said he's been in communication with the national party and has gotten confirmation that he has cleared the criteria.
Scott's campaign pushed the RNC last week to change the qualifying and podium placement rules for future debates, including next week's debate in California. His campaign called for more of an emphasis on polls in early voting states rather than national polls when considering placement of leading candidates near the center of the stage.
The campaign manager for Scott — who has performed better in polls conducted in early states like Iowa, New Hampshire and South Carolina than in national ones — said in a letter to the national party that "relying on national polling results for the podium placement simply would not represent where the candidates actually stand in relation to where we are in the process with the voters."
Christie, who also has performed well in polls out of New Hampshire, offered support for Scott's request, saying recently that the idea "makes a lot of sense."
In response to Scott and Christie's endorsement of shaking up podium placement consideration, RNC spokesperson Emma Vaughn told ABC News that the party "welcomed" their input.
"The debate committee has had a very thoughtful approach to the entire process, and we continue to welcome input from all candidates, partners and stakeholders," Vaughn said in response to the candidates.
Candidates still short of the RNC criteria
Burgum has qualified for the RNC's donor requirements but has not met the polling qualifications to get on stage. He has said he is confident he will participate, however.
The North Dakota governor said that a few weeks ago, he shifted some resources towards national advertising and name awareness in order to get his poll numbers up. Burgum does not plan to drop out of the race even if he does not reach the second debate stage.
"If we don't then we're going to continue straight on campaigning. We absolutely will be on the ballot here in New Hampshire and will be on the ballot in Iowa. At the end of the day, it's the voters that get to decide how the field gets narrowed, not cable networks, not club house rules," he said.
Hutchinson needs to make both polling and donor requirements to get on the second debate stage. On Tuesday, the former Arkansas governor said he will reevaluate his campaign if he does not clear the criteria.
Hutchinson is closer to clearing the donor thresholds than he is to making the polling qualifications– he has made one national poll and would need either one more or two separate polls from "carve out" states like Iowa, New Hampshire, Nevada or South Carolina to get to California.
Asked whether he's hit the required 50,000 donors, Hutchinson said he's "just right at that."
Will Hurd, Perry Johnson and Larry Elder, who did not make the debate stage in August, still need to make either polling or both donor and polling benchmarks to get on stage in September.
ABC News' Kelsey Walsh contributed to this report.
Copyright © 2023, ABC Audio. All rights reserved.