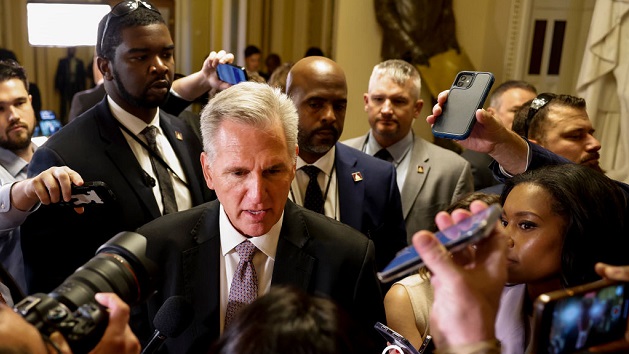 (WASHINGTON) — The House is done voting for the week — a sign that Speaker Kevin McCarthy and Republican hard-liners have not come to a government funding agreement as the shutdown deadline looms.
There will not be any votes for the rest of Thursday, and if votes are scheduled for Friday or the weekend, members will be given "ample notice," said Majority Whip Tom Emmer's office. Members will be "on call" through the weekend, Emmer's office said.
The House on Thursday failed for the second time this week to bring up the GOP defense spending bill for debate, in another embarrassing setback for McCarthy.
Members of a group of Republican hard-liners once again voted against GOP leadership and the majority of their party in a 212-216 vote.
Those five Republicans cited a variety of reasons, all broadly linked to frustration with how McCarthy, R-Calif., has handled the government funding fight.
With this development, McCarthy looks increasingly unable to control the floor, and Congress and the government remain on a path toward a government shutdown at the end of the month.
"It's frustrating in a sense that I don't understand why anybody votes against bringing the idea and having the debate," McCarthy vented.
"This is a whole new concept of individuals that just want to burn the whole place down. That doesn't work," he said.
House Minority Leader Hakeem Jeffries slammed House Republican for "paralyzing Congress."
"We need the extreme, MAGA Republicans to get their act together in the Civil War that's happening on the Republican side of the aisle that's paralyzing Congress. Get your act together so we can handle the business of the American people and solve problems on their behalf," Jeffries said at his weekly press conference.
So, what happens next? McCarthy and GOP leaders hoped a compromise around government funding unveiled Wednesday night would bring all Republicans behind the defense spending bill. That clearly didn't happen.
During a more than two-hour closed door GOP conference meeting Wednesday night, McCarthy outlined a new short-term plan to fund the government that would include deeper cuts, according to several members in attendance.
"We're very close there. I feel like I just got a little more movement to go there," McCarthy told reporters leaving the meeting Wednesday night.
Many Republican hard-liners have said they won't vote for a continuing resolution unless it had conservative policies attached, such as language to address "woke policies" and "weaponization of the DOJ."
Even if it the CR had passed in the House, the Senate wouldn't have likely accepted the new proposal.
Congress has until Sept. 30 to pass the bills needed to fund the government — or approve a short-term measure while they continue to negotiate.
Former President Donald Trump appeared to blast McCarthy's new plan late last night in a post on his social media platform, Truth Social.
"A very important deadline is approaching at the end of the month. Republicans in Congress can and must defund all aspects of Crooked Joe Biden's weaponized Government that refuses to close the Border, and treats half the Country as Enemies of the State," Trump wrote. "This is also the last chance to defund these political prosecutions against me and other Patriots. They failed on the debt limit, but they must not fail now. Use the power of the purse and defend the Country!"
Rep. Matt Gaetz, R-Fla., one of McCarthy's most vocal critics, posted to X, formerly known as Twitter, "Trump Opposes the Continuing Resolution. Hold the line."
Speaker McCarthy responded to Trump's comments Thursday morning.
"You know the challenge here is if the government shuts down, Jack Smith still goes forward. It doesn't stop. That's what – we are trying to stop the weaponization. We got to be able to fight smartly," McCarthy argued.
McCarthy and GOP leaders will be forced to once again to negotiate with the holdouts on the Pentagon bill — historically the least controversial spending bill — and may have to modify it. But that may risk alienating moderates.
Rep. Marjorie Taylor Greene, R-Ga., for example, demanded Republicans strip some Pentagon funding to Ukraine from the proposal.
ABC News' Ben Siegel and Lalee Ibssa contributed to this report.
Copyright © 2023, ABC Audio. All rights reserved.