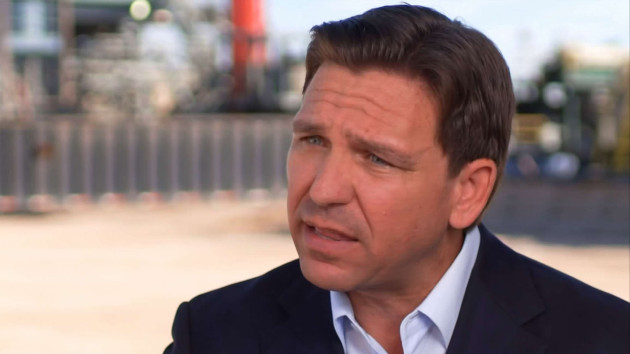 (MIDLAND, Texas) — In a wide-ranging interview on Wednesday with ABC News Live Prime anchor Linsey Davis, Florida Gov. Ron DeSantis sought to contrast himself with former President Donald Trump — whom DeSantis hopes to catch up to and defeat in the 2024 Republican primary race — while defending himself against outside criticism of his campaign and speaking about his plan for the southern border and other issues.
He also responded to Trump attacking him for signing a six-week abortion ban in his state.
DeSantis sat down with Davis at the site of an oil rig in Midland, Texas, before he rolled out his proposed presidential energy policy in front of reporters and oil workers.
On Trump: 'We have a lot of differences'
Asked to differentiate himself from Trump, the leading GOP primary candidate in polls, DeSantis pointed to his upbringing compared with Trump's.
"I'm a blue-collar kid that had to work minimum wage jobs to get where I was," he said, before rattling off other differences.
"I could serve two terms. He would be a lame duck on day one. I ran 16 points better than him in Florida in my most recent race than he did in his most recent race. I've also delivered on these 'America first' policies more than I think anybody in the country and would have a much better chance of actually delivering all this as president," he said.
"So I think that there are a lot of things that people can look at, but I'm going to be there," DeSantis added.
The governor had sharp words for Trump's expected absence at next week's Republican primary debate, in California.
"Well, first, he owes it to people to be there. He owes it to people to make the case and defend his record. You can't be just not showing up to these things," DeSantis said.
Trump has indicated he sees no reason to attend, given his lead. He has often derided DeSantis, including in personal terms, and said he's better able to carry out key Republican priorities.
DeSantis on GOP megadonor sitting out primary
DeSantis played down the role of wealthy donors in his campaign when asked by Davis about major Republican donor and Citadel CEO Ken Griffin sitting out the 2024 presidential primary, with Griffin saying he's not impressed with any of the alternative Republican presidential candidates to Trump.
Griffin, who was one of DeSantis' most prominent donors for his 2022 reelection campaign, cited the governor's current feud with Disney as a point of concern.
DeSantis said that he's not at the behest of large donors.
"I'm a leader, I'm not a follower," he said. "So we lead and we do what we think is right and people can support us or not support us financially. But you should not be led by trying to please very wealthy donors, and I've never operated that way."
Pressed by Davis about Griffin's criticism of not understanding his campaign strategy and the voting base he's trying to appeal to, DeSantis pushed back, arguing that his strategy is clear — he's showing up for voters.
"These voters in these early states take their responsibility very seriously," DeSantis said. "They want to learn about what you've done. They want to learn about you, what you're going to do for the country and so we're doing that and we're going to continue to do that."
"We're delivering the message. When we do that, we have a great deal of success. We've got a lot more work to do because there's a lot more people to meet, but we're pleased with our progress," he said.
Deadly force at the border?
DeSantis has advocated for shooting members of drug cartels who try to bring drugs across the southern border — a proposal that has drawn sharp outcry from advocates over humanitarian and legal concerns given the number of other migrants who also make the crossing.
He told Davis that U.S. forces would be able to differentiate a drug smuggler from other migrants.
"The same way you would tell for anything," he said, when asked.
"For example, I served in Iraq back in the day. al-Qaida didn't wear uniforms. You know, the typical Arab male would have had the man dress on. You didn't know if they had a bomb strapped to them or not. They carry around the AK-47s, normal civilians would, so you couldn't even say if they had," he said.
"So you had to make a determination — can you positively identify somebody as hostile through either hostile action or hostile intent? And then you do it, same way anyone would do that even in the United States. So you will do that, we'll be collecting intelligence," DeSantis said.
Asked whether staging the military at the border would be a "recipe for chaos," the governor said, "Right now is the recipe for chaos."
"What is happening in this country is a problem," he added.
'We have every right to push back' against Disney
DeSantis brushed off criticism from some Republican primary rivals about his public battle with Disney, the parent company of ABC News, stressing that he feels the fight "is about kids."
"I'm going to fight to defend those policies," he said of the Parental Rights in Education Act, a bill limiting the discussion of gender identity and sexuality in many K-12 classrooms.
Critics have sought to label the legislation as the "Don't Say Gay" bill, contending it is discriminatory. Supporters say it's about barring age-inappropriate topics in school.
Disney expressed opposition to the law, drawing DeSantis' ire.
The state Legislature, with DeSantis' support, went on to revoke the special tax district that essentially allowed Disney to govern the area around its famed Orlando theme parks — a carve-out that, while standard for governments to do for various entities, DeSantis described as unnecessary privilege.
The conglomerate later sued DeSantis and accused state officials of a campaign against them for their political views that is "patently retaliatory, patently anti-business, and patently unconstitutional." The suit is still pending.
DeSantis has rejected Disney's claims and he told Davis that Republicans calling him out for the feud were picking the wrong side.
"That's kind of the old-guard Republicans where they basically always just bend the knee to the big, powerful corporations. You've got to stand for what's right. So I'm always going to stand for our kids," he said.
"I think Disney made a mistake in doing what they're doing. But we have every right to push back and defend our policies against those who are seeking to undermine them," he said. "And that was the right thing to do."
DeSantis would not allow federal funding for COVID shots
Earlier this month, DeSantis' administration advised against the updated COVID-19 for Florida residents under the age of 65, which goes against federal guidelines that recommend updated shots for anyone 6 months or older.
Asked on ABC News Live Prime if he would push the same policy if he were elected president, DeSantis said he wouldn't allow federal funding for COVID-19 vaccines and that people involved in the federal response to the pandemic would be held accountable for what he maintained were harmfully restrictive public health measures intended to cut widespread infections and deaths.
"We're going to have a reckoning about all these COVID policies. We're going to hold people accountable who got it wrong, people that clung to the lockdowns, people that clung to the school closures," DeSantis said.
Public health officials have made it clear that the COVID-19 vaccines, like the annual flu shot, are intended and have proven to lower the risk of severe illness and death. Independent scientific advisers to the Food and Drug Administration and Centers for Disease Control and Prevention say the benefits outweigh the risks.
The updated vaccines are based on the same vaccines that have protected hundreds of millions of people around the world and are updated to address the current circulating subvariants.
The risk of myocarditis from vaccination has been shown to be uncommon and much less likely from a COVID-19 vaccination.
DeSantis unveils energy policy
On Wednesday, DeSantis also unveiled his energy policy, where he plans to focus on building up American "dominance" and undoing the energy and climate policies of President Joe Biden's administration, with a heavy emphasis on fossil fuels.
But early on in his time as governor, DeSantis' administration funded programs supporting electric vehicles, which the governor said came from a settlement from Volkswagen that dictated where the money could go.
"I could either use it or lose it. So that's why we did it. We put in the charging stations, but I would never support mandating the production of EVs," DeSantis said.
His new energy plans include restructuring the review process for energy infrastructure projects and withdrawing the U.S. from all global commitments to cut greenhouse emissions.
During his interview with ABC News, DeSantis expanded on his goal to get the cost of gas to $2 per gallon. As of now, gas is nearly $4 per gallon, according to AAA.
"Energy dominance – using the resources we have, that is one way to reduce prices at the pump, which is hurting people," DeSantis said.
Scholars behind controversial Black History standards 'were professionals'
DeSantis defended the language in Florida's Black History standards that directs middle school students should be taught enslaved people "developed skills which, in some instances, could be applied for their personal benefit."
The language drew rebukes from, among others, South Carolina Sen. Tim Scott, DeSantis' rival for the Republican nomination who is Black.
"What slavery was really about was separating families, about mutilating humans and even raping their wives. It was just devastating," Scott said in July. "So I would hope that every person in our country — and certainly running for president — would appreciate that."
Asked by Davis why "there's any value to try to teach a concept to students that there was any upside to slavery," DeSantis said, "We're not doing that."
"We don't think that. And that's not what that provision means. That's not how it's being taught," he said, noting that the standards were "written by a cadre of Black history scholars, most of whom were Black."
"It was not saying that slavery benefited. It was saying that these folks were resourceful. They did things they weren't allowed to do, develop skills and then use. So they did it in spite of slavery, not because of it," he said.
"These guys were professionals," the governor said of the scholars who created the standard. "They didn't have political involvement. They just were told to do standards and they did it right."
Click here to read the transcript from the interview as aired on ABC News Live Prime on Wednesday.
Copyright © 2023, ABC Audio. All rights reserved.