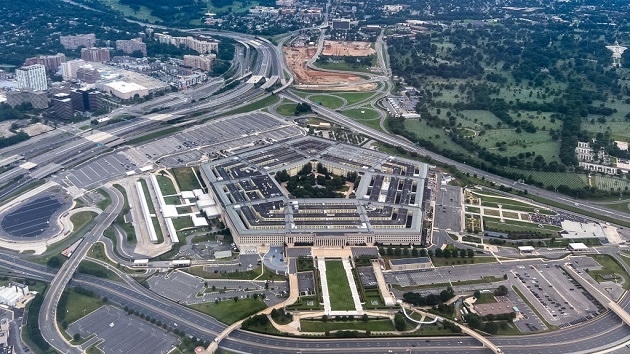 (WASHINGTON) — On the 12th anniversary of the repeal of the "Don't Ask, Don't Tell" policy, the Pentagon on Wednesday detailed a new DOD outreach campaign that will begin reviewing discharge records of LGBTQ+ veterans in an effort to make sure they have access to veterans' benefits.
Under the new campaign, the DOD for the first time will begin proactively reviewing the military records of veterans less-than-honorably discharged because of their sexual orientation who may be eligible for discharge upgrades, but have not yet applied.
Upgrading to an honorable discharge, which is the highest classification, would open the door to full veterans benefits for those affected.
In a statement, Defense Secretary Lloyd Austin said, "For decades, our LGBTQ+ Service members were forced to hide or were prevented from serving altogether. Even still, they selflessly put themselves in harm's way for the good of our country and the American people. Unfortunately, too many of them were discharged from the military based on their sexual orientation – and for many this left them without access to the benefits and services they earned."
At a briefing with reporters, Deputy Defense Secretary Kathleen Hicks acknowledged that while more than four out of five veterans who were discharged under "Don't Ask, Don't Tell" who have applied for discharge upgrades or corrections to their service records have been successful, there are still many more who are eligible but haven't applied.
Hicks explained how the DOD intends to find them.
"We'll start with those discharged during the period of "Don't Ask Don't Tell" where the VA and the National Archives might have digitized records that can help expedite our review … And when we find indications that someone's less-than-honorable discharge was due to their sexual orientation, we'll put their name forward to their respective military departments review board for consideration. As we do this, we will be laser focused on preserving the privacy and dignity of each veteran."
More than 13,000 people were separated from the military under the policy from 1994 to 2011 with varying conditions, including honorable, general, other than honorable, and unknown discharges and from 1980 to 1993 more than 19,000 were separated, according to defense.gov.
Additionally, the announcement also includes new online resources launched on defense.gov.
Despite the actions announced Wednesday, Hicks acknowledged the lasting legacy of the "Don't Ask, Don't Tell" policy dating from the Clinton administration, saying, "At the same time, we know correcting these records cannot fully restore the dignity taken from LGBTQ plus service members when they were expelled from the military. It doesn't completely heal the unseen wounds that were left. It doesn't make people whole again, even for those many who received honorable discharges. But this is yet another step we're taking to make sure we do right by those who served honorably, despite being forced to hide who they are and who they love while serving."
"Don't Ask, Don't Tell" was a DOD policy effective from Feb. 28, 1994 to Sept. 20, 2011 that barred openly LGBTQ+ people from military service. According to the DOD, "those who did not disclose their sexual orientation could continue serving in the armed forces." But "generally, those who chose to disclose would have been discharged." In many cases, the discharges were other than honorable. Thousands were discharged under the policy.
Copyright © 2023, ABC Audio. All rights reserved.